Reader B. wrote in to tell me that thanks to money saving tips from The Peaceful Mom she and her family were able to pay off an amazing $84,000 in debt including medical bills and save $10,000 in 3 years. That's an almost $100,000 difference in their finances in 36 months!
She writes," I found your web page in 2012. We were $65,000 in debt, mostly medical bills. With your help and help from other systems out there we have paid off all the debt, paid another $19,000 in hospital bills during this journey and saved $10,000 this year."
She shared how they were able to create such a turn around in their finances in just a short time. The ideas are simple but they work.
Plan Your Paycheck
B. and her family lived on less than $21,000 a year to free up money to pay medical bills, car repairs and other emergencies during the three year period. This short-term sacrifice meant that they could pay off their debt faster and now they can enjoy being debt-free and financially secure.
You may not be able to live on so little but creating a plan for your money and sticking to it will enable you to free up money to pay off debt or build your emergency fund.
Click HERE for free Budget Binder Printables to help you create a plan.
Plan Your Meals
Food can be a huge budget buster. B. saved money by faithfully creating a weekly meal plan.
If you need a little help in this area use these resources:
$125 Budget Weekly Menu and Recipes
How to Make a Weekly Menu Plan
Skip Eating Out
Along with menu planning B.'s family committed to not eating out. Taking your family out to eat costs a minimum of $30 to $50 per visit including taxes and tip. Cutting one restaurant visit a week for the year can save you $2600!
If you eat out because you are too tired to cook after a long day of work try some of my Freezer Cooking Plans here. If you enjoy eating out for the experience plan one special night out a month and use coupons or promotions so you can spend less.
Cut Out Cable
B.'s family saved a big chunk of money by cutting out cable. Check out alternatives like Net Flix or Hulu or do more activities as a family away from the television.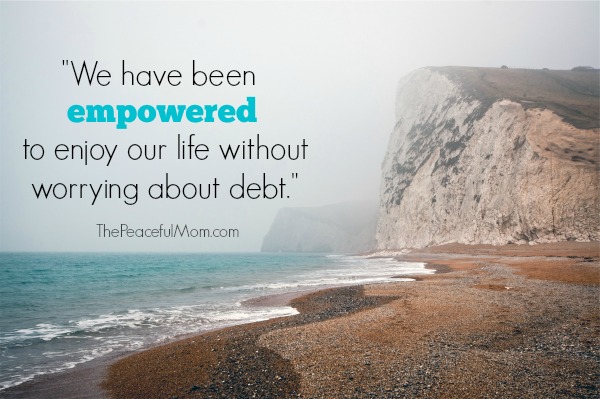 None of these ideas are new but by implementing them on a daily basis B.'s family has found financial freedom. She says,"We have been empowered to enjoy our life without worrying about debt."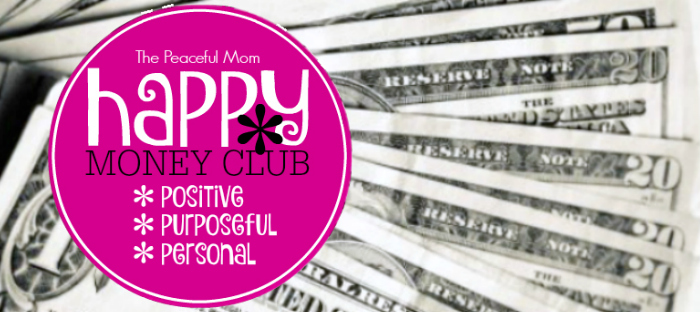 Want help with your financial struggles? Join the Happy Money Club!
When you join you will get:
my 5 Day Money Makeover email course with the specific steps we are use to make money work
weekly encouragement and personal stories from my life about our trials and triumphs
practical tools and tips to save more
real-life ways to make more
And it's all FREE so you can reach your Happy Place with money.

Click HERE to join now and get your FREE 5 Day Money Makeover email course.
Do you have a debt-free story? I would love to hear it!
Click here and complete the contact form. You may be featured in an upcoming post on ThePeacefulMom.com.
You May Also Enjoy