We all have paperwork that needs to be taken care of on a regular basis and, if you're like me, it's not your favorite task.
Allowing those papers to pile up, however, is an emotional and mental drain — and can even cost you money. Scattered papers mean missed opportunities, missed discounts, missed bill payments, late fees, additional charges and missing your credit card payment may even result in an increase in the interest rate on your credit card.
The simplest solution is to go paperless as much as possible.
I eliminate some of my paper problem by using an online app. Read how to organize with Evernote HERE.
You can also change your bill notifications to email rather than snail mail and sign up for auto pay options. If you struggle with organization though, this can cause problems if you fail to add due dates to your calendar or you have trouble keeping enough money in your checking account to cover upcoming bills that are auto-drafted.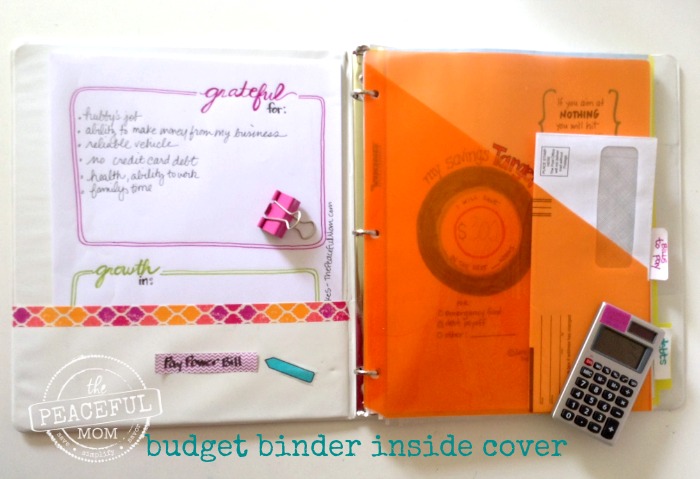 I stay on track with bill paying with a Budget Binder because I'm very visual. You can read How to Create a Simple Budget Binder HERE.
I've created the habit of opening up a bill as soon as I receive it, marking the date of the paycheck before the due date in my calendar and placing the bill in the front pocket of the binder. Every pay day I simply check the binder and pay the bills that are due that week. This is a system that works for me, but you should discover what works best for you.
In order to attack other paper piles, I use my 10 Minute Paper Pile Fix.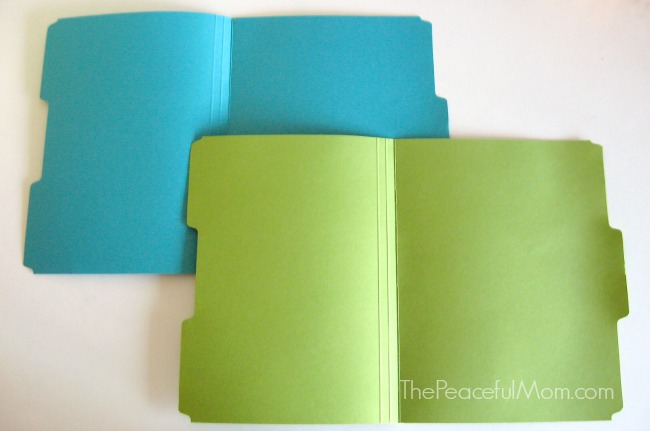 First label 3 empty file folders: NOW, 10 MINUTES A DAY and FILE.
(I like to use a sticky note on the front because they are easy to see.)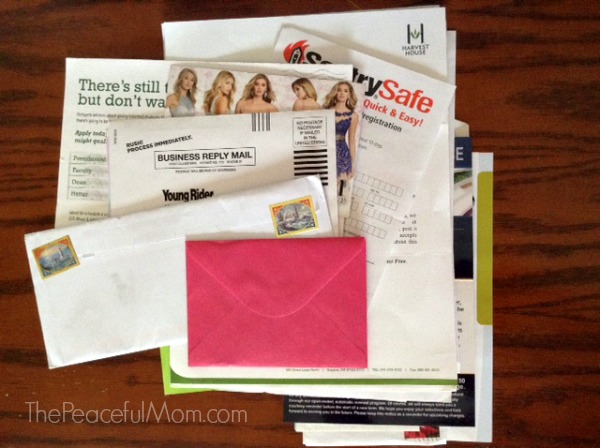 Next open any unopened mail and discard any trash.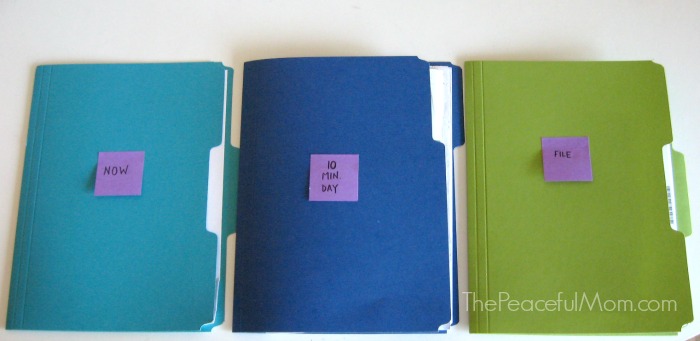 Next quickly sort each piece of paper from your pile into the appropriate folder:
Bills and any paperwork that requires immediate attention (tag renewals, insurance paperwork, etc.) go into the NOW folder.
Items that require action but are not immediate (letters to respond to, subscription renewals, paperwork without a deadline, etc.) go into the 10 MINUTES A DAY folder.
Items that simply need to be filed away for later go into the FILE folder.
Once you've completed sorting you can set the 10 MINUTES A DAY folder and FILE folder aside for later and start on the items in your NOW folder.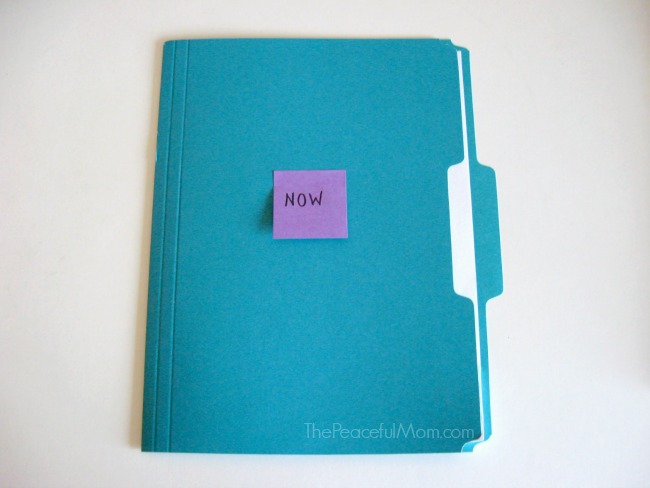 If you're still in the organizing mood you can place the items in the NOW folder in order by date, for example, the bills that need to be paid first would be at the top of the pile.
Once you have the papers in order start with the top item and take action — pay the bill, etc. As items are completed move that paper into either the FILE folder to file later or place it in the shredder or trash.
When the NOW folder items are taken care of you can begin working on the items in the 10 MINUTES A DAY folder. Usually by the time I have finished the NOW items I am ready for a break so I put the folders away until the next morning when I will spend 10 minutes working on the TEN MINUTES A DAY folder. The key is to keep the folder on your desk and spend just a few minutes a day dealing with the papers inside it.
Once the TEN MINUTES A DAY folder is taken care of you can spend a few minutes filing everything in the FILE folder.
As new mail comes into your home take care of it right away by using these three folders and you hopefully won't have a huge pileup ever again.
For more tips to keep your paperwork organized read How to Organize Paperwork and Keep It That Way HERE.
We Can Do This!

Want a simpler life?
Join our simplifying, organizing, life-changing community!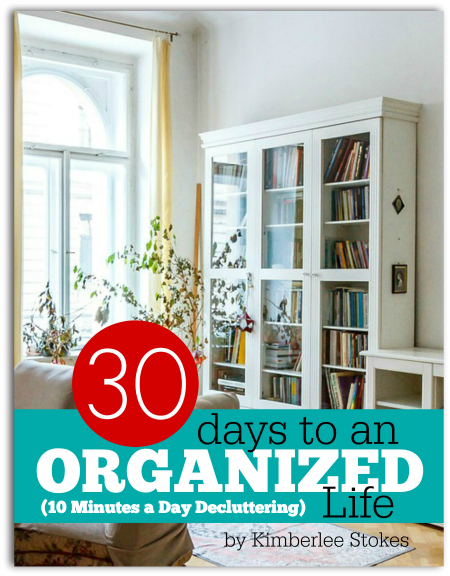 Click here to join the 30 Days to Organized Community!
Get weekly encouragement and real-life strategies to organize your life PLUS receive a FREE 10 Minutes a Day Decluttering Tool Kit!
You'll receive:
10 Minutes a Day Declutter Calendar — focus on one small area each day of the month
50 Ten Minute Tasks – to organize your life one baby step at a time
10 Minute Task Calendar – blank calendar to fill in your own 10 Minute Tasks


You May Also Enjoy: