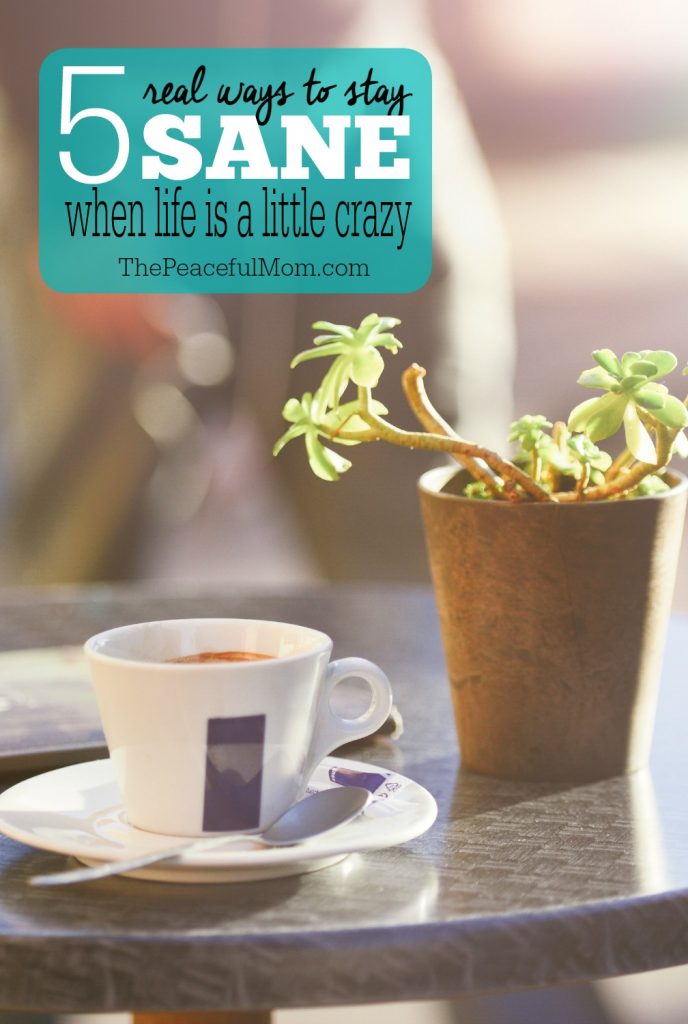 If you've been following along the past few months then you know that we have had some craziness in The Peaceful Mom household.
At the end of October my 17 year old daughter was hit my a minivan while riding her bicycle (read more here) and on Valentine's Day our car was rear-ended by another vehicle while I was driving to pick up my husband (read more here).
Needless to say our life has been a bit chaotic. Things are starting to calm down now but I wanted to share a few of my coping strategies to encourage you if you are going through a difficult season in life.
Remember What's Important
It's easy when experiencing life's difficulties to become focused on the circumstances and forget about all of the good in your life.
After my daughter's accident I had to focus completely on helping her to recover and after my accident my life was basically on hold because of the pain I was in. I spent a lot of time resting, which is great for my body but not so great for my emotions. My achiever-type personality did not deal well with being incapacitated.
When I felt discouraged I had to remind myself that this would be a short season and that what matters is that all of our family members are well, our basic needs are met and we have much to be thankful for. The rest of the details would work themselves out.
Guard Your Thoughts
When life is difficult I not only experience negative emotions, I often have to deal with negative thought patterns:
"This will never turn out well."
"What did we do wrong?"
"Why is life ALWAYS like this?"
I have to be intentional to focus on truth. Life isn't always like this, these circumstances do not define the rest of my life and this season will pass. Some tools that I use to focus on truth are meditating on encouraging Bible verses, art journaling, watching encouraging videos and talking with friends.
Guarding our thought processes and mind-set is key to overcoming challenges.
Ask for Help
When life becomes overwhelming you need to call for back-up.
Thankfully we have four teenagers who are very capable and could help with the day-to-day details of life. My 19 year old helped with transportation issues, my 17 year old bought groceries and helped to prepare meals, my 16 year old gave me periodic neck massages, and my 16 year old and 14 year old helped to keep the house clean.
I also needed some emotional support so I called a few trusted friends and had them pray for me. Those little boosts helped me to keep going even though the circumstances were tough.
You probably have neighbors, friends or family members who can help you so don't be afraid to ask.
Avoid Major Life Decisions
My husband is so great at reminding me that stressful seasons are not the time to make major life decisions. You cannot think clearly in the midst of stress so you should avoid major financial, business, relationship and other important decisions as much as possible. Now is not the time to decide to move, buy a new car or start classes. Take a minute to breathe.
Have Some Fun
Stress tends to suck the fun right out of life so we have to be intentional to plan some relaxation and comic relief. I love snuggling up on the couch with a soft blanket and watching funny movies or videos; eating "party food" like cheese and crackers, Kalamata olives and fruit; taking a walk in a local park and going to the dollar movie theater with my husband.
Be sure to include something that makes you happy every day even if it's as simple as wearing your favorite outfit or drinking a favorite beverage.
As for our family, we are starting to see the light of day again. Although I am still in pain I can go about most of my regularly scheduled activities with a few exceptions. I am grateful that the accident was not worse and some really great developments have come out of the experience which I will tell you more about next week.
If you are going through a difficult season be encouraged that you will make it through. Just take one day at a time and make the best of what you have. If you're not going through a tough time right now maybe you can be an encouragement today to a friend who is.
What are your favorite ways to deal with stressful circumstances? Leave a comment. 🙂