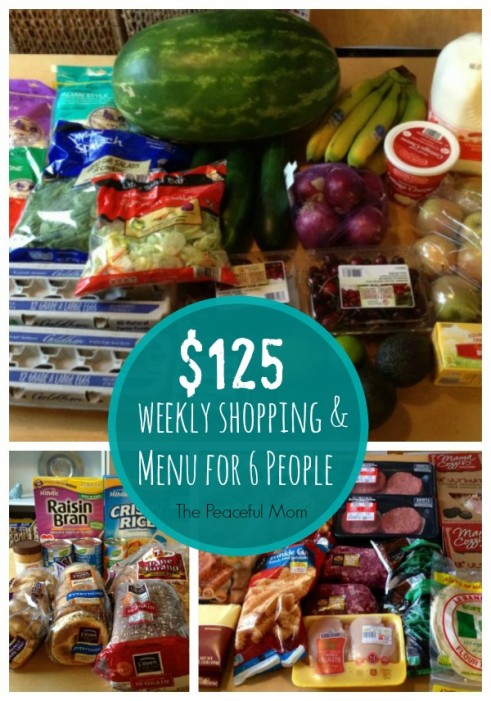 My $125 Weekly Grocery Shopping for 6 People: See how I feed my family of six (including 4 teens) for around $125/week, or just $500 a month. See our $125 Budget Weekly Menu here. 
Subscribe to my FREE e-notes to get my best tips to help you save money, get organized and enjoy life sent right to your inbox! You can also join me on Pinterest, Instagram, Facebook and Twitter for daily interaction.
It's been a couple of weeks since I posted photos of my shopping because I have been busier than normal with the addition into my schedule of my daughter's swimming for physical therapy and the fact that we have one car right now.
Then this week my son's car broke down and I have been spending several hours a day getting everyone to work. The good news is that I have lots of time to talk with the family while we are driving and I was able to take a few extra minutes in between to photograph the shopping this week for you.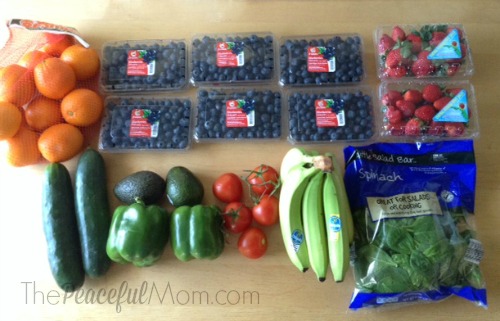 Aldi Produce 
I stocked up on blueberries for $2.29 a pint which is the cheapest I have found them this time of year and because THIS.
Best Produce Deals:
pint strawberries $1.49
cucumbers 59 cents each
bananas 44 cents a pound
California navel oranges $2.29/3 pounds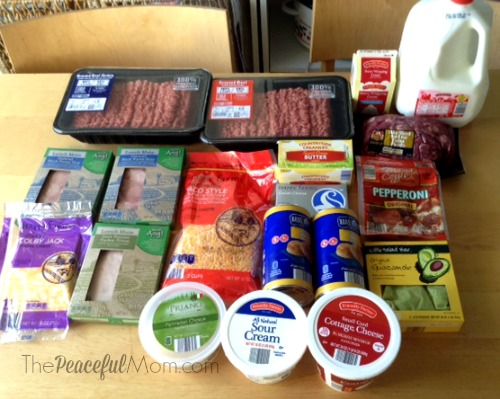 Aldi Meat & Dairy Items
(not pictured: 2 dozen eggs)
I was excited to find no-nitrate lunch meat at Aldi this week so I purchased a few packages to try. I also purchased some convenience foods with the pre-made guacamole and the canned biscuits. This increased the budget but with my schedule being so busy it is cheaper than fast food or take out pizza and enables my daughter to prepare dinner without my help.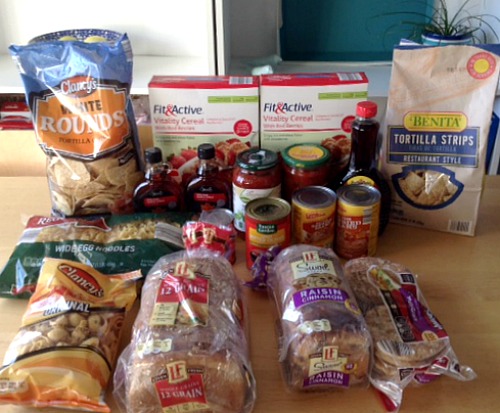 Aldi Grocery Items
I love that I can purchase items like pure maple syrup inexpensively at Aldi. I also bought regular syrup rather than making my DIY Waffle Syrup this week.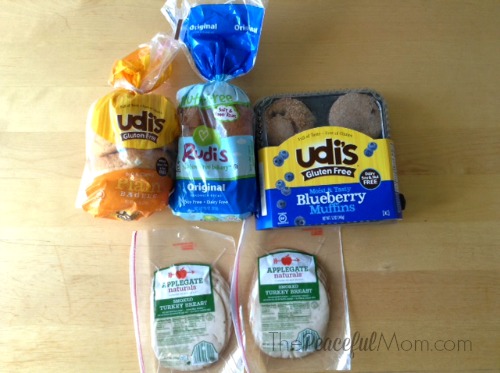 Publix Gluten Free and Organic Items 
It was time to stock up on some gluten free items for my daughter as well as her favorite lunch meat. This put me over budget for this week but these items will last a few weeks.
Weekly Total: $153.81 
Monthly Total: $273.10 
($125/week budget for six people so I am $28 over budget for this week.)
RESOURCES
If you like saving on groceries (who doesn't?), download the FREE Ibotta app and find deals at your local stores every week.
Click here to download the app for free.
You can also use the Favado Shopping App. Save up to 70% on your groceries plus find secret unadvertised deals each week.
Click here to download it for FREE!
(Once you download it, sign in to see this week's deals!)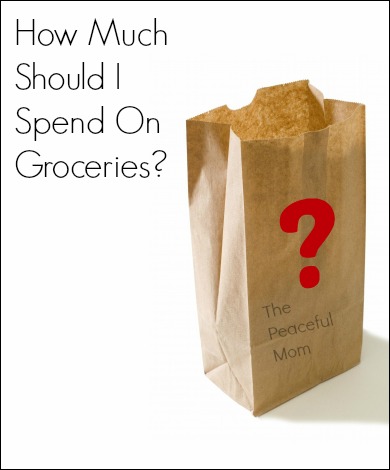 Find more tips to lower your grocery bill in my Save Money On Groceries posts here.
How did you do this week? Leave a comment!
You May Also Enjoy: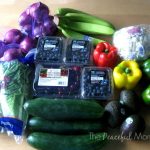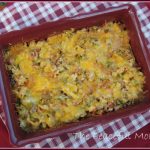 *Affiliate links are included in this post. Read our disclosure policy here for more information.