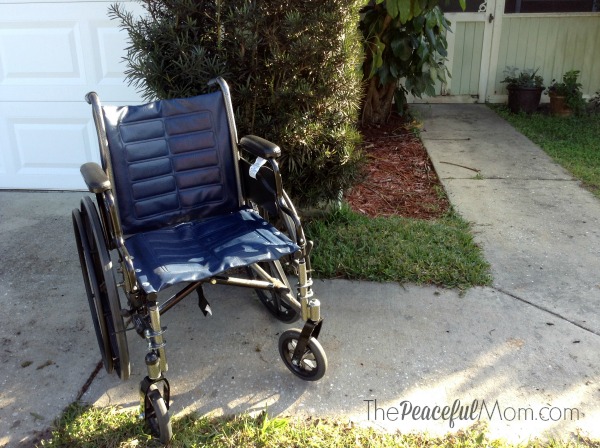 We reached a milestone last week.
The wheelchair that was the sole form of mobility for my daughter for so many weeks is finally gone. (Read more about the accident here.)
While this event should have been a joyous celebration it was also a trigger for my deep grief over her accident. I feel so much compassion for those of you who have experienced tragedy that did not result in the positive outcome that we had but I still have many deep emotions about the accident which I honestly have not had much time to deal with until now.
Thankfully my daughter is doing very well.
Her collar bone has healed so well that, according to the doctor, the bone looks as if it were never broken. Of course the metal plate is there as well as the scar but at least we know that the bone is completely healed.
She is wearing a small ankle brace and is able to do most regular activities. She is swimming for physical therapy and we were able to get a scholarship for a YMCA membership so she can swim regularly. She even returned to her job on the weekends. She does experience some pain in her ankle from time to time but overall she is mostly back to normal and seems do be doing very well emotionally.
I, on the other hand, will evidently take more time to recover. The months after the accident were filled with helping my daughter, medical appointments, dealing with insurance, my 14 year old's birthday party, a trip to visit friends and relatives out of town in December, and all that goes along with Christmas. In the busyness I had little time to deal with anything emotional and I was primarily running on adrenaline.
The adrenaline has now run out and the trauma of the last few months is just now surfacing for me. I have days where my brain and body simply do not function and I have to spend time sleeping, reading and watching movies.
My very wise counselor told me to rest as much as possible, keep life stress free and don't expect much from myself — pretty difficult news for an achiever personality like me!
Thank you so much for your prayers, encouragement and patience as we try to get back to normal. The blog hasn't been all that I want it to be but it is what I can do for now. Thanks for being a faithful reader!