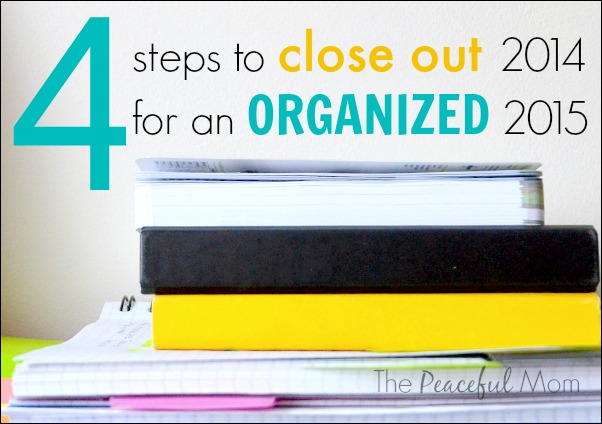 It's January and time for a fresh start! I like to spend the few days at the beginning of the new year to wrap up the previous year and get organized. Take these four steps to start your New Year off with a bang.
Close Out Christmas
Hopefully you were able to print the FREE holiday planner I have available to subscribers (join here). Before you tuck your planner away for the year take a few minutes to complete the Holiday Snapshot (print one here) while the details of the season are still fresh on your mind. When I completed my Snapshot I made note of a few changes I want to make next year and jotted down a few reminders of activities we did that were particularly enjoyable for our family. You can also make a note of any supplies you need for next year. Place your planner in an easy-to-find location so you can remember to check it next year before you start shopping and buy more wrapping paper when you already have ten rolls in the closet.
Speaking of buying wrapping paper, you can click here to print an extra copy of my Holiday Spending Planner (featured on Today.com) and write in the amounts you actually spent this year which will help you plan for next year. Think about changes you can make so that you will spend less. Thanks to our budget I was able to limit our spending to $350 this Christmas.
Declutter Your Decor
While you're taking down the Christmas tree take the time to set aside any ornaments or decorations you don't love. I have a small box of items I am getting rid of.
In addition to decluttering your holiday decor you can also do a quick declutter of the rest of your home. Spend five to ten minutes in each room finding at least five items that you can give away. Don't spend a lot of time analyzing each decision, simply grab items you don't use or love and give them away so that someone else can enjoy them. Ask your husband and children to help by finding items they can give away as well.
Once you have collected the items place them in a box or bag in your car so you can take them to the donation center or thrift store the next time you leave the house. Ah, doesn't that feel better?
Transition Your Finances
Once your house is a little cleaner you can sit down and transition your finances for the new year. I start a new checkbook register and place the old one in our tax file. (We don't write any checks but I use the register to keep our accounts reconciled with our online banking.)
Throughout the year I file financial paperwork into three file folders: (1) financial statements and check stubs; (2) medical bills and (3) paid household bills. I file all of our receipts in business envelopes labeled for each month. At the beginning of the year I total everything and gather all of the papers into one large folder in preparation for tax season. I then label new file folders for upcoming year. I also close out my business finances and print my Income and Expense spreadsheet for the year. I have just saved myself a lot of stress when it's time to prepare our taxes.
Assess Your Year
Finally it's time to take a look at your year and where you are in relation to your overall goals. Take a few minutes to think about each month of 2014 and note any areas of your life you want to change. I noticed this year that we did not participate in as many activities as a family and I decided to be more intentional about that this year.
As a part of my year end assessment I also like to look over our spending for the year (I keep a record of everything we spend) and determine habits and patterns that are costing us money. I then make plans to change them. During my review I noticed that during the months when I was busiest I tended to spend more so I am making a conscious effort to limit my outside obligations this year to make sure that I have the time to take care of our family's needs.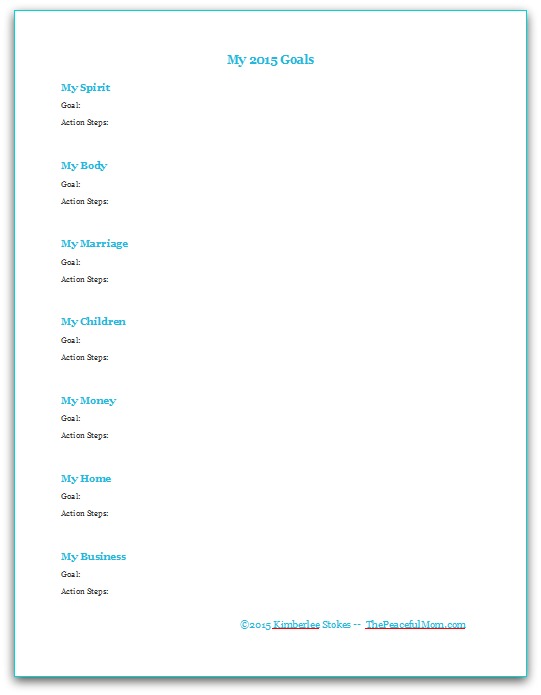 Once I have closed out the previous year I take time to set goals for the new one. Click here to print a FREE 2015 Goal Planner and check back Monday when I will be sharing my 2015 goals! [Current subscribers click the link at the bottom of your emails that says "Click here to access your subscriber bonus page!".]
How do you prepare for the New Year? Leave a comment or a link so we can share ideas. 🙂
Make Money Online!
Click here for a complete list of The Peaceful Mom's recommended survey sites.