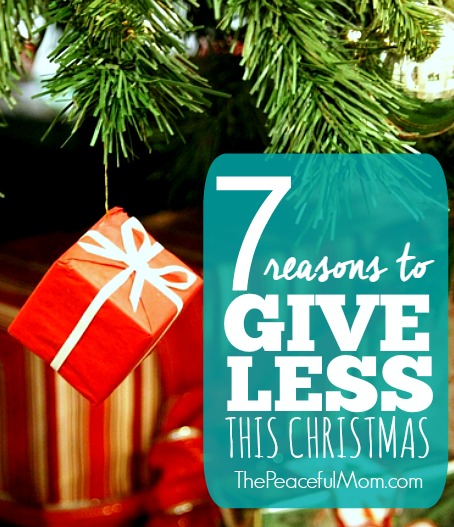 As Christmas nears it's easy to become caught up in the buying frenzy all around us and to think that more is better.
Magazine spreads, television commercials, internet ads and even Pinterest (I love it – I really do!) all set up unrealistic expectations with images of beautifully decorated homes, decadent food and happy faces as each family member opens the "perfect" gift. You can easily lose your peace trying to "purchase" your holiday vision rather than focusing on what is truly important.
Today I want to encourage you that LESS — fewer gifts and less money spent on gifts — may actually be better for your family during this Christmas season.
Giving Less Saves Money
The most obvious reason to give fewer gifts this Christmas is the fact that you will spend less money. Of course we want our family and friends to feel loved but a gift is a token or representation of our affection, not a measure of it. Most of the time a heartfelt note will mean far more to our recipient than an expensive gift.
Giving Less Prevents Debt
I'm a firm believer that part of the reason depression increases in women during the month of January is that they have overspent for the holidays and they start receiving the bills just about the time they get the Christmas tree down. By setting limits on your Christmas gift giving you will enjoy a much more peaceful December and a more joyful January when you are missing those pesky credit card bills.
Giving Less Reduces Stress
When you choose to give less you also choose to shop less, spend less, wrap less and ship less which means that you will be able to stress less. What mom can't use a little less stress in her life?

Giving Less Moderates Materialism
Materialism makes us pay attention to the physical stuff around us rather than being aware of the eternal and spiritual aspects of life. When Christmas is all about the gifts we may miss the simple joy of being together or the spiritual significance of the holiday.
One year the adults in our family exchanged gag gifts that were under $1. We laughed a lot and have some great memories. We experienced the truth that relationships are more important than gifts.
Giving Less Increases Gratitude
Without the distraction of so many gifts we are free to focus on what we already have and to be grateful for it. Gratitude and contentment are the foundation for a happy life and most of us would admit that we could be more grateful for the blessings in our lives.
Giving Less Curbs Selfishness
As parents it is so easy to fall into the trap of overbuying for our children. We all want our children to be happy but giving a child everything he asks for can create selfishness and greed. Giving your children fewer gifts will help them to learn the lesson that we don't always receive everything that we want in life. It's a lesson that some adults have yet to learn.
Giving Less Enables Us to Give More Where It Matters
Choosing to give fewer Christmas gifts also enables us to give money to those who need it most. When we're grateful for what we have it creates room for us to focus on being generous to those who are suffering. This is a perfect time of year to research charities that are doing good around the world and to give a little of that cash that you saved from not buying gifts.
How will you give LESS this year so you can give more where it matters? Leave a comment. 🙂
You May Also Enjoy: