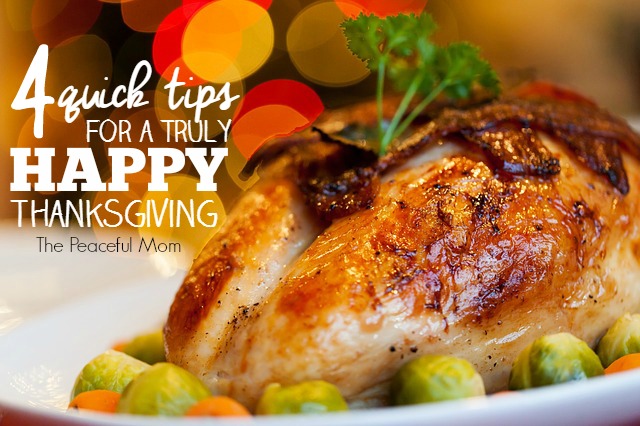 It's the week before Thanksgiving and you may be feeling a little bit of stress about the Big Day. I'm feeling it too and I have several good reasons:
I don't like cooking turkey.
I want to make my family happy.
We have a tight budget.
I don't like cooking turkey.
Did I mention that I HATE cooking turkey?
This time of year can be stressful but I have a plan to combat the stress and enjoy our happiest Thanksgiving yet.
Adjust Your Expectations
Much of the stress of Thanksgiving is created by our expectations that it will be the most wonderful day spent with family sitting around a beautifully decorated table and enjoying an amazing meal. The truth is that the calendar changing to the fourth Thursday of November doesn't change our circumstances or the way our family members interact. It's helpful to acknowledge the fact that there may be conflict, your turkey may be overdone and dinner probably won't look like a Norman Rockwell painting or a greeting card commercial.
It's okay. Life goes on.
Make a Plan
One of the best ways to combat the stress is to actually make a plan for the day. My plan includes creating a simple and inexpensive menu, preparing some food ahead of time, enlisting the help of my children and getting at least eight hours of sleep the night before. Other steps could include creating a basic schedule for the day and planning some fun activities for the children who will be attending your gathering.
For a little help in the planning department click here to print my FREE Thanksgiving Menu Planner & Grocery List, Thanksgiving Meal Timeline and Thanksfulness A to Z activity.
Keep It Simple
Now is not the time to try four new and complicated recipes so that you can create the most spectacular gourmet meal you have ever served. Instead plan on basic dishes that are easy to prepare and one impressive dessert or side dish. If you have the extra money you can even purchase some of your dishes pre-made to save time.
Focus on Fun
Don't forget to have fun! You could make a special breakfast to eat while watching the Thanksgiving Day Parade, color on your tablecloth or play a silly rhyming game with your kids while you're cooking. Laughter goes a long way toward relieving the stress.
Ultimately Thanksgiving is about enjoying your family and being grateful for all the blessings in your life. This year I plan on remembering what's most important so that the stress of everything else can fade into the background.
And I just might skip the turkey.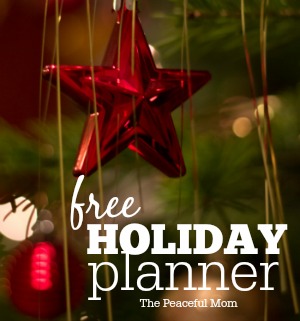 Want to enjoy Stress Free Holidays? Subscribe to The Peaceful Mom Weekly eNotes and get my FREE Holiday Planner to help you stay organized and joyful.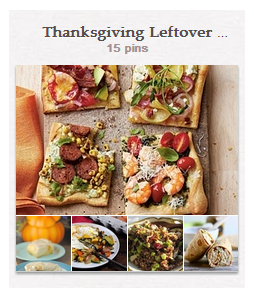 Be sure to check out my Thanksgiving Pinterest Boards here for more ideas.