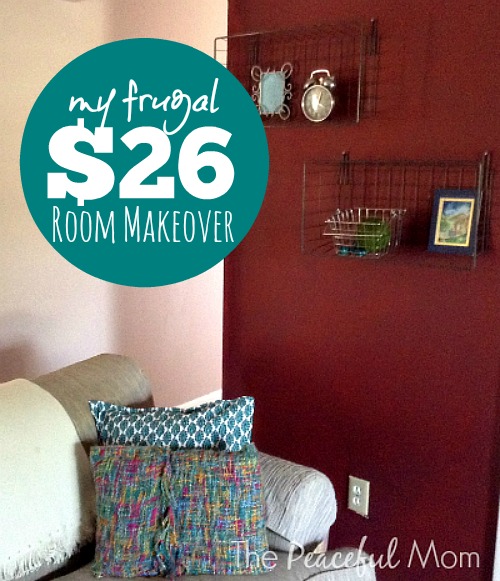 It's November which means the holidays are closing in on us and you may be feeling the itch to spruce up your home before company comes. I felt the need to redecorate a few weeks ago before my daughter's accident but I had a budget of only $30 so I had to be extremely creative.
Today I'm showing you my $26 Room Makeover and giving you tips to update your home on a budget as well.
My Living Room Before: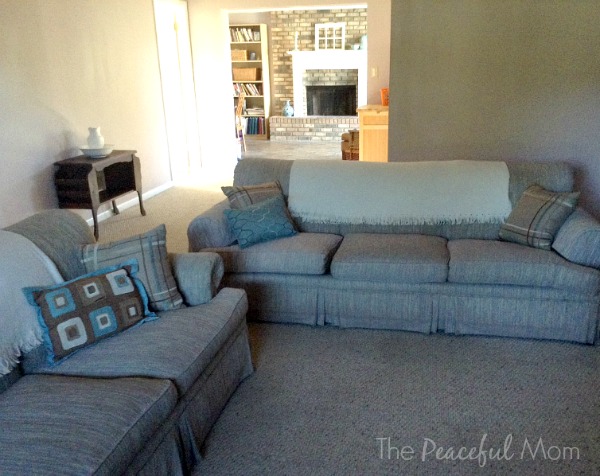 Ugly couches, neutral colors and empty walls equal BORING – zzzzzzz!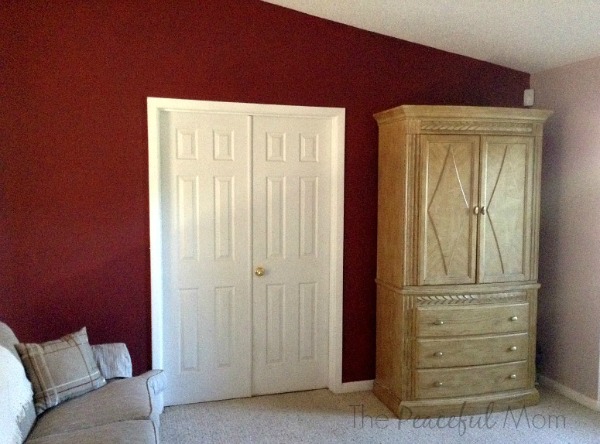 In addition I have an accent wall in a color that I hate and depending on the time of day the other walls in the living room look pink.
I don't claim to be any kind of interior designer or even to have "style" but I was able to make our room feel warmer and more personal with a few simple updates. Whether you love or hate my budget makeover you can use the same principles to make over your space so you and your family can enjoy it more.
Declutter
The easiest and most cost-effective way to improve the look and feel of your space is to get rid of the clutter. Ruthlessly eliminate anything that you don't absolutely love or use. It doesn't matter who gave it to you, how much it cost or how "in style" the item is, if you don't love it or use it you shouldn't keep it hanging around. If the item in question is a family heirloom, check with relatives to see who might like to take it off your hands.  Otherwise, sell it or give it away. (Check my How to Sell Your Stuff Page here for tips to make money from your decluttered items.)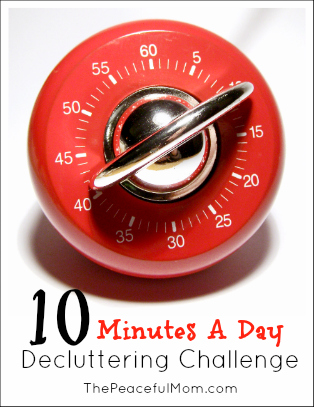 Join my 10 Minutes A Day Decluttering Challenge here and declutter your living spaces before the holidays!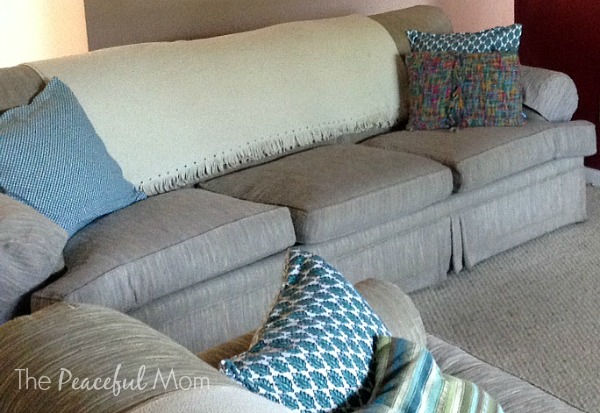 Change Your Pillows
Another super easy way to quickly update the look of a room is to change the pillows on your sofas and chairs. Pillows are simple to sew but if you are opposed to sewing you can purchase them relatively cheaply at discount stores. I don't usually buy pillows from thrift stores because I can't wash them and I don't want to take a chance on bringing small pests into my home.
For this update I took some cloth napkins with patterns that I really love, sewed three sides together, slipped my old pillows inside and stitched up the fourth side by hand. I placed the fourth side facing downward on the sofa so no one will notice if my stitches aren't perfect.
The textured pillow you see in the upper right corner of the photo is actually a knitted scarf that I wrapped around and stitched to an existing pillow. I love the pop of color that the pink adds and the other colors in the scarf blend well with the colors of the other pillows.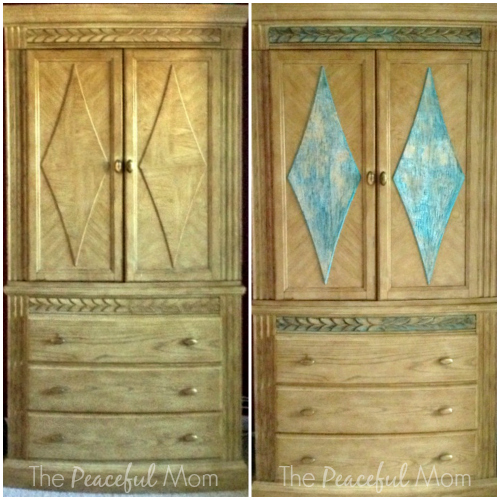 Paint Furniture
Painting a piece of furniture a bold color can create a focal point for your room and add style. Generally speaking you will need to clean and sand the piece before painting and you may need to use a coat of primer before beginning.
I purchased two quarts of contrasting but complementary paint colors for $9.00 and used the paint to add some personality to our entertainment center. As I mentioned earlier, I began these projects before my daughter's accident and I am not completely happy with the way the entertainment center looks but for now I am living with it. I may decide to paint the entire piece turquoise and distress it but at least for now I have added a little more color to the room.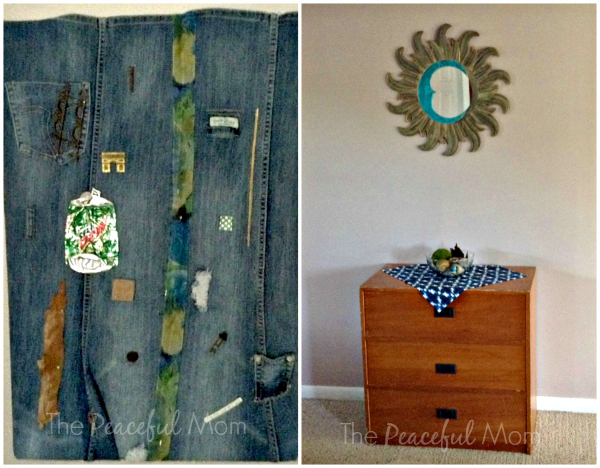 Cover the Walls
Walls are the biggest space in your room and painting them is a relatively inexpensive way to update. Unfortunately because we are in a rental painting the walls was not an option. I decided instead to use a few key art pieces in coordinating colors to draw attention away from the wall color and to add some interest. You can use large scale pieces such as quilts, a large grouping of picture frames or pieces of foam board covered with an interesting fabric to cover your walls or hang drapes from a curtain rod even though there is no window behind them.
I wanted to create a look for my room that reflected my creativity and more of an "artsy" feel. I chose to cover a piece of foam board we had lying around with denim from a pair of old jeans. I then created a collage with found items. I found the sun and moon wall mirror in the right photo at the thrift store for $9.00. I normally wouldn't spend that much for something second hand but I felt it perfectly fit the look I was trying to create. The moon portion was originally yellow but I painted it turquoise to match the color scheme of the room.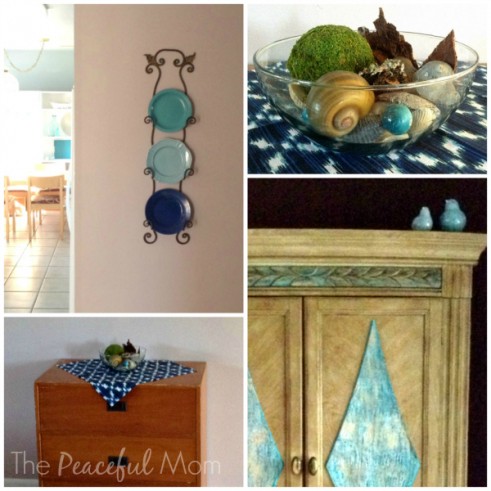 Add Details
Paying attention to the small details of your room can add personality, character and warmth to a space. I was able to purchase the plate rack in the upper left corner of the photo for $1.00 at a yardsale and add plates that I had purchased a couple of months ago. I added the birds on top of the entertainment center as a fun, quirky touch. Now they are looking out over our living room.
I used a dresser that we had in another room and added a cloth napkin and a glass bowl I had previously purchased at the thrift store. I filled the bowl with natural items found around my house and yard and added a few turquoise beads I purchased for a couple of dollars at the thrift store.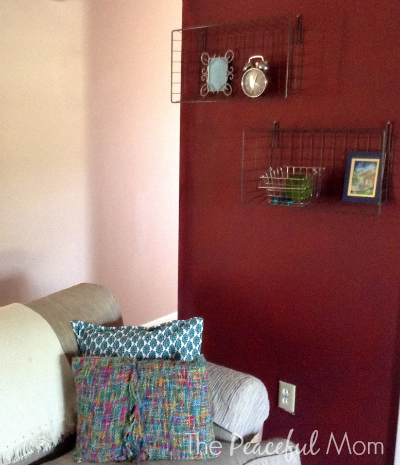 I also found these metal baskets at the thrift store for $1.99 each. I decided to use them as a kind of display shelf for other items from around my house.
Other Tips
Narrow your color palette – I chose one color that I love and then used the paint chips at my local home improvement store to find colors that complement it.
Choose a style – Once I decided to use more of an artistic and creative style I knew which pieces would fit and which would not. If you are not sure what style you prefer start pinning photos of rooms you like to a decorating board on Pinterest (see my pins here). Over time you will begin to see patterns in what you are drawn to.
Recycle – There are many options available to find used items that you can refresh or repurpose. ReStore Habitat for Humanity Store, flea markets, yard sales and Craigs List are just a few. I also took items from other rooms in my house to update the look of our living room (dresser for a side table, dishes for wall art, napkins for pillow covers, etc.).
Make it Personal – Add personal touches such as family photos, items you picked up while traveling and books you love to add warmth and personality to your room.
So here are the AFTER photos: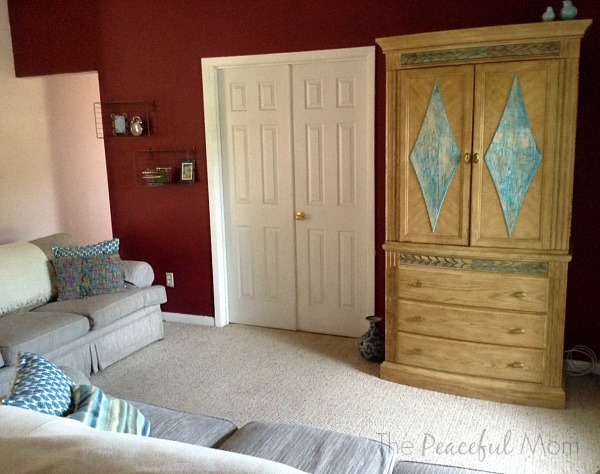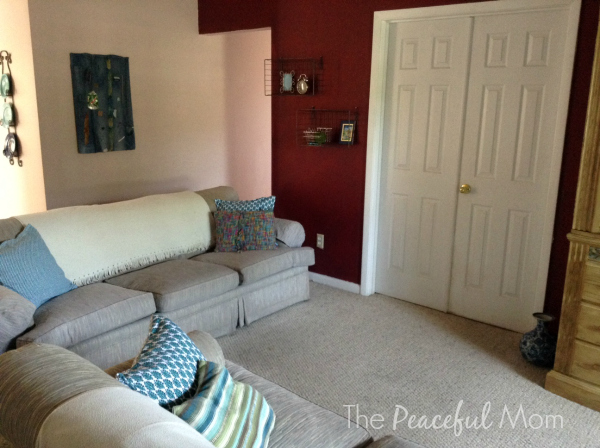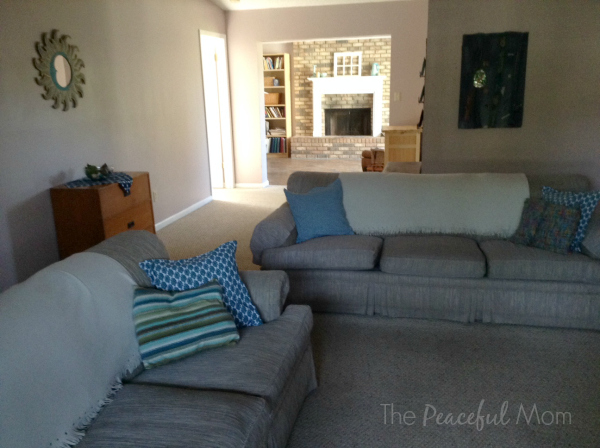 My purchases:
baskets $1.99 each ($3.98 total)
paint $9.00
wall hanging 9.00
plate rack 1.00
beads $3.00               
total  $25.98
You may not enjoy my style but my point in showing you my room update is to encourage you to look at your space with new eyes. You don't have to make your home look like a magazine photo. Decorate with what you like and let your home reflect your personaltiy.
Don't allow perfection to prevent you from doing the best you can with what you have. (Tweet This!)
I would love it if you share photos with me on Twitter (@thepeacefulmom) or on Instagram (kimberleestokes) with the hashtag #BudgetDecor.
You May Also Enjoy: