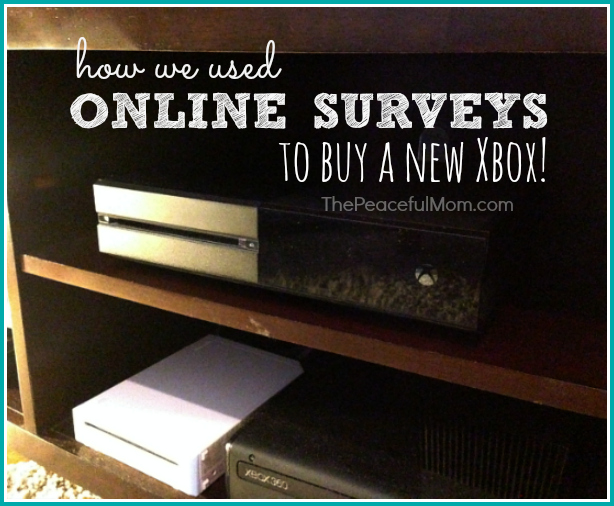 How We Used Online Surveys to Buy a New Xbox (part of the Living On Less Series) is a post by Contributor Kendra.
_____________________________________________________________
My husband and I are nerds, under 25 and not bazillionares (yet!), but we were recently able to buy a new Xbox One by using money that I earned from online surveys and money we saved from side jobs a few weeks prior.
Background
We are on a pretty tight budget but our expenses are fairly small so we save a lot. We have an emergency fund, we regularly budget our finances and we have paid-for cars. If we didn't have these things in place we wouldn't be splurging on new electronics. We also have no kids (yet) just for context.
This may sound crazy but we have no cable, no antenna, no TV service at all so we get a Gold Membership, Netflix, and Hulu Plus (which we split the costs of with family) for our entertainment. My husband also really likes gaming. It's a hobby of sorts and since we are both huge nerds our gaming consoles are very special to us.
How We Used Survey Sites
I have used online survey sites for around 7 years. I usually redeem my points for American Eagle gift cards or magazine subscriptions but at the beginning of this year I decided to see if I could save the points I accumulated for a larger purchase. These are the sites I use:
Pinecone- This is my favorite site. I use the Cash Out option to redeem points, you get $3 for every  survey you complete and even though they don't come often this does accumulate and you are pre-qualified for the surveys they send you.
Ipsos I-Say- This one is good but you do have to go through a lot of surveys to get one you qualify for, but once you find it you'll earn a lot of points.
Swagbucks– I haven't personally used this site yet but I plan on it! From what I've seen the earning potential is pretty good. Combine your earnings from multiple sites and you can get rewards in no time!
ZoomPanel- I like this one because the surveys are diverse and it's easy to do when you have a little time to waste. The points do not add up very quickly though.
The Purchase
We ordered our Xbox One (no Kinect) from Amazon
. I realize now that they have dropped prices for the Xbox and if we'd waited we could have saved even more but we are happy with what we got and my husband has enjoyed Destiny on his new setup immensely. 😉
Here's the breakdown:
Total for Xbox One with Shipping (we chose 2-day) and Tax: $442.42
Money Earned from Survey sites:
Pinecone $125
Zoompanel $25
Ipsos I-Say $75
Total           $225
I bought a $125 Amazon gift card with the cash from Pinecone at Kroger while they were having the 4x fuel points promotion and got $0.50/per gallon savings on gas. The other amounts were redeemed in Amazon gift cards as well so when applied to our total we saved $225, the other $218 we'd saved from side jobs for a few weeks prior. Using the money from the surveys enabled us to buy a new game system twice as fast.
If you have some extra time and want to earn some free stuff jump on some of the survey company sites Kimberlee recommends here on ThePeacefulMom.com (click here for more info). They are legitimate and useful! I really didn't spend a lot of time earning the money so imagine what you could do if you really focused. You may not have time to save for a big Christmas gift this year but you could start earning for next Christmas or for Valentine's Day
[Editor's Note: My husband loves using My Points to earn movie tickets and other goodies for date night. They are accepting new applicants so go here and scroll to the middle of the page for the sign up link.]
*Affiliate links are included in this post. Read our disclosure policy here for more information.
Make Money Online!
Click here for a complete list of The Peaceful Mom's recommended survey sites.