[Editor's Note: We interrupt our regularly scheduled programming for a few deep thoughts that have been rolling around in my head. Don't worry – I won't become philosophical in every post. 🙂 ]
With the recent circumstances in our life (read more here) I have been thinking about others who have to walk through challenges and how they cope. Many times when difficulties come into our lives we ask "Why?" and if we are people of faith we are probably asking God this question.
When my daughter was hit by a minivan last week I actually didn't think to ask why it happened. I was just so grateful that she is alive and I absolutely trust God and know that He has our best interests at heart. I know with certainty that He did not cause the accident, nor did He want the accident to happen.
I also know that because He is a loving God He will use the circumstances for good.
We now know more details about what happened that evening and one of the points that stands out the most is that two witnesses say that my daughter flew off the minivan approximately 8 feet and hit the pavement. She was so far away from the van the paramedics thought someone had moved her.
There is absolutely no reason that she should not have brain damage and multiple broken bones including spinal injuries. Some of the doctors we worked with said she could easily have died —
except God.
I know without a shadow of doubt that God protected her. As a matter of fact, on the Saturday before the accident I was compelled to physically stop what I was doing on three separate occasions in order to pray protection over my daughter. At the time my youngest was away at a youth retreat and I thought that I was praying for her. The day after the accident God reminded me of those prayers and the fact that I had prayed for "my daughter", not using a name, and showed me that those prayers were for my 17 year old.
So if God protected her from the most severe injuries, why did He not protect her from the accident altogether? Why would a loving God allow a young woman to go through such a traumatic event?
I may never know the full answer to that question but in talking with my daughter I discovered something interesting. For the past few weeks she has been afraid of being hit by a car while riding her bicycle. She is also afraid of hospitals and doctors because of some bad experiences when she was younger. Her fear loomed larger than her relationship with God.
In I John 4:16-18 we read that God IS love and in verse 18 says:
"There is no room in love for fear. Well-formed love banishes fear. Since fear is crippling, a fearful life—fear of death, fear of judgment—is one not yet fully formed in love."  — The Message
When fear has power over our minds and hearts we are hindered from receiving God's love and He wants us to receive EVERYTHING He has for us. I believe that God is allowing my daughter to go through this difficult time in order to reveal more of His love to her and to completely conquer the power of fear over her life so that she can be free to be all that He has created her to be…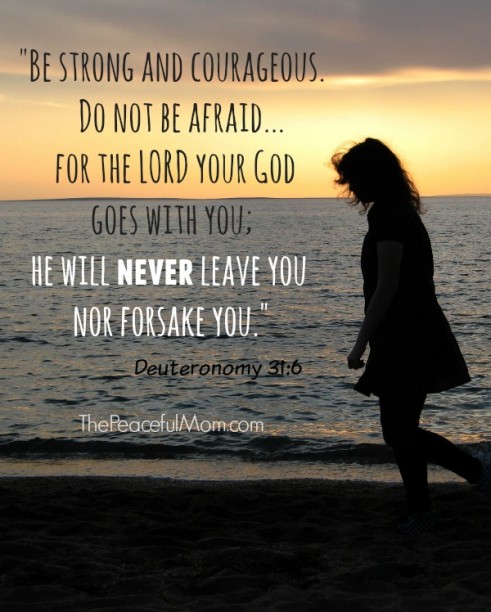 and He is walking through everything with us.
I don't know the plans that God has for my daughter but I do know that He is a loving God who HAS a plan for my daughter. He wants to have a deep, intimate, personal relationship with her, with me and with you. As we walk through life's challenges we can be assured that He is with us and He will never leave.
"Though I walk through the valley of the shadow of death
I will not fear for You are with me."