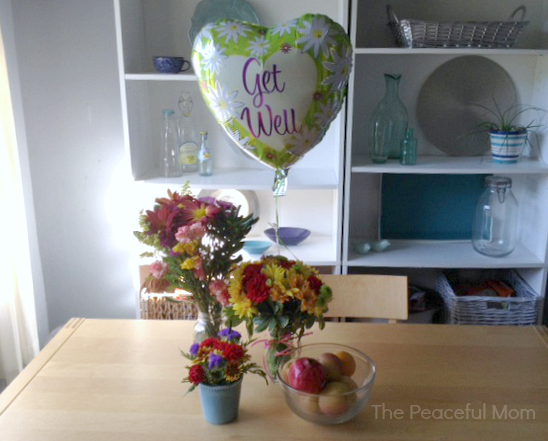 I have often thought that God allows me the privilege of experiencing hardships in life so that I can use those experiences to comfort and encourage others in similar circumstances. Like 2 Corinthians 1:3-4 says:
"He comes alongside us when we go through hard times, and before you know it, he brings us alongside someone else who is going through hard times so that we can be there for that person just as God was there for us." — The Message
For those of you who are caregivers, I now understand.
It seems like every minute there is something to be done when your loved one cannot care for themselves from the tiniest thing like adjusting a pillow to dressing, eating and personal care. I am the one who changes the dressings on my daughter's injuries, helps with physical therapy and comforts her as she works through the emotions of all that she has been through since being hit by a minivan. (You can read more about the accident here.)
I am absolutely not complaining.
I have felt God with us every minute and I actually physically feel all of the prayers that are going up for us. It is a strange and inexplicable sensation but it feels like your prayers are holding God's arms around us as we walk this journey.
Thankfully we were able to come home from the hospital on Thursday afternoon after an intense five day stay which included surgery, recovery from surgery, adjusting pain medication and lots of physical therapy to make sure we could do everything we need to do at home.
Being home is both a blessing and a challenge. A challenge because I became the around-the-clock nursing care dispensing medication and making sure that my daughter is comfortable. A blessing because our family is together in familiar surroundings. Thursday night my three oldest teens and I had an impromptu slumber party into the wee hours of the morning. It was so good for us to be able to spend time together processing everything, laughing and crying together.
For my daughter's privacy I won't post any photos of her but I wanted to show you a little bit of our new reality: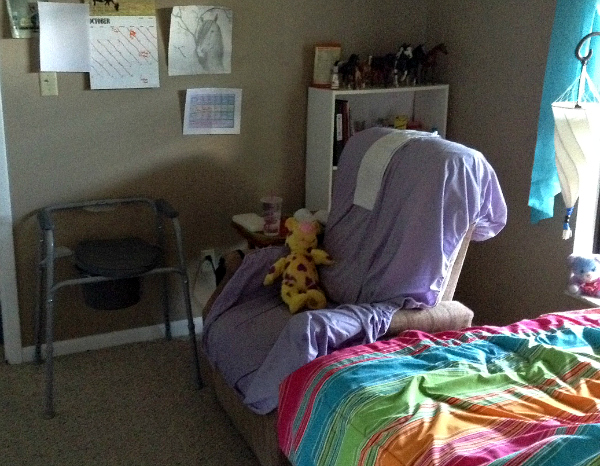 (the first photo I have ever posted of a toilet)
We are very grateful to our friend who was able to let us borrow a motorized recliner so my daughter can sleep comfortably and move without much effort.
She basically cannot bear any weight at all on her left side for the next 6 to 8 weeks so we are depending on her right leg and right arm to help her push up out of her recliner, then while I am holding her she has to scoot her good foot over to the new seat (toilet or wheelchair) without putting weight on her injured foot and sit down. Moving in this way is painful and tiring for her but we are so thankful that she can because it means that we can be at home rather than at the hospital.
My sweet 13 year old has been completely displaced as we have taken over her bedroom for my 17 year old. Her bedroom has double doors that open to the living room so we are able to move the wheelchair in and out of the space. Even though the changes are difficult for her she is being very accommodating and is eager to help in any way that she can.
We have weeks of physical and emotional healing, physical therapy and adjustments ahead of us but we are so grateful for my daughter's life, God's Presence with us, family and friends who love us. I am especially grateful to all of you who have left comments on the website and Facebook or emailed me with your sweet thoughts and prayers for us. Your encouragement has truly carried us as we move through these days. I don't have much time to respond but please know that I am reading every one.
I would never have wished these circumstances for my daughter but God as always is working all things together for good and we know that we can live peaceful and joyful lives as we trust in Him.