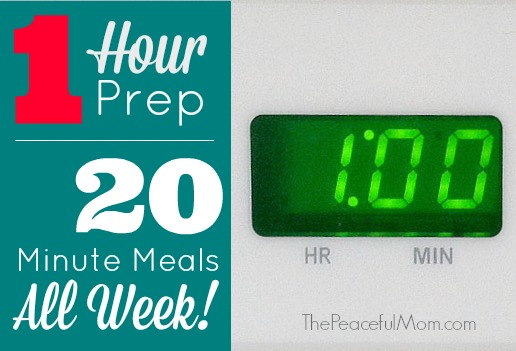 You might have noticed that I like keeping life simple and one of my favorite ways to simplify is by making meals as stress free as possible. Last week I showed you how I turned 29 pounds of meat into 2 weeks of meals in just 1 hour (read more here). Today I want to show you how I spent 1 hour of preparation on my shopping day that enabled me to make dinner in about 20 minutes the rest of the week. (Plus you can print a grocery list to do the same!)
Here's what I bought this week including breakfasts and dinners (see our complete $125 Budget Menu here):
Aldi Produce
Best produce deals this week:
Yellow Onions $.99/3 lb bag
Fuji Apples $2.99/3 lb bag
Grape Tomatoes $1.59/pint
Mushrooms $.99/8 ounces
Pomegranate $.99
Red Seedless Grapes $1.49/lb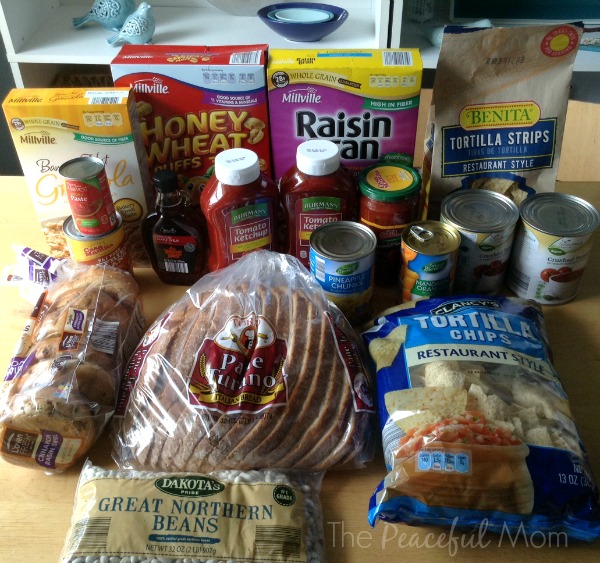 Aldi Grocery Items
I was super happy to find ketchup with no high-fructose corn syrup so I purchased two bottles. I also splurged a little on the Banana Granola for my husband and the maple syrup for $3.99.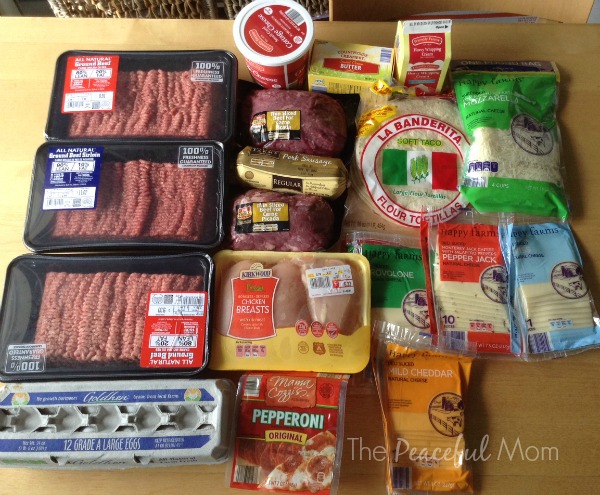 Aldi Refrigerated and Dairy Items
(not pictured: gallon of milk)
We primarily eat meat and vegetables for dinner because my daughter is gluten free for medical reasons. This week I purchased:
7.6 pounds of ground beef
2 pounds of boneless skinless chicken breasts
6 pounds of carne picada (shredded beef)
Weekly Spending Total: $129.41 ($125/week budget for 6)
October Monthly Total: $377.22 ($125/73 avg. per week)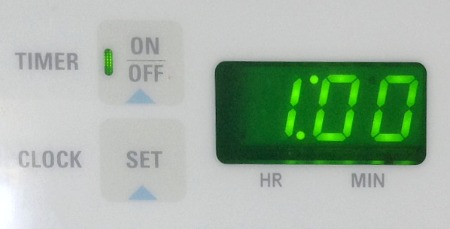 The 1 Hour Prep
Dry Beans – Rinse beans and place them in a large pan to soak overnight.
Onions – Slice 3 large onions into long strips. Cover and place in the refrigerator for later. Dice 3 large onions, set aside for ground beef. Dice an additional onion and set it aside for the sausage.
Green Peppers – Wash and slice into strips. Place pepper strips in refrigerator until dinner time.
Carne Picada – Place the carne picada in a glass bowl. In a jar with a tight lid shake together ½ cup balsamic vinaigrette, ½ cup Worcestershire sauce and ½ cup Italian dressing and pour over meat. Set meat in the fridge to marinate until dinner.
Ground Beef (Part 1)- Saute previously diced onions in 2 tablespoons of olive oil. Add ground beef plus 2 tablespoons salt and cook until meat is browned. Drain meat and set aside to cool. Click here to see freezing instructions or watch my Easy Freezer Cooking Video here.
Sausage – Saute additional diced onion with breakfast sausage. Allow to cool then package in a zipper freezer bag for later.
Ground Beef (Part 2) – Prepare ground beef for the freezer. Click here to see freezing instructions or watch my Easy Freezer Cooking Video here.
(Please Note: I have made the grocery list based on the cheapest way to make each meal. If you have less time you can spend more money for convenience items like prepared pasta sauce, canned beans, etc.)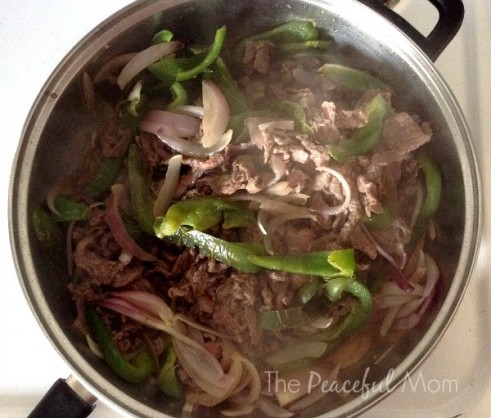 The Daily Plan
Day #1: Steak and Peppers Over Rice
Start cooking white rice (15 minutes). In a separate pan steam green beans. Meanwhile sauté the carne picada with green peppers and sliced onions.
Serve half of the meat mixture over rice with the green beans on the side. Place remaining half of meat mixture in the refrigerator for Day #3.
Day #2: Ham and Bean Soup
In the morning rinse the beans and add them to a large stock pot with a ham bone and 1 tablespoon of salt. At dinner time follow directions for Ham and Bean Soup. (I have chicken broth in the pantry and I am skipping the celery). Serve with cheese toast triangles. To make this easier, use canned beans and follow the directions for the soup.
While you are waiting for the soup to cook, sauté the marinated chicken breasts to serve over salad for lunch tomorrow.
Day #3: Philly Cheese Steak Sandwiches with Sweet Potato Fries
Wash and slice sweet potatoes then place them on a cookie sheet to make Sweet Potato Fries. While these are baking (about 20 minutes), heat remaining steak and peppers in a skillet. Place meat on top of open buns and top with provolone cheese slices to make Philly Cheese Steak Sandwiches.
Once potatoes are done, turn on the broiler and broil sandwiches for about 2 minutes or until cheese is melted and bread is lightly toasted on the edges. Serve with Sweet Potato Fries.
Day #4: Sausage and Mushroom Pizza
In the morning place frozen prepared sausage in fridge to thaw. At dinner time wash and slice mushrooms. In a large skillet add 2 tablespoons extra virgin olive oil and saute mushrooms until softened. Add thawed sausage and onion mixture to mushrooms and heat through. Set aside.
Make Easy Pizza Crust. Top crust with sausage and mushroom mixture and top with shredded mozzarella cheese. Bake at 400 degrees for 10 – 15 minutes or until cheese is melted and crust is starting to brown. (To make this quicker, purchase a prepared pizza crust.)
Day #5: Beefy Bean Burritos
In the morning place one half package of frozen browned ground beef (approximately 1 1/2 pounds) in the fridge to thaw. At dinner time add thawed ground beef to skillet and follow recipe for Beantastic Taco Meat. Add meat to flour tortillas and add shredded cheddar cheese to make Beefy Bean Burritos. Serve with romaine salad.
Day #6 Pasta with Meat Sauce
In the morning set 1/2 package of frozen prepared ground beef (about 1 1/2 pounds) in the fridge to thaw. At dinner time start water boiling for pasta.
In a separate sauce pan add (2) 28 ounce cans of crushed tomatoes, ground beef and onion mixture, 1/2 tablespoon of salt and 1 tablespoon of basil. Cook over medium heat until heated through. Serve sauce over cooked pasta with a salad on the side. (To make this even easier add meat to a jar of prepared pasta sauce.)
Day #7 Grilled Cheese Sandwiches Plus Leftovers
At dinner time reheat any leftovers and serve with grilled cheese sandwiches and fruit of your choice.
There you have it – just a little bit of preparation on your shopping day and you can enjoy stress free dinners all week!
You May Also Enjoy: