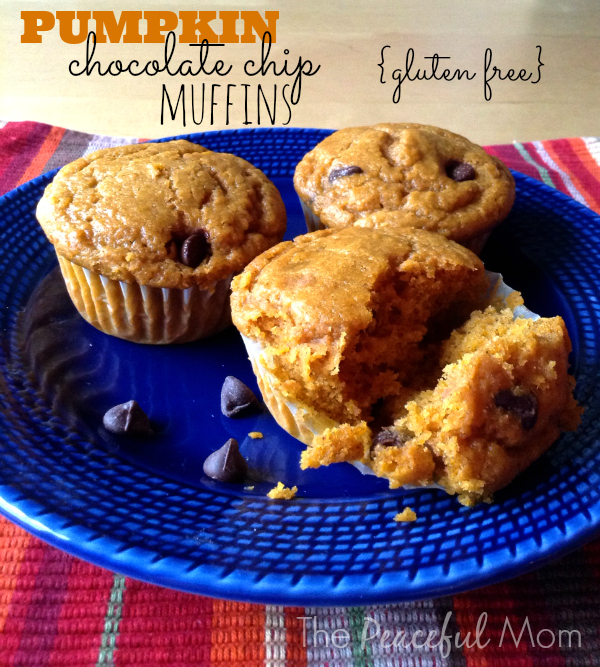 One of my very favorite parts of Fall is enjoying the taste of pumpkin in just about everything edible – with the exception of cheeseburgers. Now that I think about it, maybe I should give that a try.
My daughter adapted this recipe to make some absolutely delicious Gluten Free Pumpkin Chocolate Chip Muffins. Enjoy them, but be aware that you may find it difficult to resist eating the entire batch!
By the way, these freeze well for quick breakfasts later in the week.
Gluten Free Pumpkin Chocolate Chip Muffins
Ingredients
1 1/2 cups gluten free all purpose baking flour (we like Bob's Red Mill)
3/4 cup brown sugar
1/2 teaspoon baking soda
2 teaspoons baking powder
1 teaspoon pumpkin pie spice (cinnamon, nutmeg and allspice) or substitute 1/2 teaspoon cinnamon + 1/2 teaspoon nutmeg
1/2 teaspoon sea salt or regular iodized salt
1/3 cup semi-sweet chocolate chips
1/2 cup milk or almond milk
1/4 cup light olive oil or vegetable oil
1 cup pumpkin puree
1/2 teaspoon vanilla extract
Instructions
Preheat oven to 350°F and add paper liners to muffin tin.
In a large bowl sift together the flour, sugar, baking soda, baking powder, pumpkin pie spice and salt.
Mix well then add the chocolate chips and stir to distribute them evenly.
In a separate bowl mix together milk, oil, pumpkin puree and vanilla extract until smooth.
Add wet ingredients to dry.
Mix together until combined but do not overwork the batter.
Spoon batter into the muffin tin and bake for about 20 minutes or until a toothpick inserted into the center of a muffin comes out clean.
https://thepeacefulmom.com/2014/10/16/gluten-free-pumpkin-chocolate-chip-muffins/

You May Also Enjoy: