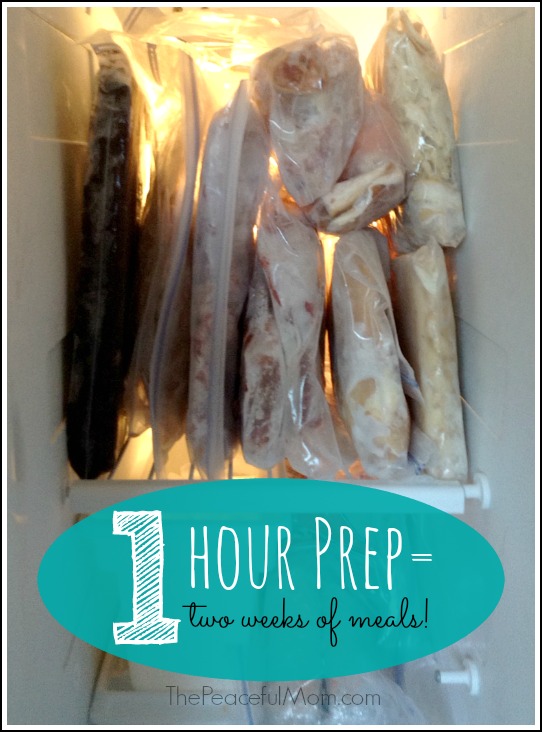 Buying large quantities of sale priced meat can save you hundreds of dollars a year on your grocery bill but you have to be smart about how you prepare it or you could lose money because the meat spoils.
Today I'm showing you what I did with one hour and 29 pounds of sale meat to end up with two weeks of meals. You may not be able to find the deals that I did but you can PIN this Post so you can use these ideas for deals you find in the future.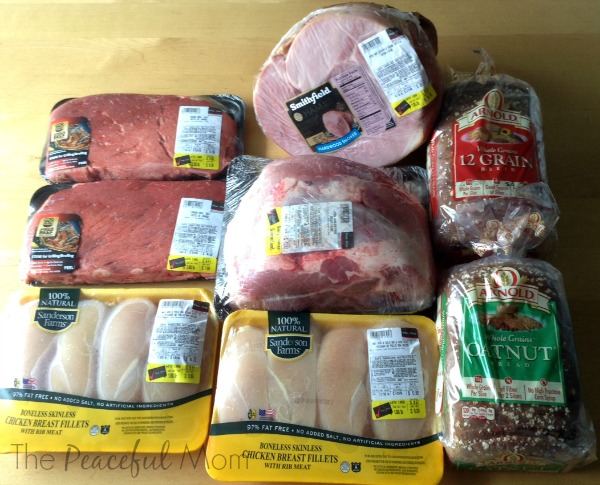 This week I was able to purchase:
5.74 pounds boneless skinless chicken breasts @ $1.88/lb
4.2 pounds Top Round (London Broil) @ $3.88/lb
9.07 pounds Pork Shoulder @ $1.97/lb
10 pounds Ham @ $1.85/lb
(Note: These are good prices for our area, but prices vary by region so they may not be a good deal in your area.)
My overall strategy is to cook some of the meat immediately, store some meat in the refrigerator for use within the next two days and store the remainder in the freezer for longer term use.
Here's how everything went down: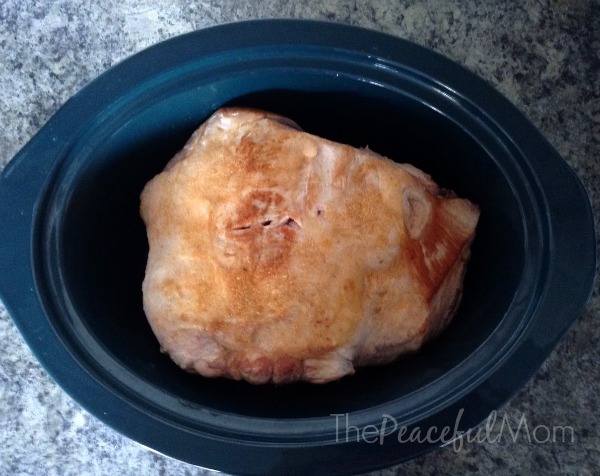 PORK SHOULDER (3 meals)
This was the largest portion of meat and would be the most difficult to freeze because of it's size and bulky shape. I chose to cook it in the slow cooker to make Southern Pulled Pork Soft Tacos (recipe here) for dinner on my shopping day.
I will use part of the leftovers on Leftover Night this week and I will freeze the remainder to make BBQ Pork nachos next week.
BEEF (2 meals)
I unwrapped each piece of top round and placed it in a separate freezer bag. These will go in the freezer for London Broil served with rice and steamed frozen veggies — one for later this week and one to use in the next couple of weeks.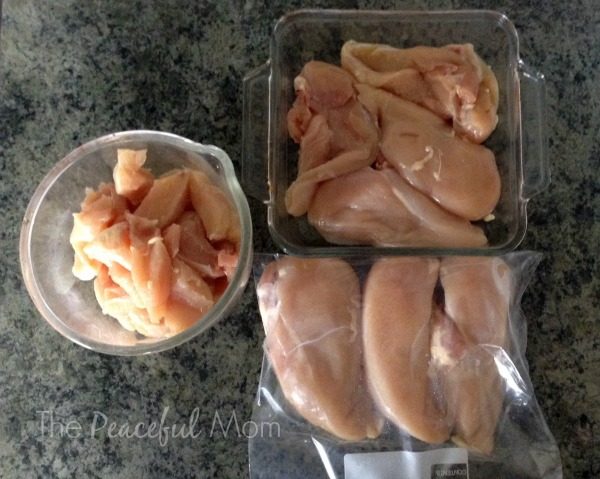 CHICKEN (3 meals)
I butterflied two of the largest chicken breasts and placed them in a baking dish. This chicken was baked at 350 degrees for 45 minutes, then shredded and frozen to use in dishes like Black Bean Chicken Chili or Southwest Chicken Chili next week.
I cut two chicken breasts into strips, marinated them with Greek salad dressing. I sauteed these the next day to serve over salad for lunch.
I placed the remaining chicken breasts in a freezer zipper bag to freeze for BBQ Chicken Nachos next week.
(See my 8 Dinners in 1 hour plan here for more ideas with chicken breasts.)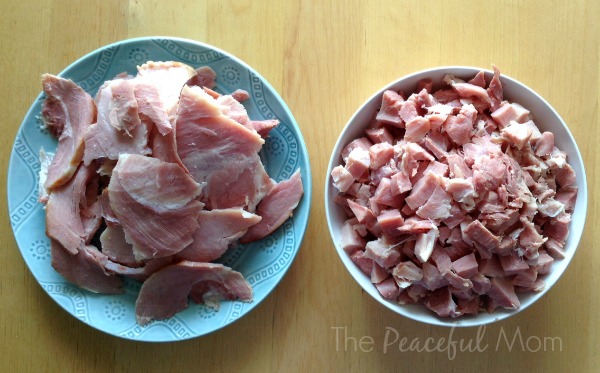 HAM (9 meals)
I first trimmed as much fat from the ham as possible. I cut the fat into small portions and froze it in a single layer so that I can break off small pieces when cooking dried beans in the future. (See note below.) (3-4 meals when cooked with dried beans)
I then sliced as many slices as I could — about 5 pounds of meat (the angle of the photo makes this look like fewer slices). I stored these slices in the refrigerator to use for baked ham the next day and ham sandwiches for the next two days. (3 meals)
I cut the remaining meat off of the bone and diced it. This meat was frozen for later use in Ham & Spinach Pasta and Ham & Spinach Quiche. (2 meals)
Finally I placed the bone with some meat on it in a freezer bag and froze it to use later in Ham and Bean Soup. (1 meal)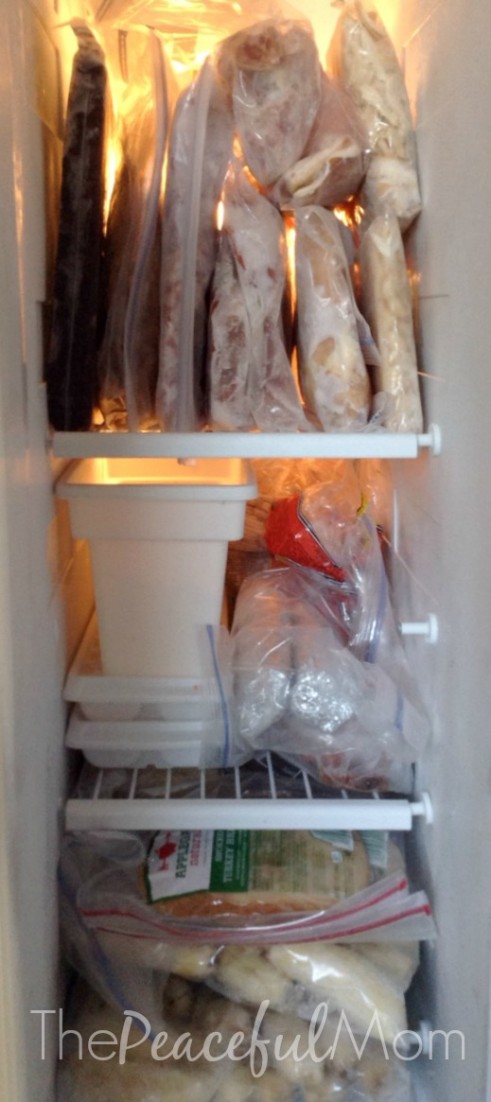 For one hour of work I prepared the basic elements of 18 meals for our family of six. I froze each item flat so I maximized the storage space in my tiny freezer.
I can now spend a minimum amount of time preparing dinner each night for two weeks (usually about 10 minutes prep time for each meal plus cooking time).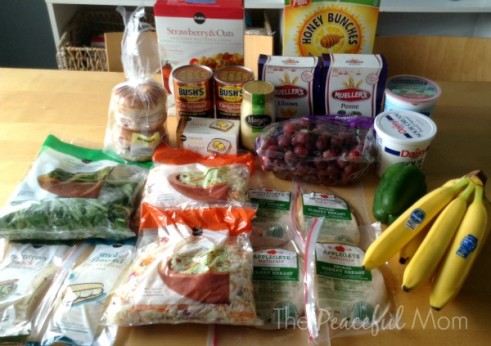 These are the remaining groceries I purchased this week at Publix. (See our $125 Budget Weekly Menu for this week here.)
My total spending for the week was $130.11 which brings my October Monthly Total to $247.78 or $123.89 average per week.
You May Also Enjoy: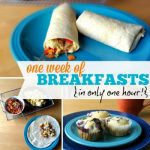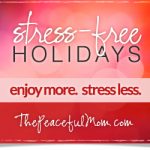 *If you are concerned about fat in your diet I encourage you to look at the latest scientific research (not an article in a women's magazine) about the benefits of eating fat and the detrimental effects caused by the low fat craze of the last decade.