Fast Track Saving Challenge
It's the end of the month and the end of our saving challenge. How did you do?
This past week we were able to return an item we didn't need for $30; I found $15 when I cleaned off a bookshelf and we were able to save $80 from my husband's paycheck. That brings our total savings for the week to $125 and our total for the month to $634, or $134 over our goal of $500 – woohoo!
Leave a comment below with the amount you were able to save this month. I will be randomly selecting a winner for the $50 Paypal cash from the comments on this post on Wednesday and I will announce it on the blog once the winner responds.
To finish off the challenge I am sharing money saving tips that readers have shared to encourage you to keep going!
Laura sent an email to let me know all that she has been doing to save money this month:
"Since I am facing the reality of living life on a drastically reduced income (shifting from regular pay to severance and unemployment), I have committed to the following (and successfully accomplished two weeks):
1) Getting up early enough to cook breakfast since convenience breakfast items are gone (Pop-tarts to feed four hungry children is no longer a convenience I can afford). We have had French toast sticks and eggs, and muffins.

2) Since I am serious about coupons, I have dedicated that those funds not spent will live in my Christmas piggy bank. I looked at my receipt from spending this week. ($3.75) Also buy paying cash – I am dedicating all change to same Christmas pig.

3) I am making an effort to find free money. JCPenney sent me an email coupon for $10 off of $10. I am only buying items from the "needed" list (and incidentally the needed items are socks for my girls).

4) We've introduced "double-feature" movie night with kids picking DVDs from the library. I also pick up snacks from the Dollar Tree (probably not most cost effective, but element of "fun").

5) I have started a list of books that my daughters will read in High School English Lit and have already found two reasonably clean copies at a local resale store.

6) I have automated my tithe to my parish (I will admit that it is not 10% given our drastic reduction) but at this point it is still non-negotiable.

7) AND BIGGEST TIME AND MONEY SAVER: I am an introvert by nature and don't tend to easily go out of my way to make contact with folks, but my younger daughter transferred to a new high school and I reached out to a family from Church about carpooling. It was very well received and now we have cut our time and gas expense in half, driving there one week, picking up the other."
Sarah has discovered inexpensive ways to have fun:
"These are some free or inexpensive activities I do with my daughter –
-free day at the museum
-$1 movie theatre night
-library/bookstore (read to her, look at art books together)
-wildlife sanctuary
-free mommy & me classes
-free yoga
-farmers market
-hiking/biking nature trails
-craft store classes $1-$5
-kids eat free with purchase at some chain restaurants
-advance purchase hotel deals (I paid $89) & bring my daughter & 2 of her friends for a one night stay in a nice hotel, including 2 days at a huge resort of roller coasters, waterpark rides etc.

Other ideas to save money:
-shop at the dollar store, make your own laundry detergents etc.
-research & make your own skin care instead of buying the expensive stuff that rarely works anyway
-be crafty at home. if you see something you love, try to think up how you could make it yourself.
-work part time where you will benefit as an employee (for me it's the salon) I get free waxing, hair services, massages, mani/pedi etc. which saves me hundreds a month."
Jess writes:
"My husband and I have been aggressively paying on student loans. Over the past year, we have:

1. Worked for a local food delivery company (these seem to be common in college areas too);

2. Cut up all old credit cards;

3. Sold items on craigslist;

4. Rented a room in our house to temporary roommates found through a friend who hires for temp professional positions in our area;

5. Set up a "summer fund" through our bank (I'm a teacher) 6.Consigned clothing;

7. Set up a "lump sum" account for annual/semi annual bills, etc.;

8. Use cash envelope system to stay in budget;

9. used free trial to BJs to buy bulk items like deodorant and cleaning supplies;

10. My husband uses the gas buddy app to find the cheapest gas around;

11. We TRIED couponing, I have a lot to learn :);

12. I've done promotions (like at sporting events or trade shows, product demos, giving out samples);

13. We called the cable company to cancel, and they lowered our bill by $15 a month. This is what we were hoping because it would have costed us more for hubby to go out and watch the game. :);

14. We pack our lunch every day for work.

Also, when I was in college I sold books on Amazon to make extra money. I am thinking of trying this again soon."

 Rose had some tips for saving on Entertainment:
"In the past we ditched tv programming for Netflix (which we still have, since it's much cheaper than our previous 3 movies per week at Redbox habit). now we have a bundle (saving $60 a month). We see movies on discount Tuesdays every few months when you can see 3d movies for $6. We get "museum passes" at our local library (which you can also check out any in your "network" for museums, zoos, parks etc. I'm a college student/mom so we use student discounts when we can also. We only eat out when it's kids eat free or .99 cent or off the 2 for $20 meals (unless there is extra "fun money")."
Be sure to leave a comment with the amount you were able to save and any money saving tips you have!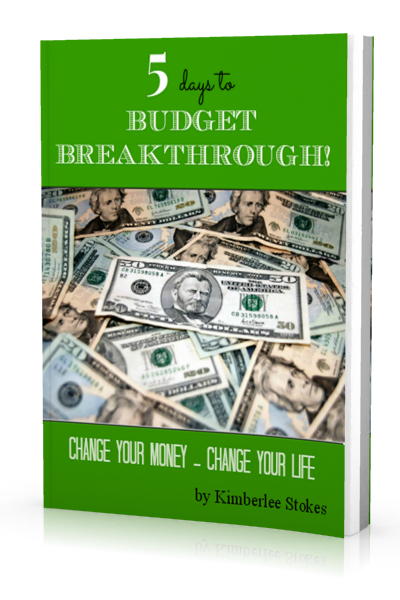 If you need a little help to get your finances back on track my 5 Days to Budget Breakthrough ebook is a great resource. Follow the steps day by day to change your money and your life in just 5 days.
More posts in this series:
Fast Track Saving Challenge: Boost Your Savings Now!
Fast Track Saving Assignment #1
Top 10 Budget Leaks (& how to fix them!) pt. 1
Fast Track Saving Challenge Assignment 2
10 Easy Ways to Find Free Money + Week 2 Update
8 Ways to Earn Money Fast + My Week 3 Update