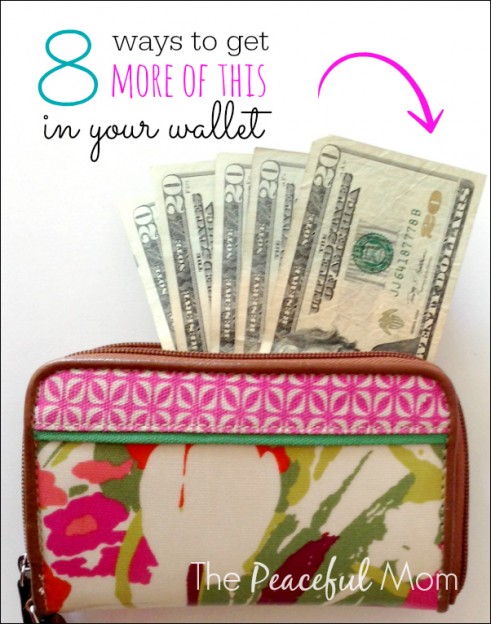 How's your savings plan going?
All month I'm sharing tips, ideas and strategies to give your savings account a boost in our Fast Track Saving Challenge. 
Last week we added $280 into savings because we were able to sell our very broken car for scrap. This brings our total savings for the month to $509 so we are already over our goal – woohoo! We will continue to save until the end of the month and see how much we can gather up.
Your Fast Track Saving Challenge for this week is to find one or more ways to earn extra money. This can be a short-term plan or a longer-term home business. Here are a few ideas to start your brainstorming process:
Do What No One Wants to Do
We all need a little help from time to time and many people are willing to pay for that help, especially if the job is something they prefer not to do. If you are willing to get dirty and sweat a little you can make money. Some examples: garage or yard cleanup; start an errand-running or personal shopper service; babysit; clean houses.
Create a Product
One of the easiest ways to make money is to use your talents to create a product that others would want to buy:
Take orders from family and friends for that special pound cake that you make so they can enjoy it over Thanksgiving and/or Christmas.
Sew cute baby clothes or create designer hair accessories.
Design and create unique Christmas ornaments.
Write an ebook that will teach readers a specific skill and sell it on your blog.
You can set up a Facebook page to sell your items, print flyers to post on community bulletin boards or list items on Craigslist and eBay. Just make sure to follow all local and state business regulations.
Offer Classes
Transform your skills into a class that you can teach at your local library or community center. A few ideas:
Art or music lessons
Sewing
Math tutoring
Print a set of business cards to hand out to friends and post on community bulletin boards. You can also advertise in local business publications.
Buy Low, Sell High
One man's trash is another man's treasure. You can often find highly resellable items at yardsales and on Craigslist. The best items are books, name brand kid's clothing in great condition and children's furniture that you can re-paint.
Do some research ahead of time to ensure that the item will sell. Look at current listings for a few days to see the prices items are selling for and if they are selling quickly.
Make Money Online
You definitely won't get rich with online surveys but spending a little bit of time every day can add up over the long term. My favorite way to earn money for Christmas is to use Swagbucks as my search engine. You can download the free search box for your toolbar and earn just for doing internet searches. You can also earn bucks by printing coupons or watching videos. A $5 Amazon giftcard costs 450 Swag Bucks and takes 1-2 weeks depending on your usage (20 – 30 searches a day).
Click here to read more about Swagbucks and my other favorite online survey sites.
Find Writing Jobs
If you have decent writing skills you can make extra money by doing freelance writing. Fiverr is a website that allows you to sell your service for $5 
Peaceful Mom reader Holly writes:
"I've been able to little writing jobs on sites like Fiverr.com and Textbroker.com. In the first 6 months on Fiverr I made about $1500. It's not a fortune, but it is grocery and gas money. Textbroker has been about the same. Fiverr lets you sell pretty much any skill from writing to holding funny signs on film to web programming. Textbroker has a lot of writing assignments like updating online catalog product descriptions and so forth. There are lots of "write for hire" sites out there beyond these two."
Work Promotions
Sometimes businesses hire temporary help for one or two day events like conventions or sporting events. You can find listings on Craigslist in the events section, but do your research to make sure the offer is legitimate. Reader Melissa writes
"Doing promotions are the best way to go! You can find them easily in the events section on Craigslist and sign up with companies that will use you for day sampling, at sporting events, whatever. Normally they pay between $10-$25 an hour and last about 2-6 hours. Pro: YOU get to say which days and times you can work so it is perfect if you have a family or another job so you can work this extra cash around your schedule. Con: Sometimes there is a lot of driving involved so make sure it is worth the money before you use the gas to get there (hint: if you get hired for a promo, ask the manager if they will pay travel time if it is long distance)."
Go Traditional
While home-based businesses can be more flexible, they also require more work up front. If you need money quickly it may be easier to find a part-time job in fast food or retail. With the approaching holidays many stores will be hiring temporary help and this can be an excellent way to add several hundred to possibly a couple thousand dollars to your savings.
If you currently work outside the home ask your boss for overtime and other opportunities which may be available. There may be short-term task that your boss needs to have done and you can negotiate a flat fee to complete the task.
What other ways do you make extra money? Share in the comments.
More Posts in This Series:
Fast Track Savings Assignment #1
Top 10 Budget Leaks (& how to fix them!) pt. 1
Fast Track Saving Challenge Assignment 2
10 Easy Ways to Find Free Money + Week 2 Update
8 Ways to Earn Money Fast + My Week 3 Update
Reader's Money Saving Tips + Fast Track Savings Final Update
You May Also Enjoy: