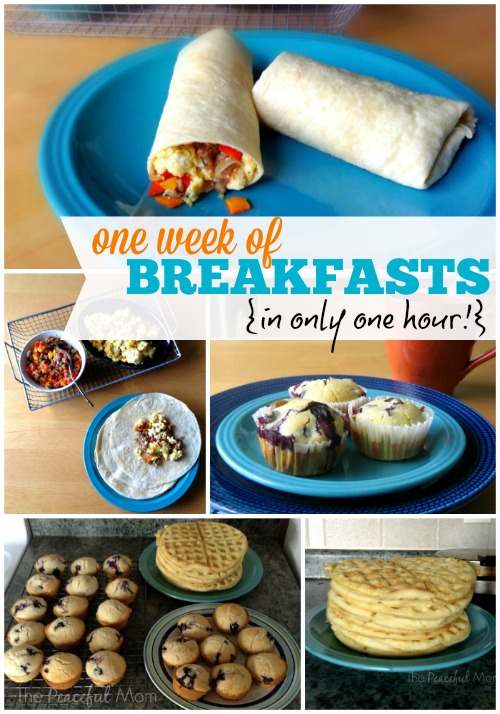 Easy Freezer Cooking: 1 Week of Breakfasts in 1 Hour
After my Freezer Cooking Disaster a couple of weeks ago (read more here) I wasn't sure that I wanted to try again, but I gathered up my courage and planned a Freezer Cooking Power Hour last week.
My plan was to create a week's worth of breakfast items for my family to save time and energy first thing in the morning. I chose three recipes which each used a different area of my kitchen so that I could work efficiently:
DIY Freezer Waffles (counter/waffle iron)
Sausage and Egg Breakfast Burritos (stove top/table)
Delicious Buttery Blueberry Muffins (counter/oven)
In addition, I boiled a dozen eggs for the fridge.
Get the complete 1 Week of Breakfasts in 1 Hour Freezer Cooking Plan with:
Printable Grocery List (regular and gluten free)
All Recipes for Regular and Gluten Free Options
Printable Step-by-Step Instructions with photos (additional photos not in post)
$5.00 $4.00 with code WAFFLE

Note: To make these breakfasts gluten free, substitute gluten free tortillas in the Breakfast Burritos. Use these recipes for the waffles and muffins:

Delicious, Moist Gluten Free Blueberry Muffins
After one hour in the kitchen I ended up with: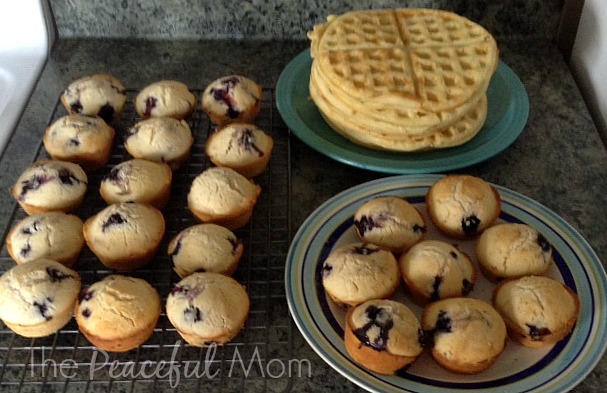 10 Freezer Waffles and 2 dozen Buttery Blueberry Muffins
PLUS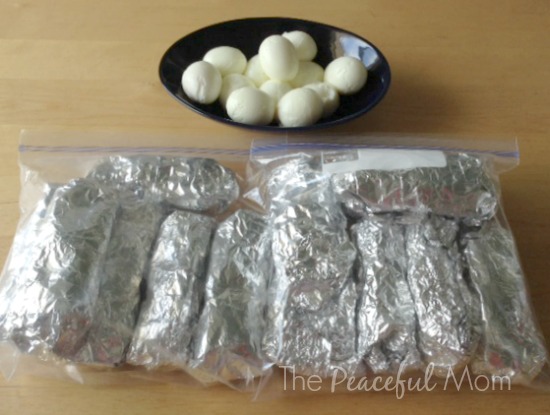 12 Freezer Breakfast Burritos and one dozen boiled eggs (NOT for the freezer).
Trading one hour of work for a week's worth of breakfasts for my family is well worth the effort!
Get the complete 1 Week of Breakfasts in 1 Hour Freezer Cooking Plan with:
Printable Grocery List (regular and gluten free)
All Recipes for Regular and Gluten Free Options
Printable Step-by-Step Instructions with photos (additional photos not in post)
$5.00 $4.00 with code WAFFLE

Have you done any freezer cooking lately? Share a comment or a link below. 🙂
You May Also Enjoy: