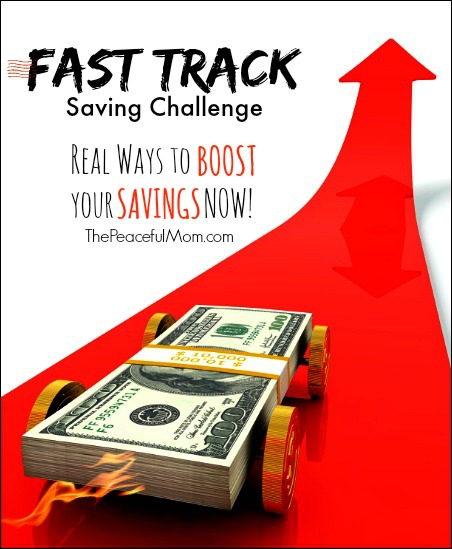 Fast Track Saving Challenge Week 2
We're taking the month of September to focus on saving money and this week our challenge is to find some extra money to add to the savings account. One of the fastest ways to get extra cash is to sell something you own but don't need or use anymore.
1. jewelry
Now that gold prices are higher, it's a fantastic time to sell some of your old jewelry. Get several estimates from local jewelry stores and pawn shops and trade the jewelry in where you receive the best price.
2. books
Books can be sold at local used book stores or you can sell them online. Use the Amazon Book Trade In program (read more here) for textbooks, dvds and cds.
Peaceful Mom reader Hannah has some great tips.
"The best way to sell books online is to use bookscouter.com. You put in the IBSN and it tells you what online book buyer will pay the most for it, and also rates the companies. It works best if you have a larger collection of books, as most sites have a minimum value for you to sell to them (and get free shipping!), so that you can sell to multiple sites.

Yesterday I mailed books to 4 different websites (bookscouter, bookjingle, textbooks.com, textbooksrus) for $60!

Also if the books don't have value to these websites you can swap them on paperbackswap.com ( dvds on swapadvd). It costs about $2.50 to mail an average sized book, and you get a credit to order a book yourself from someone."
Homeschool books can be sold on VegSource or check with local homeschool groups to see if they have a forum for buying and selling curriculum.
3. clothing
Clothing that is in good condition can be sold at consignment shops, on eBay or at a yard sale. Typically name brands and children's clothing sell best on eBay and at consignment stores.
Reader Debi says:
"My younger sister is a clothes horse and she gave me clothes with tags still on. They don't fit me, but I plan on taking photos and posting on Facebook (local), in laundromats, stores, etc. and may even try Swapdom if I can get gift cards to Walmart or Menards in place of some of these clothes."
4. furniture/household items
Do you have a small appliance you never use? Do you have extra furniture that you need to get out of the way? One of the easiest ways to sell items in good condition is on Facebook or Craigslist. If you have smaller, name brand items they will probably sell well on eBay.
Reader Julie writes:
"I de-cluttered my home and sold things on a Facebook flea market page in my area. People are willing to pay more online than at a yard sale for some reason! (My house is so much cleaner too, so it was a win/win situation!)"
Your assignment for this week is to find at least two items around your house that you can sell for cash or Amazon credit.
Leave a comment with what you plan to sell. 🙂
If you haven't joined us yet, click here and leave a comment.
Other Posts in This Series:
Fast Track Savings Assignment #1
Top 10 Budget Leaks (& how to fix them!) pt. 1
Fast Track Saving Challenge Assignment 2
10 Easy Ways to Find Free Money + Week 2 Update
8 Ways to Earn Money Fast + My Week 3 Update
Reader's Money Saving Tips + Fast Track Savings Final Update
*Affiliate links are included in this post. Read our disclosure policy here for more information.
Make Money Online!
Click here for a complete list of The Peaceful Mom's recommended survey sites.