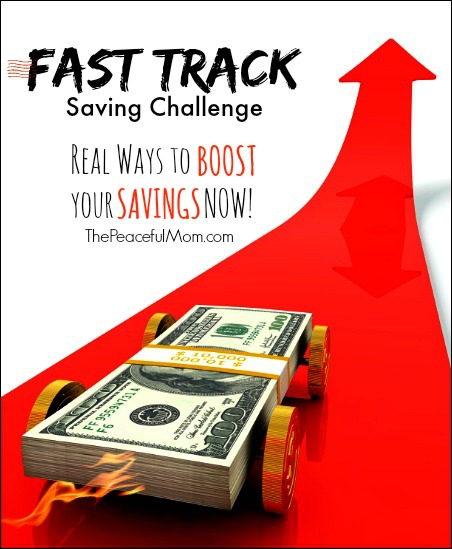 Fast Track Saving Challenge Week 1 Update
Did you complete the Fast Track Saving Challenge Assignment 1 yet?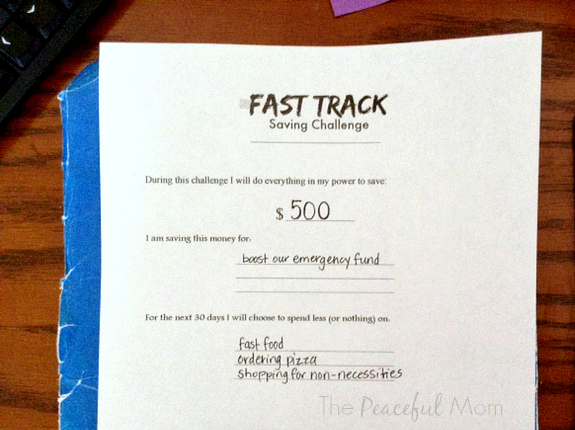 Spending Update:
So after I decided that I would do my best to avoid fast food drive-throughs I caved and bought ice cream cones for the kids while we were out. That cost me $8.00. 🙁
I did resist the urge to order pizza over the weekend and even though I was tired I made pizza dough from scratch. (I totally want some credit here – haha!) It took about 10 minutes to put the dough together, 30 minutes to let it rise and then about 10 minutes to roll it out and add the toppings – easy peasy! The kids thought that it actually tasted better than the delivery pizza too!
Even though the home-made pizza was a win, I spent more than I had planned during my monthly trip to Walmart for non-food items. I found several clearance items including light bulbs and a pair of sandals. They are not immediate needs but we will use them and the prices were just too good to pass up (or so I told myself).
The over-spending meant that we had less money to add to savings last week. I am planning on completely avoiding the stores this week to prevent that from happening again.
Savings Update: 
I was able to take $100 from my business to add to savings and my husband received a small commission check for $74. So our total savings for Week 1 was $174 – not a bad start toward our $500 goal for the month.
Stay tuned for our Week 2 Assignment tomorrow!
How did you do last week? Leave a comment.
We're all in this together. 🙂
If you haven't joined us yet, click here and leave a comment.
Other Posts in This Series:
Fast Track Savings Assignment #1
Top 10 Budget Leaks (& how to fix them!) pt. 1
Fast Track Saving Challenge Assignment 2
10 Easy Ways to Find Free Money + Week 2 Update
8 Ways to Earn Money Fast + My Week 3 Update
Reader's Money Saving Tips + Fast Track Savings Final Update
Make Money Online!
Click here for a complete list of The Peaceful Mom's recommended survey sites.