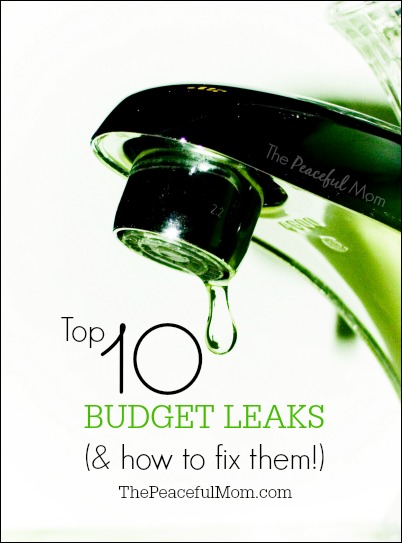 Top 10 Budget Leaks & How To Fix Them
It's easy to think that $1 – $5 expenditures don't amount to much, but spending just a little bit of money every day can add up quickly and leave you wondering where your money went. To put a stop to the drips in your finances you need to start paying attention to the details.
Today I'm giving you practical tips to stop those budget leaks. Many of them will be familiar but if you're taking part in the Fast Track Savings Challenge you will want to implement the ideas, not just read about them. 🙂
#1 Buying Lunch 
You know it's cheaper to pack your lunch, but that requires planning and effort. Two easy fixes:
Pack leftovers right after dinner for the next day.
Make a huge salad and some roasted chicken on the weekend and pack all your lunches at once.
If you're easily bored with the regular turkey sandwich, try one of the delicious ideas on my Take-To-Work Lunch Ideas Pinterest Board here.
#2 Specialty Coffee 
Reader Bethany confesses her spending weakness:
"Three words: Starbucks's Mocha Frappuccino. I have a weakness for these guys and after a long day, sometimes all I want is to sip on a glorious cup of empty calories. But at almost $4 a cup, this isn't something I can afford to make a habit of! To keep off the cravings, I've started trying to replicate the recipe at home, taking water bottles with me, and avoiding driving by the Starbucks when I can help it! Even if I only bought one every week, that's $15-20 a month (depending on the # of weeks in a month) and $180-240 a year! WOW. When you look at it that way, that's a whole months worth of groceries that I would spend on coffee! Tooootally not acceptable and I need to kick this bad habit in the patotie!"
To beat this leak search online for DIY recipes of your favorite coffee concoctions and whip them up in the blender at home. Depending on the recipe you may be able to freeze it ahead of time. Reader Allison adds coffee, ice, milk and chocolate sauce to her personal size blender and saves a ton of money.
You may also want to invest in a stainless steel travel mug
(see some options here).
#3 Heading to the Drive-Through
It's lunchtime and you're out running errands so the simplest way to feed the kids is to go through the drive-through. This is a big temptation for me and it is almost always because I have not planned ahead. To nip this problem in the bud I have started bringing a small tote bag with snacks and water bottles EVERY TIME I leave the house.
Reader Maya has a great idea:
"Anything I buy that is not already packaged as single serving gets divided up into plasticware or ziplock bags as soon as it is unpacked from the grocery bag, before going into the cupboard. Taking those extra couple minutes then leaves me no excuses when I'm running around in the morning. I can't believe I didn't think of this earlier!"
A little bit of planning and preparation can save you a bundle!
#4 Clothes Shopping 
Reader Jamie writes about her spending weakness:
"Mine is clearance clothes. This month so far I bought two dresses at different times each only $9 and returned them both. I have to remember even if they are a GREAT deal I don't NEED them. Obviously this is a habit I need to break."
If you are a big shopper you will need to make a commitment to stay out of the mall as well as discount and thrift stores. Even though the clothes may be a terrific deal, we are focusing on building our savings so every dollar counts.
Hiding catalogs will also help keep the temptation under control. If you are easily bored with your wardrobe try mixing and matching pieces you already own in a different way or trading with a friend who is a similar size.
#5 Ordering Pizza on Friday Nights
After a long week it's a nice break to have someone deliver dinner to your front door, but the cost of this convenience adds up quickly. Even ordering from the cheapest restaurant in our area costs us a minimum of $20 not including the tip.
Victoria says:
"Our leaks are much like yours – fast food. Just today, its hot and I have spent all afternoon cramped in a bathroom we are renovating priming the walls for paint. I so badly just want to go out and grab a $5 pizza since it seems so inexpensive, then I realize I would need 2 to feed us so that is actually $10, plus gas to go there and back, not much but still gas I don't have use. Instead it dawns on me I have a 16 year old son who loves making pizza. I have the ingredients, let him do the work, so I am! its a night off for me which is what I wanted and they are still getting fed."
There are lots of cheaper alternatives for you: keep frozen pizza or pre-made pizza crust on hand; make your own pizza dough; use bagels or french bread with pizza toppings. You could also make Friday night leftover night or "breakfast for dinner" night and serve frozen waffles with special toppings. You have a no-brainer dinner for much less than ordering the pizza.
Click here for Budget Leaks 6-10.
Do you have any awesome solutions that you have found to fix your budget leaks? Share in the comments so we can all learn from each other!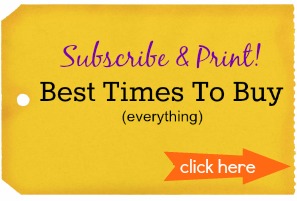 Don't miss anything! Subscribe to The Peaceful Mom Weekly eNotes and print my Best Times to Buy Everything chart for free!
Other Posts in This Series:
Fast Track Savings Assignment #1
Top 10 Budget Leaks (& how to fix them!) pt. 1
Fast Track Saving Challenge Assignment 2
10 Easy Ways to Find Free Money + Week 2 Update
8 Ways to Earn Money Fast + My Week 3 Update
Reader's Money Saving Tips + Fast Track Savings Final Update
*Affiliate links are included in this post. Read our disclosure policy here for more information.
Make Money Online!
Click here for a complete list of The Peaceful Mom's recommended survey sites.