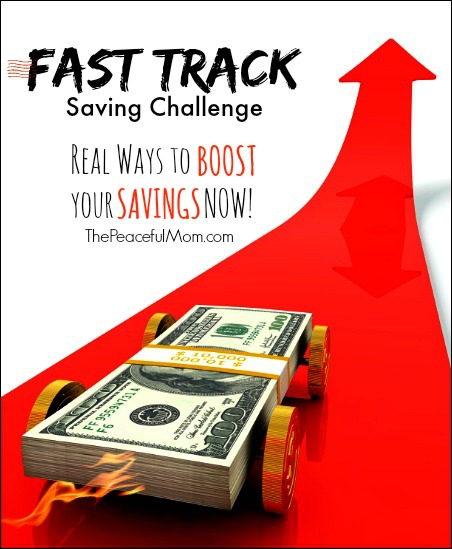 Fast Track Savings Challenge – Tips to Boost Your Savings Fast!
Okay Ladies – we're not messing around!
No whining.
No excuses.
No tears.
If you're serious about saving money this is the place to be. (If you haven't joined yet, click here to join the Fast Track Savings Challenge and enter to win $50 PayPal cash.)
Today we're getting started with our plan by taking these steps:
1. Set a goal.
The first step in our Fast Track Saving Challenge is to set a specific dollar amount that you hope to add to your savings. In honor of the "Go Big or Go Home" philosophy I'm going to set a goal that I don't think I can achieve based on our current income and expenses – $500 during the month of September. I am choosing a higher amount to motivate myself to actually take action instead of just talking about it.
2. Write it down.
Once you (and your husband if you're married) have decided on a dollar amount, write down the amount as well as what you are saving for and place it in a prominent location. I made a poster to hang on the wall over our desk and a piece of paper to stick on our fridge. Keeping that savings goal in our sight will help to motivate us and remind us not to spend any extra money.
3. Designate a savings location.
Once you decide an amount to save you need to choose where you will put the money. Do you have a savings account you want to add to? a vacation jar? an envelope in your sock drawer?
Having a physical location for the money will give you another psychological boost and a visual cue to motivate you to see some change (pun intended!).
We have an envelope at home and then we will add the money to our savings account once a week.
4. Be honest about your spending weakness.
Here is where the rubber hits the road as they say: it's time to get honest about your spending habits. Where do you spend money for items that you don't need? What are your impulse purchases?
I'll be sharing plenty of ideas that you can try this month but this step involves what we will NOT be doing. Decide right now that you will avoid these budget leaks and put any extra money you have toward your savings goal.
My weaknesses are:
going through the drive-through because I haven't planned ahead
purchasing art supplies because I want them
impulse purchases when I shop at stores like Walmart or Target (Dollar Spot!)
ice cream
There is nothing inherently wrong with spending on these items but if I want to be serious about saving I need to stop these leaks. I'll be sharing some specific tips later this week to help with those budget busters.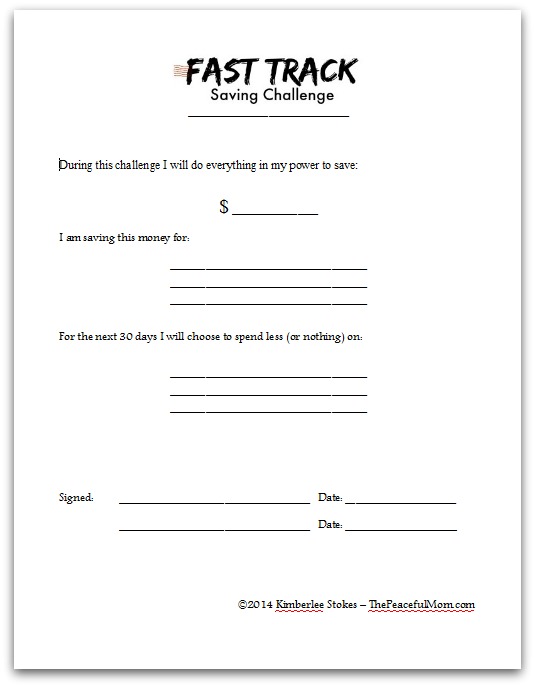 Your assignment today is to print and complete the Fast Track Savings Worksheet and to choose a location for your savings.
Click here for the download page.
In the meantime, if you're in, leave a comment with your goal and/or your spending weakness and what you are going to do about it for the next 30 days. 
Make Money Online!
Click here for a complete list of The Peaceful Mom's recommended survey sites.