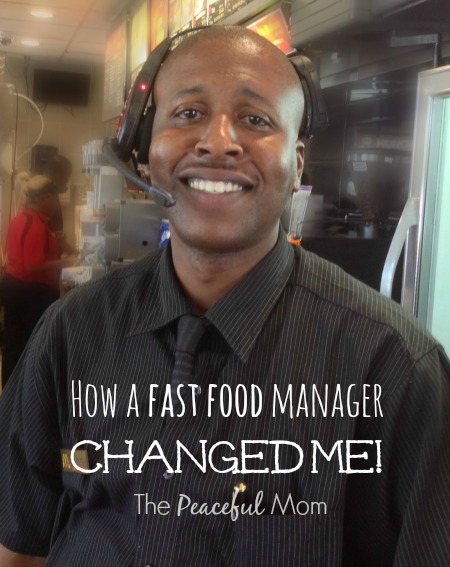 This is J.
He is the general manager of a local fast food restaurant …
and two weeks ago he challenged me.
Let me tell you the story.
It was a DAY – you know, the kind of day where things don't go as planned and you get nothing accomplished.
I had been busy all morning driving my daughter to work, grocery shopping, unloading the groceries in a hurry, taking photos of my weekly grocery shopping for the blog, driving my husband to work and then rushing to meet a friend – only to find out that I was 30 minutes early because I had not checked my calendar to confirm the time. At least I was early.
After my meeting I planned to go straight home to complete several tasks on my to do list and spend time with my 13 year old. That's when I received the call from my daughter at work saying that she needed to be picked up at 2:00 pm rather than 5:30 so I headed off on the 35 minute drive from there to pick her up.
At this point I was tired, a little frustrated at how my morning had gone and honestly a little bit grumpy at having to pick up my daughter early. I was also hungry because I had not eaten since 7:30 that morning, so I decided to go through a drive-through. I ordered my food, paid for it and drove to the pickup window.
And there was J. – exuberantly and joyfully handing me my food and asking in an excited voice how my day was going. His enthusiasm was outrageous and genuine …and there is absolutely no reason for a fast food manager to be that happy for natural reasons. I was certain that he had supernatural help.
So I asked and yes, he is a Christian – the kind of Christian who is full of joy, laughter and life.
And then it hit me.
Am I exhibiting crazy, outrageous, exuberant joy at my "job"- with my family?
Years ago I left a full-time position to be home with my children but in the last few years I have been swept into a pursuit of business success, blog popularity and "celebrity". I wanted to become famous and "successful" but in my pursuit of these external "prizes" I have missed the boat.
I have made my family just another item on my to do list.
"Just a minute."
"I'll help you when I am done with this project (blog post, graphic, email… )."
"I can't talk to you right now."
I have treated my husband and my children as a nuisance and an interruption to my "work", but the true work and the only truly eternal part of my life other than my relationship with God is my relationship with others –
and my family should be first on that list.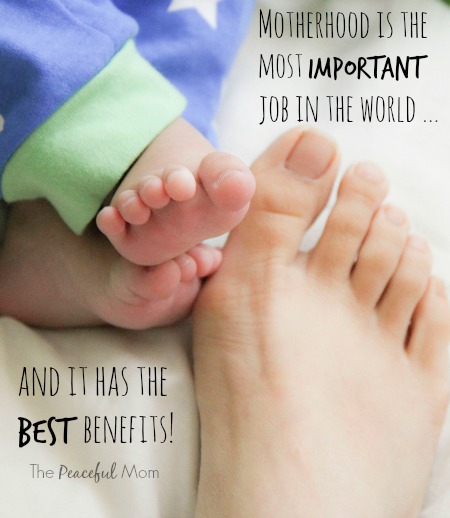 I am the nurturer. I provide nourishment, direction and affection to my family. No one else can do that for me, and for sure no one else can do it as well because it is MY job. I cannot delegate this job to anyone else and I cannot spend hours making my blog better when my 13 year old is dying for attention.
If you are a
work-outside-the-home mom,
a work-from-home-mom or
an always-working-because-I-am-a-mom mom,
let me encourage you to keep the first things first.
Don't let your job or your hobby become the focus of your life while you lose sight of what is truly important. Don't let secondary things distract you and steal your joy in your first job.
Because if a fast food manager can have that kind of joy and exuberance in his job, we can too.