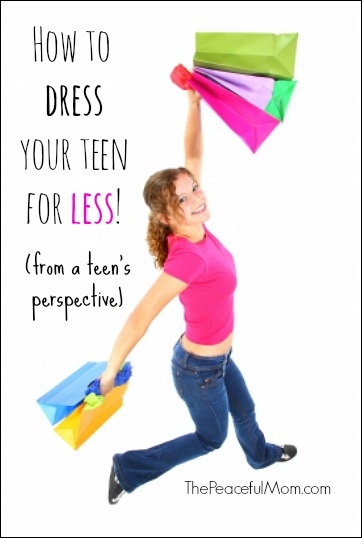 How To Dress Your Teen For Less (from a teen's perspective) is a post by Contributor Hannah. 
Many teens spend a lot of money on fashion thinking it's the "only way" to find trendy pieces, but today I want to share four tips to find fashionable clothing without spending all your moolah.
Tip #1- Keep An Open Mind
At times these next two words will make a teenager cringe, but really they just mean "a mother load of savings". Those two words are "thrift store".
I know what you're thinking, "Thrift stores = old people clothes. Ew!" But once you dig past the ugly denim shirts and freaky blouses, you'll find your treasure.
One of the greatest pieces of advice that I can give to you is to keep an open mind. At first glance you may think that hand-me-downs would look terrible on you or it's just not "in", but if you experiment a little you'll be surprised!
Tip #2 – Look for Name Brands
You might be surprised to learn that many name brands can be found at the thrift store. I have found some top notch brands like Forever 21 and American Eagle for an eighth of the original price by shopping second-hand!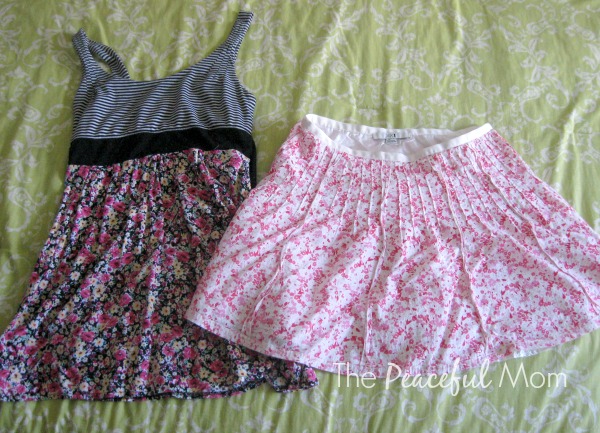 The skirt on the right is from Forever 21 but cost only $3.00.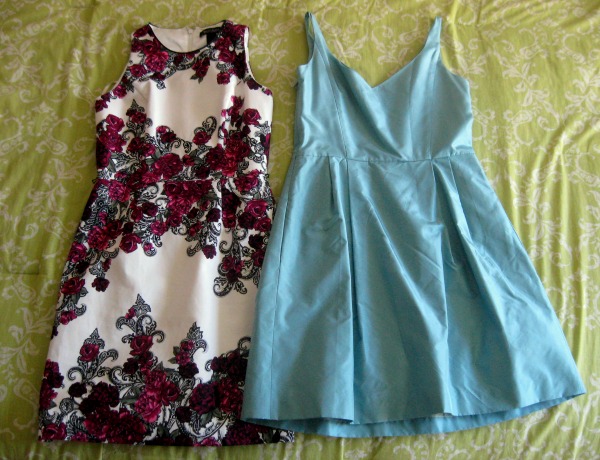 Not only can you find casual clothing at thrift stores, but dressier items as well. The dress on the left is White House – Black Market and the dress on the right is Anne Taylor. One cost $10 and the other cost $12.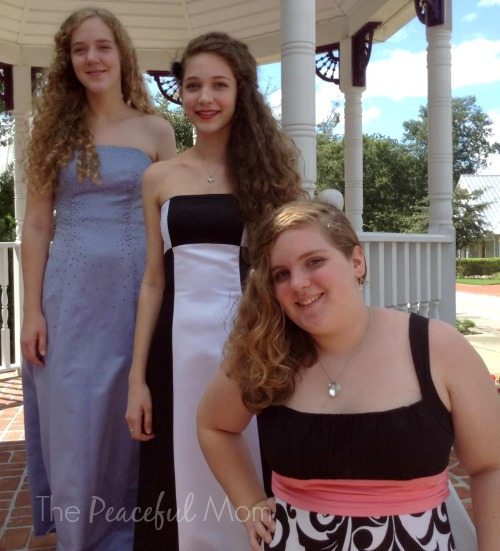 All three of these formal dresses were thrift store finds and they each cost between $8 and $12!
Tip #3- Change It Up
Something I find consistently in second-hand shirts is that they are typically stretched out or just too big. Well, here's a solution: bunch up the end of that shirt to one side, give it a twist, and tuck it into the waist of your pants. Loosen it up a little bit and voilà! You have a comfy, but cute ensemble.
With basic sewing skills you can also change the hem of a skirt, the sleeve line of a blouse or turn a pair of pants into shorts. If the shirt's too basic add some bling.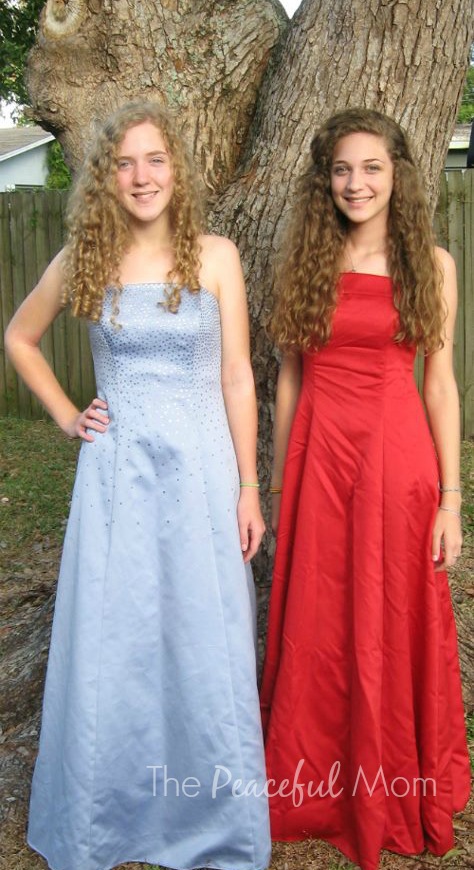 These formal gowns were both found at the thrift store. The red one was a little too big but we sewed on shoulder straps with a matching thin velvet ribbon and it worked perfectly.
Tip #4- Be Original
A huge money saver when you're getting bored with your clothes and want to go shopping is to play mix-n-match with the clothes you already own! Spice up an old outfit with a different accessory or wear that t-shirt you've shoved way back in your drawer with that skirt you're getting bored with. The reason I say "be original" is because by getting creative with old things, you create new things. Don't be afraid to dress outside what's trending because YOU could be the next trend setter! Create your own style!
Wearing cute clothes doesn't have to cost a lot of money –  just a little creativity and thinking outside the mall.
What are your favorite ways to save on your wardrobe? Leave a comment.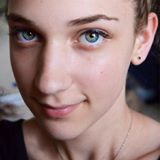 Hannah is the teen contributor to The Peaceful Mom.
photo credit: Picture Youth; FreeDigitalPhotos.net