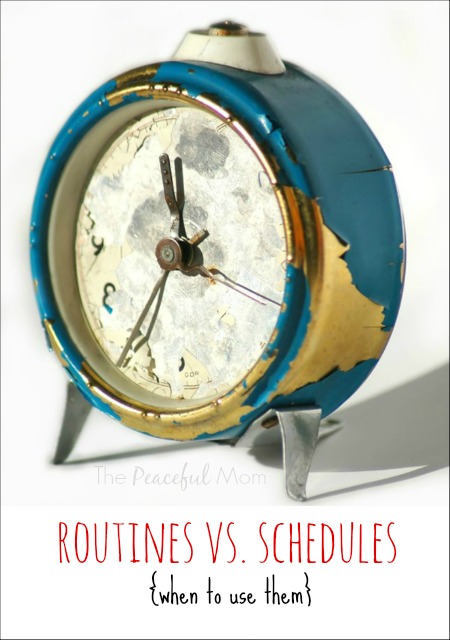 Get Organized! Routines vs. Schedules
If you want to live a purposeful, intentional life it's important to evaluate the way you spend your time and to find tools and skills that enable you to spend your time more wisely. Two important tools in your quest for organization are routines and schedules, so today I'm sharing about each of them and why you may choose one over the other.
Using a Schedule
A schedule is typically an hour-by-hour plan with specific activities at specific times. For example:
6:00 am wake up
6:15 am  shower/dress
6:40 am wake up kids
7:00 am breakfast
…etc.
Scheduling your day with specific times works well if you are very busy and have many external deadlines (such as the start time for school, business appontments, etc.). Schedules can also be helpful if you need more structure in your life to make sure you accomplish everything that needs to be done (great for those who suffer from ADD or are easily distracted).
One negative aspect of specific scheduling is that life doesn't always work according to plan and you may become frustrated if you are a perfectionist and the schedule isn't working. If you tend to be less analytical and more creative a specific schedule can be difficult because it does not allow for very much spontaneity.
Using Routines
A routine is a series of activities completed in the same order every day. You probably have a morning routine such as taking a shower, drinking coffee and checking your email. One of the benefits of routines is that they allow us to put our brains on "auto-pilot" because daily tasks become automatic.
Using routines throughout your day as opposed to scheduling specific times works well if you have babies and/or toddlers (see The Peaceful Mom Preschool Moms Planner here), or if you have fewer external deadlines and scheduling requirements (homeschooling, for example).
I personally prefer routines but when life is busy (during the school year for example) I use a combination of the hour-by-hour approach and routines. My typical day looks like this:
6:00 am  wake up/do my morning Brain Dump (read more here)

6:30 am  work on current writing project (ebook or blog post)

7:30 am  start a load of laundry/go on a walk in my neighborhood

8:00 am   shower/dress

8:30 am  breakfast/dinner prep for that night

9:00 am   blog

10:00 am  start school

12:00 pm  eat lunch

12:30 pm  blog/social media/email

1:30 pm   school

3:30 pm  read and rest time/art project

5:00 pm  start dinner

5:30 – 6:00 eat dinner

6:30 pm clean

7:00 pm spend time with family/husband

9:30 pm  get ready for bed

10:00 pm   bedtime
If I go to bed on time I easily wake up by 6:00 am or before without an alarm. If I need more sleep and I wake up later I don't worry about the exact time but just go through my morning routine:  Brain Dump, Writing Project, Start Laundry, Walk/Prayer Time, Shower/Dress, Breakfast/Dinner Prep then work. If I wake up very late then I skip working on my writing project and I take a shorter walk.
Pinning activities to specific time frames helps me to be more focused on each activity because I know I have to complete it within a specific amount of time.
Another type of routine that I use is what I call Designated Days. Focusing on one type of activity each day helps to structure my week, but each day's schedule will vary somewhat based on my focus for the day. For example:
Sunday – church, rest and planning for the week
Monday – school (I help everyone plan their work for the week and spend most of the day on core subjects with my kids)
Tuesday – school/grocery shopping
Wednesday -tech-free day, freezer cooking, art projects
Thursday – school/blogging projects
Friday – Family Fun Day
Saturday – Organizing (cleaning house, backing up computer files, planning)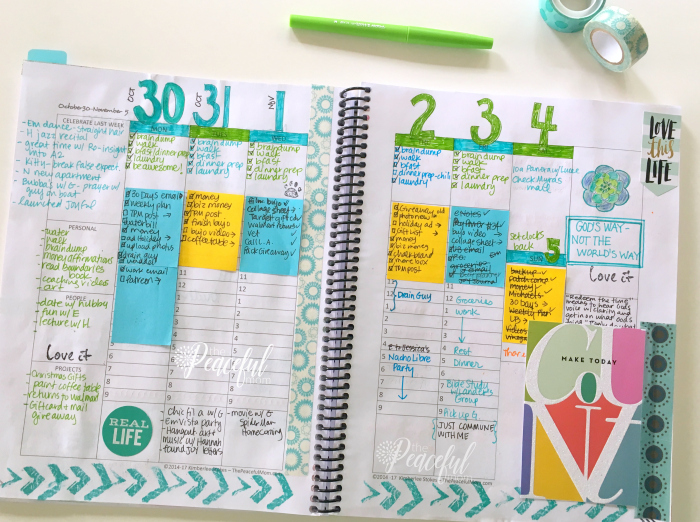 Because I use more of a routine-based schedule I often use sticky notes in my Weekly Plan from the Joyful Life Planner (above) to cover the hourly schedule and make the daily column into more of a to-do list or list of routines for the day.
Read more about the details of this planner HERE.
You can adapt the planner to meet your needs.
My plan for this week:
PERSONAL – bed by 10 p.m.; drink 6-8 glasses of water daily; walk at least 4 days; daily "Brain Dump" (read more here)
PEOPLE –  date with hubby; driving practice with daughter #2; make a photo album with daughter #3 (neither of these happened last week)
PASSION –  art journal time; read daily
PURPOSE –   (wife) cook something special for my husband; (mom) art time with my girls; say encouraging words; (encourager) meet with a friend
PROJECTS – work on current writing project(my new blog)
 Do you prefer more of a schedule-based plan or a routine-based plan? Leave a comment. 🙂
Want to be more organized?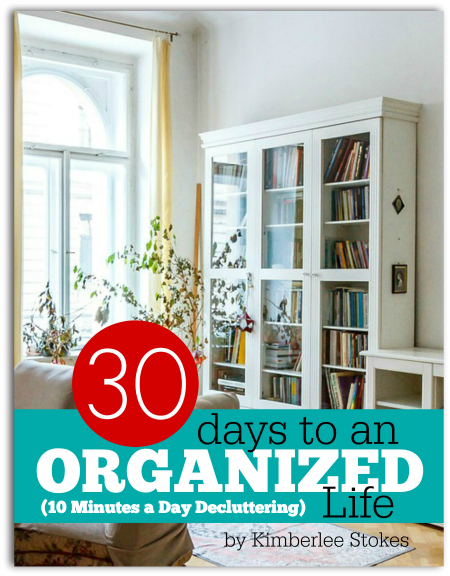 Join our 30 Days to Organized Community
and grab my FREE 10 Minute Decluttering Tool Kit.
Click HERE to join!
You May Also Like: