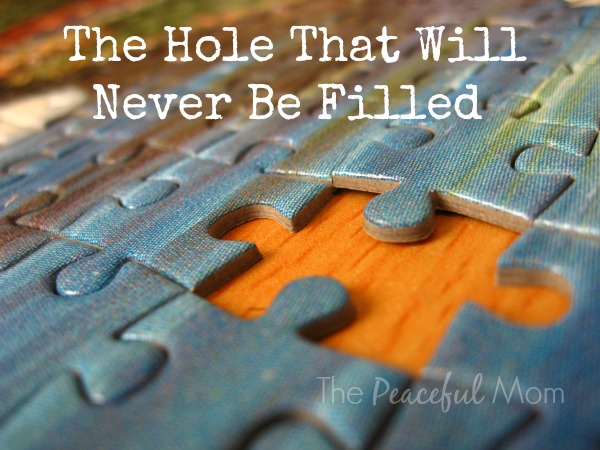 We interrupt our regularly scheduled programming to talk about something very important today: life, depression and death.
There are some holes in life that can never be filled because the piece that fits is missing.
Robin William's death leaves one of those holes. I don't normally write about celebrities but this has grieved me deeply.  Robin Williams was one-of-a-kind: caring, hilarious and brilliant. He is a piece of the puzzle that can never be replaced and truly the world will not be the same without him. Even more importantly, his family will never be the same.
I grieve for them and for all of us, but I can also relate because I know that deep suffocating darkness of depression that leads to thinking that the only option is suicide.
I was 33 years old and had just birthed my fourth child in five years. My body was wrecked, my hormones were crazy and our finances were a disaster. My husband and I fought most of the time and finally one evening while he was at work and the kids were in bed I decided that the only solution to my problems was to kill myself.
I very coldly surveyed all of my options and decided that I would combine bleach and ammonia in my closed bathroom, inhale the fumes and die.
Nothing is funny about suicide but I do find it humorous now that I thought using household cleaners to induce death was a good option. I probably would have turned my brain to mush and continued living as a vegetable for 80 years.
In the midst of my delusional thinking I had one sane thought – that I should call a counselor with whom I had been talking. I believe now that God prompted me to call rather than going through with my death wish, and it is the thing that saved me and set me on the long road to recovery from debilitating depression. (I am completely healed now.)
Unfortunately my brother-in-law did not make the choice to call and we lost him at Christmas time 15 years ago. We still feel the void of his life.
My point in telling you all of this is to let you know that if you are suffering with depression, you are not alone.
Many others have walked where you are walking and there is hope. Don't wait to get help because we need you. Your family needs you. Your friends need you. The world needs you.
Robin Williams death leaves a huge hole in our hearts and our lives because he is irreplaceable…
And so are you.