Learn how to plan your week to get the important stuff done!
Get Organized! Manage your time, simplify your life and live your true priorities with a weekly plan. Take a look at my plan and create your own with these simple steps.
How to Plan Your Week (to get the important stuff done!)
Life is busy and if I'm not very intentional with my time, the truly important people and tasks in my life are pushed to the side for those tasks that seem urgent. I've found that a weekly plan is an essential tool to living purposefully. Today I'm sharing the specific details of how to plan your week.
Set a Planning Time
Organizing doesn't happen by accident. We have to choose to be intentional with the way we spend our time or our lives end up being hijacked by the many distractions around us — and we may even live our lives according to others' priorities rather than our own.
I've found that the most effective way to live my true values is to make a 10-15 minute appointment with myself every week to pray, think and plan. Setting a consistent time each week creates a habit and makes it much more likely that I will sit down and do the few minutes of work necessary to plan my week. In the past I planned my week on Sunday evening, but most recently I find that Saturday mornings work best for my current season of life and the fact that I'm a morning person.
*Find a time each week when you can have 10-15 minutes alone with your planner/calendar and your thoughts.
Decide Your Priorities
There are some items on everyone's list that must be done for life to function. Around our house those include:
Grocery shopping because my family will loudly complain if there's no food in the house;
Laundry because I'm embarrassed to wear dirty clothes;
Dishes because I risk an invasion of tiny critters if I don't keep the kitchen clean.
I also need to plan meals for the week, my blogging schedule and homeschool lessons.
All of these tasks are necessary, but other items are actually more important (even though they scream less loudly), like listening to my daughter who is experiencing teenage angst or having fun with my husband so that our marriage can stay strong. I have to plan "relationship" time alone with my family members to ensure that I'm spending time on what really matters.
I also have long-term goals which I can only accomplish if I work toward them on a regular basis.
After much thought I have divided my weekly priorities into five categories: 
PERSONAL – habits that keep me healthy and happy so that I can function at my best
PEOPLE – activities that promote relationship with the people I love
PASSION – creative, soulful activities and experiences which refresh me, bring me joy and enable me to connect spiritually
PURPOSE – tasks that enable me to fulfill my purpose in life (wife, mom, encourager, etc.)
PROJECTS – maintenance tasks that need to be finished this week and tasks that move me toward long term goals
Of course you should plan your week around YOUR most important priorities, not those items you see on someone else's list or tasks you think you "should" do.
*Decide your top priorities and list them.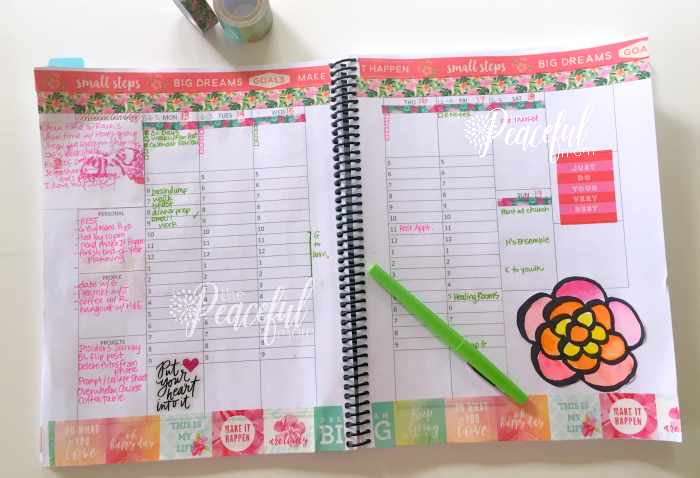 Choose a Planner
It's essential to have a system to organize and plan your time. I couldn't find a planner that addressed my personal priorities, so I created my own. You can see what's inside the Joyful Life Planner HERE.
There are so many planner options available that it can be overwhelming to choose. I prefer to use a written planner because I'm very visual and if I can't see my plan, it basically doesn't exist. It also meets my need for an artistic outlet, and in addition, several studies have shown that handwriting our goals and plans actually enables us to better accomplish them.
I like a lot of space to plan and write notes so I use an 8.5 x 11 size and since it stays on my desk I don't need anything smaller.
But if you're not a pen and paper kinda' gal, you can definitely use phone apps. I use Evernote to help plan my week (read more here) and the calendar app on my smart phone, which you will read about next.
I find that simple is better so don't think that a planner with all the "bells and whistles" is necessarily better. Try several systems and find what works with your personality and lifestyle.
*Find a simple planning system that will work for you. 
Schedule Everything
Making a list of tasks to complete is only half of the planning process. You need to schedule times to accomplish those tasks. I personally am not a "by-the-hour" planner. I loosely schedule every item on my priority list by assigning them to a day, but without specific times. For example:
MON – create weekly meal plan and grocery list; write blog post
TUES – grocery shopping; bulk cooking for the week
WED – house cleaning and organizing (one area each week)
THURS – work projects/date night
FRI – field trips, errands, family time
SAT – personal projects, weekly planning, catch up day
SUN – church, relaxing
I know that each day has a focus area, but I have a flexible schedule so for example, grocery shopping will happen on Tuesday, but I can adjust the time I shop based on whatever else is going on that day.
Of course life doesn't go according to plan much of the time, but I'm much less stressed if I have a general plan to follow rather than an hour-by-hour schedule.
Another way that I organize my day is by using routines so that many of my activities become habit (see the link at the end of this post).
*Use time blocking to schedule specific days and times for each of your priority tasks.
Check Your Plan
All of this planning will be of no help to you if you don't consult your planner and follow the plan. If you use your phone to organize, set alerts and notifications to remind you of important appointments and tasks that need to be accomplished. Create a habit of checking your plan first thing in the morning, throughout the day and just before bed to make sure you don't miss anything.
*Create a habit of checking your planner.
My plan for this week:
PERSONAL– bed by 10 p.m.; drink 6-8 glasses of water; walk 30 minutes at least 4 days; daily "Brain Dump" (read more here)
PEOPLE–  date with hubby; driving practice with daughter; make a photo album with daughter #3
PASSION –  art journal time; read daily
PURPOSE–   (wife) write a love note to my husband; (mom) practice good listening with kids; (encourager) call a friend to pray with her
PROJECTS– work on current writing project; order homeschool book; declutter entry way closet; 
Creating a weekly plan isn't the magic genie to create your perfect life — but it's close!
I would love to hear your tips for creating a weekly plan, so leave a comment.
We can do this!

Want a simpler life?
Join our simplifying, organizing, life-changing community!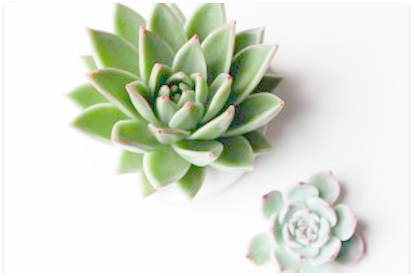 Click here to join the 30 Days to Organized Community!
Get weekly encouragement & 10 Minute Organizing Tips
PLUS access to our Organizing and Printable Library including:
10 Minutes a Day Declutter Calendar — focus on one small area each day of the month
50 Ten Minute Tasks – to organize your life one baby step at a time
10 Minute Task Calendar – blank calendar to fill in your own 10 Minute Tasks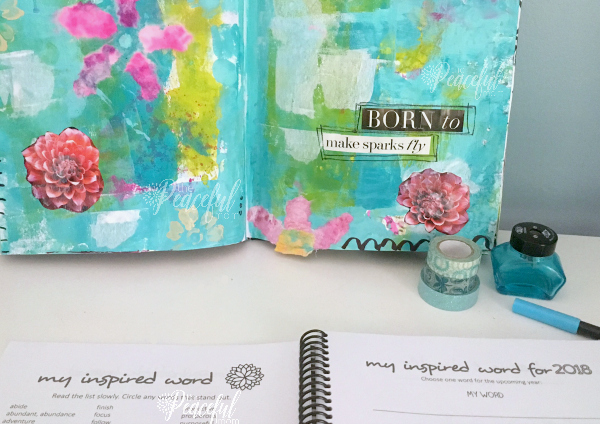 Filled with tools and inspiration to create your most purposeful and joyful life, it's your new best friend!
Click here to see what's inside!
You May Also Like: