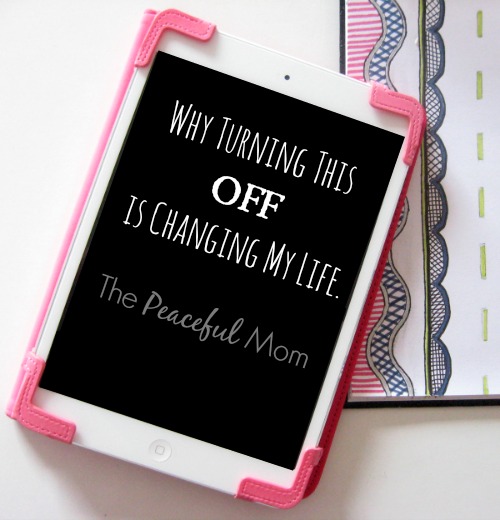 So far it's been two weeks since I decided to make a determined, intentional effort to avoid all technology on Wednesdays and Sundays, and OH MY GOODNESS – I am amazed at the difference it is making in my life! (Read more about why I am celebrating WiFi-Less Wednesdays here.)
I had NO idea how much time I was wasting on the interwebs. As a result of limiting my time I have seen incredible benefits:
More Family Time
Thanks to avoiding technology for the last two Wednesdays I have been more focused on my family and their needs. Rather than just co-existing with the people who live in my house I am actually engaging with them.
In addition, my daughters and I have spent several hours at a local botanical garden, visited friends, enjoyed a leisurely shopping trip and completed six science experiments – none of which would have been accomplished if I had my face in my devices as I normally do.
More Creativity
One of my favorite ways to spend my free time is to write, paint and draw in my art journal. Thanks to avoiding my electronics I have completed ten pages in my art journal in the last two weeks. (Read more about How to Art Journal here.)
More Productivity
Part of the illusion of the virtual world is that we are actually accomplishing something by spending so much time there. Now that I am purposefully limiting my time I am much more productive in the real world where it actually matters. This past week I spent two hours going through two huge bins of homeschool materials that have been weighing on my mind and I decluttered my garage.
More Happiness
I literally feel like a weight has been lifted from my shoulders and I feel true joy and inner peace surging back. I didn't realize how discontent I had become as a result of watching other people's lives instead of living my own.
In addition to avoiding technology all together two days a week I am also implementing a Social Media Plan:
Pinterest – I will look at Pinterest for specific, limited times and for specific ideas. No random browsing for hours as I have in the past.
Facebook – I have recently started paying attention to how I feel when I read posts on Facebook. I am in the process of unfollowing (not "unfriending") people who consistently post negative comments or whose posts create negative feelings in me.
Twitter, Instagram and Other Social Media – I will primarily use these just for business purposes and I will be limiting my time using them.
UPDATE 2022: I no longer spend any time on Facebook and limit my time on Instagram, especially at night before bed and I'm sleeping SO much better!
Wanna join in? Just leave a comment on this post telling me that you want to join our little tech-free party and what you will be doing (for example: turning off all devices for 2 hours first thing in the morning, etc.). 🙂
You May Also Enjoy: