My $125 Weekly Grocery Shopping Totals: See how I feed my family of six (including 4 teens) for around $125/week, or just $500 a month. See our $125 Budget Weekly Menu here. 
Subscribe to my FREE e-notes to get my best tips to help you save money, get organized and enjoy life sent right to your inbox! You can also join me on Facebook, Twitter or Pinterest for daily interaction.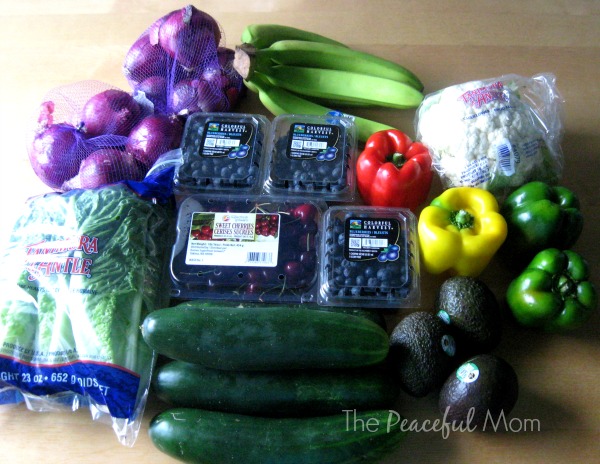 Aldi Produce
One of the things I hated in our previous location was the fact that Aldi had such low quality produce. I don't know whether they improved as a whole or if our new location has better access to good produce but it is now my favorite part of shopping at Aldi.
Best Deals:
2 lb bag red onions 99 cents each
cucumbers 39 cents each
pint blueberries $1.79 each (not as good as $1.29 in previous weeks, but still a great price)
pint cherry tomatoes $1.59
avocados 69 cents each
1 lb cherries – $2.89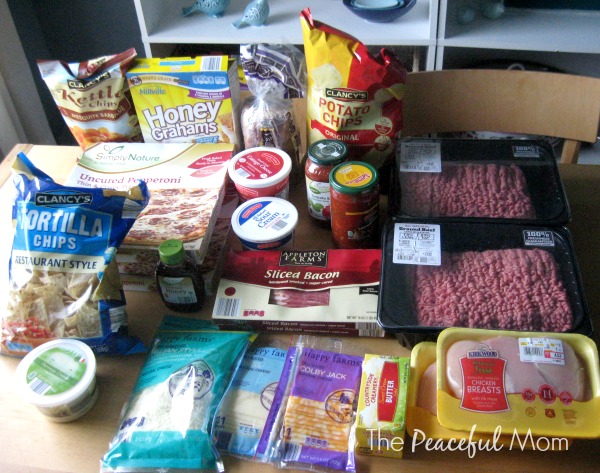 Aldi Grocery Items (not pictured: 1 gallon of milk)
I was happy to find ground beef for $2.49/lb. Whenever I find a great price on meat I buy extra and prepare it for the freezer. Read here How I Prepare and Freeze Ground Beef. [If you have difficulty finding good meat prices in your area click here to find out more about Zaycon Foods..]
I was also very happy to find reasonably priced organic items. The organic pasta sauce was $1.99, the frozen organic pizzas were $3.49 each and the organic honey was $3.49. These are ridiculously low for our area.
 ALDI–Total Spent $114.39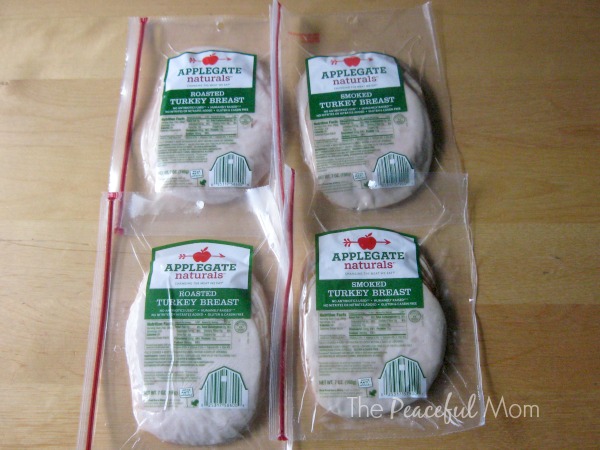 Publix (not pictured: 32 oz. Ricotta Cheese)
I also stopped by Publix the last day of the sale to pick up more organic and nitrate free lunch meat. These were $4.00 each, a savings of almost $1.00 each. I placed these in the freezer to use later.
PUBLIX-–Spent $19.98.  
Weekly Total: $134.37

July Monthly Total: $364.97   
($125/week budget for six people so I am over budget for this week, but my average is $122 per week for this month so far. )
Need to save money on your grocery bill? Click here to see my best tips to Save Money On Groceries.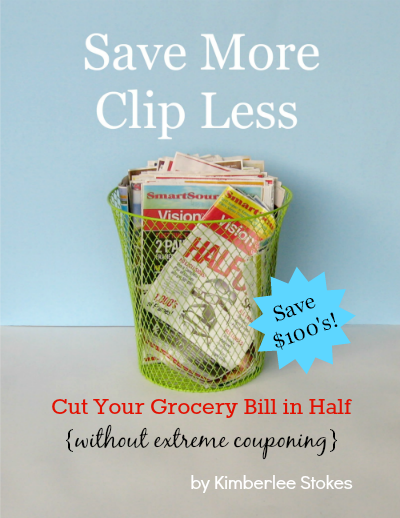 Read more about how I stick to a $125 a week budget in my Save More-Clip Less e-book!
Click here to see what others are saying about this book.
Click here to see previous week's shopping trips.
How did you do this week? Leave a comment!
You May Also Enjoy: