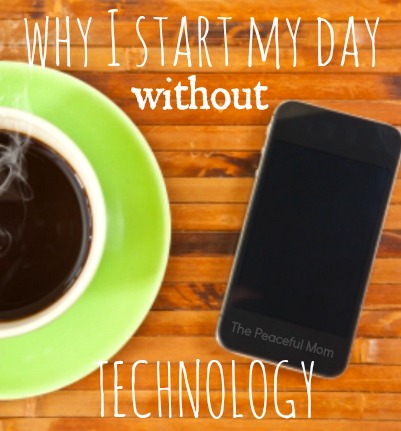 I see you on that smart phone. Or maybe it's a tablet or a laptop.
Hey, I'm all about technology. I can find information in a flash, connect with my best friend from elementary school and laugh at pointless cat videos until my sides hurt.
But I can also miss out on the most important parts of my life because my face is in a screen for hours.
I have decided to do something about that problem.
I start my day WITHOUT technology and as a result I am much more peaceful, joyful, productive and engaged than before.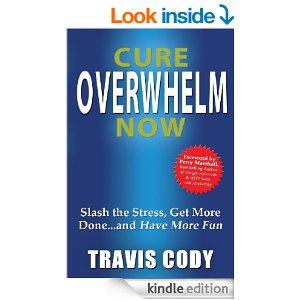 My commitment was strengthened recently when I read a fascinating book by Travis Cody called Cure Overwhelm Now: Slash the Stress, Get More Done… and Have More Fun
. (HERE in "Books I Love".) The forward reads:
"This book chronicles Travis Cody's addiction, detox and ultimate escape from heroin.

Oops, it wasn't heroin. I meant internet and cell phones."
Travis, a successful Hollywood development executive and online entrepreneur, shares his radical choice to give up all technology including his cell phone, television, radio and computers for 30 days. The book includes his journal entries from the 30 day journey, his reflections after the fact and current scientific research on how technology affects us.
Some of the findings are astounding such as the fact that our dependence on technology is physically re-wiring our brains and is literally as addictive as heroin or crack cocaine. We are more forgetful, distracted, impatient and unproductive than ever before because we can't put down our phones.
I currently have a smartphone and a tablet, and I spend a lot of time on my laptop and home computer as well, so I make it a priority to have daily tech-free time first thing in the morning. I started with a few basic principles that might help you as well.
Move Your Devices
In preparation for an awesome technology-free morning I moved my devices outside of my room to charge at night. I also set a cut-off time and stopped using them while I was in the bed. This helps me to sleep better and wake up feeling rested, and so far I have been able to stick to my plan most nights during the week.
Charging the electronics outside of my room also prevents me from automatically checking them first thing in the morning. If I actually have to move to get the device I'm reminded of my commitment to use it less.
If you're thinking that you won't be able to wake up without your phone alarm, buy an alarm clock. You can pick one up for around $5-$10 at most discount stores.
Create a New Routine
Most people with cell phones leave them on overnight and check them first thing in the morning (and maybe even during the night). I have found that I have to purposely plan to do some tasks before I check the interwebs or my day starts with a huge dose of nonsense.
I try to read, journal and exercise before I log on. Even sitting in a comfy chair for a few minutes is a better way to start your day. The key is to have a plan for what you will do before you grab your phone or sit down at the computer.
Remember What's Really Important
Starting my day without technology reminds me that life outside of the virtual world is what is truly important. I know I will step on some toes here but seriously, is checking out what your friend posted on Facebook or what your favorite blogger is doing on her Instagram more important than focusing on your life and your family?
As moms it's really important to have outlets and down time, but I have to check constantly to make sure that my "outlets" are not out of balance and causing me to miss what's going on in my kids' lives.


In addition to tech-free mornings I have started celebrating Wifi-Less Wednesdays.
About a year ago I began limiting my screen time on Sundays and the extended time away from the internet and technology refreshes me. I enjoyed it so much that I have added an additional day during the week where I avoid my blog, social media and anything technology related. Last week I actually made it 8 hours before I gave in and checked my email.
During this time I visit a local botanical garden, take a walk in the park, do artwork, play a game with my kids or just hang out and talk with them. I am a much better person because of it too.
If you'd like to join in for Wifi-less Wednesdays (or Sundays or weekday mornings or any other amount of time), leave a comment saying when you will put down the phone, the tablet and the laptop to engage in your life.
Look, it won't be easy at first to break away from the lure of social media and the internet, but I am finding that it is well worth it. By the way, the more difficult it is, the more likely that you are addicted. Life doesn't actually exist on Instagram, ya' know.
[Read here what happened when I made a consistent effort to stay off my devices.]
photo credits: tungphoto; Witthaya Phosawat; FreeDigitalPhotos.net