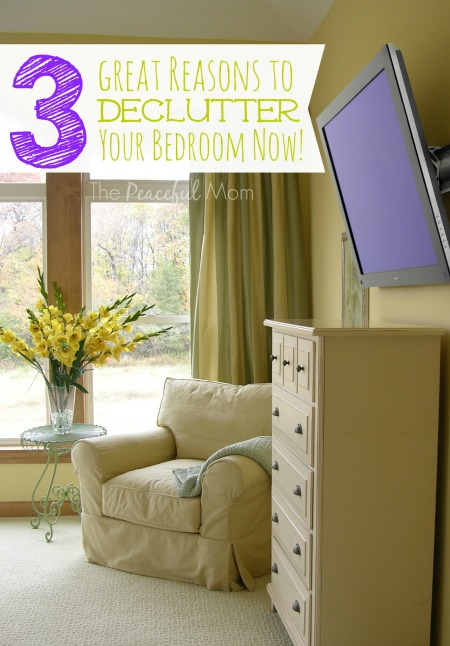 Get Organized: 3 Reasons to Declutter Your Bedroom Now!
I know – it's on the to do list.
Today I'm encouraging you to move the "Clean my bedroom." task to the top of the list. Why?
Clutter Drains You
You may not realize it but going to bed and waking up in a space that is filled with stuff is an energy leech. If you are having trouble sleeping and feel drained during the day take a look at your bedroom. All of those piles and stacks remind you of the multitude of items you need to take care of and they prevent you from drifting peacefully off to sleep.
When you wake up the stuff is there to immediately remind you once again of all of the responsibilities and tasks you have to do and you can't start your morning in a calm, centered way.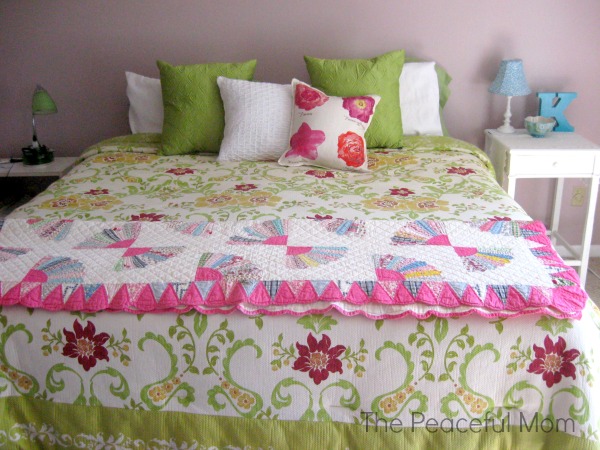 Clear Spaces Bring Peace
Now imagine your bedroom with clear surfaces and floors. Wouldn't it be amazing to wake up in a room with sunlight streaming in unblocked by the treadmill with a week of clothes hanging on it? Imagine how calm and serene you will feel when you wake up and see nothing but beauty and order around you.
Even if the rest of your day is hectic, being able to go to bed and wake up in a clean and beautiful space will bring peace and calm to your soul.
Your Bedroom is Sacred Space
Yep, I'm going there. The master bedroom represents the heart of your marriage relationship. It's where you and your husband enjoy each other's company and affection and it should be a welcoming, nurturing place in your home, not a place of anxiety and drama (unless you're both into that kind of thing, and I don't want to know about it – haha!).
I am super qualified to talk to you about this issue because my own bedroom has gone through various stages of disarray: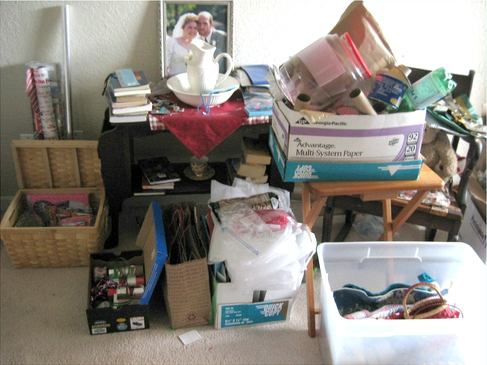 Yes, it was that bad.
It seems to be a constant struggle for me. I move things out of the room, then company comes over and I throw everything back in to make the living room presentable. Can you relate?
My most recent issue was my art "studio" on one side of my bedroom: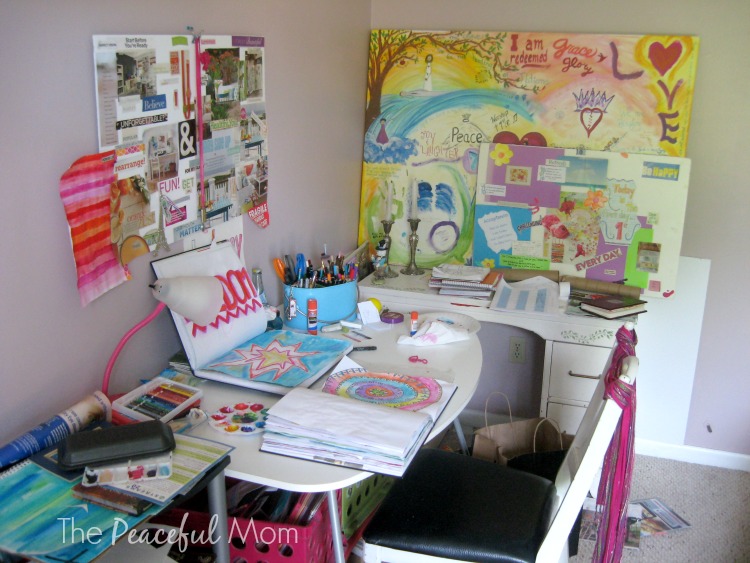 Lots of creativity going on here but it was making me crazy!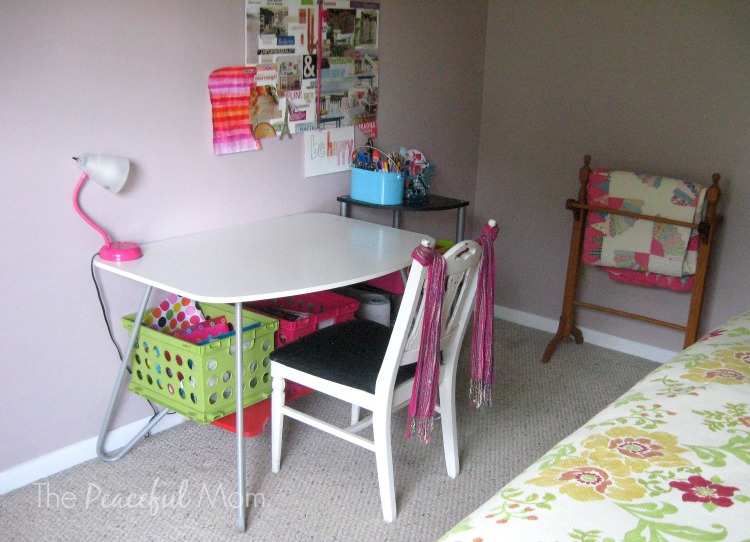 I took about an hour last weekend to clear, clean and organize. This feels so much better and actually encourages me to be creative because I am not bombarded by so much stuff.
If any of this is striking a chord with you and you need to make clearing out your bedroom a priority I have a couple of suggestions for you.
Plan A
Go Kamikaze! Take EVERYTHING extra out of your room and put it in the garage, basement or spare bedroom. Over the next few weeks choose one box, bag or bin to go through every day and get rid of that stuff!
Plan B
Use my 10 Minutes a Day Decluttering technique (click here to read more) to go through your bedroom one area at a time. This will take longer but it may be all that you can handle right now. Doing a little something every day is way better than doing nothing.
Whichever method you choose, take action today. Don't let your bedroom be a drain on you for one more minute!
If you're joining in the Bedroom Declutter Challenge, leave a comment below. Once you have it clean, send me some before and after photos. 🙂
You May Also Enjoy: