This post brought to you by Dollar General. All opinions are 100% mine.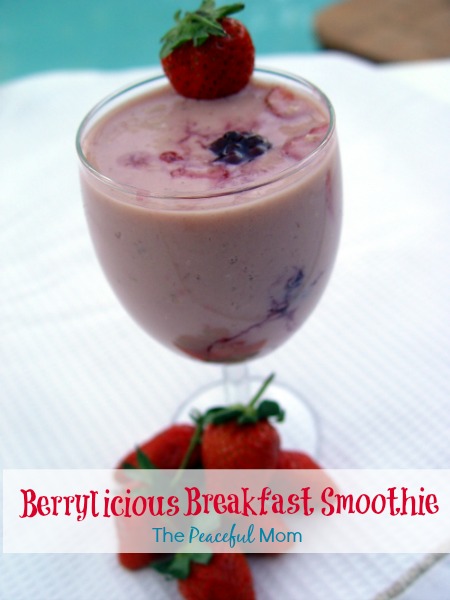 We love to make fruit smoothies in the summer to take advantage of all the fresh produce that's readily available. We buy berries at their lowest price and freeze them to use in smoothies like this Berrylicious Breakfast Smoothie. (Click here to read How to Freeze Blueberries.)
INGREDIENTS
1 frozen banana  (cut into small chunks)
1/2 cup milk (or milk substitute)
1 cup vanilla yogurt (or coconut yogurt)
1/2 cup frozen blueberries
1/2 cup frozen strawberries
INSTRUCTIONS
Combine banana, milk and yogurt in a blender and blend on high until smooth.
Add berries and continue to blend until they are incorporated. If using fresh berries add a few ice cubes toward the end to make the smoothie frosty. Bananas are naturally sweet so we don't add any other sweeteners.
Serve immediately.
Makes approximately (2) 8 ounce servings.
Note: If you are unfamiliar with blending smoothies, make sure that you add liquid as necessary to maintain a vortex (the spinning hole in the center) while blending to avoid burning out the motor on your blender.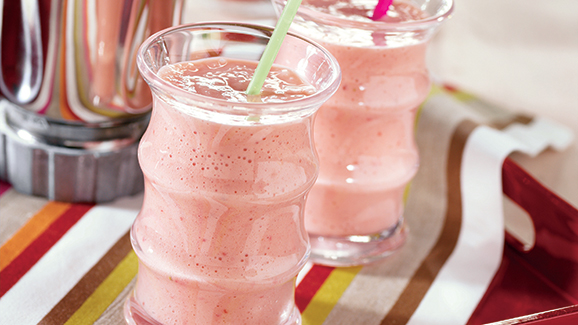 Peach Sorbet adds a delicious flavor to this Strawberry Banana smoothie:
INGREDIENTS
1 cup V8 Splash® Smoothies Strawberry Banana
1/2 cup peach sorbet or your favorite flavor
1/2 cup vanilla low-fat yogurt
1/2 cup fresh strawberries, cut into quarters
INSTRUCTIONS
Place all ingredients in a blender.
Cover and blend until smooth.
Serve immediately.
You May Also Enjoy: