This post brought to you by Bahama Breeze. All opinions are 100% mine.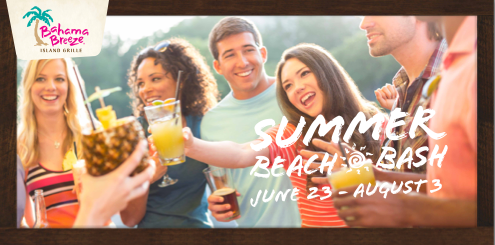 Summer is a terrific time to enjoy a more relaxed vibe and have fun with your friends and family. If you have a little extra money in the budget I have a great summery option for you.
From now through August 3rd you can celebrate good times with friends at the Bahama Breeze Summer Beach Bash. Bahama Breeze offers traditional fare like an Applewood Bacon and Cheddar Burger or their Wood Grilled Top Sirloin Steak, but they also serve more adventurous dishes like the Guacamole and Goat Cheese Burger, West Indies Chicken Curry Rice Bowl, and Key West Shrimp and Grits. From rice bowls to seafood dishes like Calypso Shrimp Linguini and Seafood Paella, there is something to please everyone's tastes.
One of my favorite ways to enjoy the beautiful summer weather is to sit outside on the patio and Bahama Breeze has a perfect spot to do just that. Have a seat in their relaxing outdoor dining area and take a break from the heat by trying their signature summer drink the Ultimate Pineapple, a frozen drink with the tropical twist of fresh cut pineapple – so refreshing!
On Saturdays you can enjoy live music on the patio along with a mojito bar. While you're there take a few photos and enter the #MyBBSelfie Instagram contest. Simply share a creative selfie of you and your friends enjoying your time at the Summer Beach Bash and post it to Instagram using the hashtag #MyBBSelfie for a chance to win a $25 Bahama Breeze gift card!
Bahama Breeze is the summer destination for good times with your friends. Great atmosphere, delicious food and live music create a perfect location for your next hangout or Girls Night Out. My husband and I will be heading there soon and I'll be sharing photos with you so you can join in the fun.
Click here to find a location near you and plan some good times with your friends!
[Stay tuned for a chance to win a $50 Bahama Breeze gift card!]