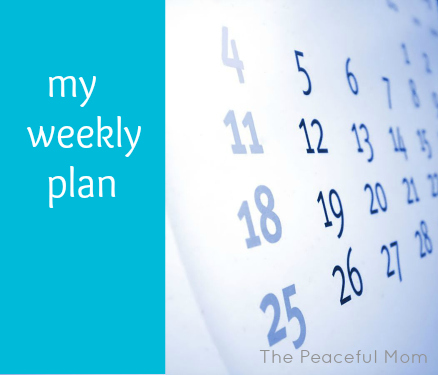 One of the primary ways that I am able to stay peaceful and ensure that I am living my true priorities is by making a detailed weekly plan. (It also helps me to save money!).
Take a look at my plan and create your own with my FREE customizable planner! Read more details about how I plan here.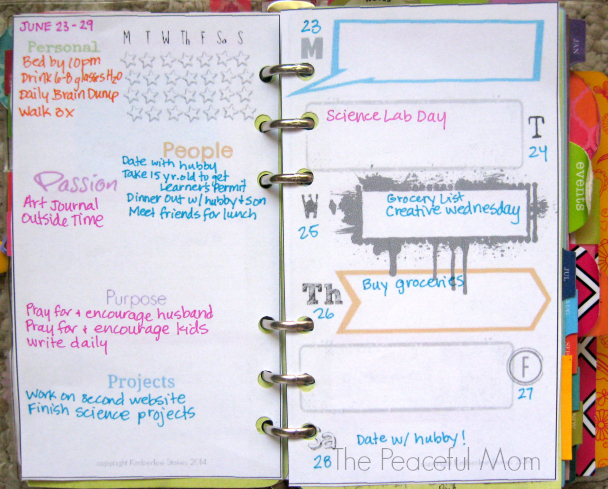 This Week's Plan
This week I will be busier than I like to be. I will be transporting two teens back and forth to work because the driving teen's schedule doesn't coincide. We are also catching up on some science labs for homeschool. Thankfully a friend who is a science teacher is helping. We also have friends visiting from out of town.  
PERSONAL – go to bed by 10 p.m.; drink 6-8 glasses of water daily; exercise at least 3 times 
PEOPLE –  date with hubby; dinner with hubby and son; lunch with friends; take 15 year old to get learner's permit for driving
PASSION –  art journal time; read 1 chapter a day; outside time
PURPOSE –  pray for and encourage my husband; pray for and encourage my children; write daily; call a friend
PROJECTS –  10 Minute Declutter; work on my second website (I'll be sharing more soon!)

As a gift to my readers, you can now print your own customizable Weekly Plan! Click here to subscribe to The Peaceful Mom Weekly eNotes and you will receive access the download link along with my e-book Stress Free Meals and some other fun bonuses.
Click the download link and type your info for the week into the planner. Once you are done, right click the form to print and check off each task as you complete it.
(You can see all of the FREE printable planners I have available here.)
What do you have planned this week? Leave a comment. 🙂
You May Also Like: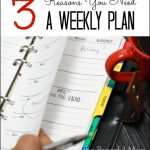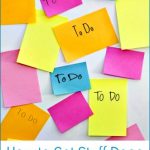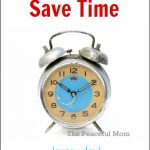 Make Money Online!
Click here for a complete list of The Peaceful Mom's recommended survey sites.