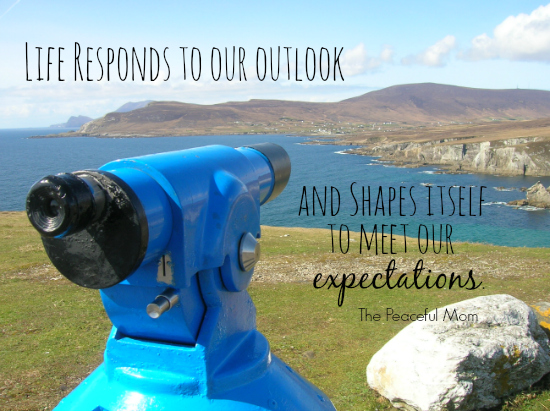 Maybe your financial life isn't where you want it to be. In my Change Your Mind, Change Your Money series I'm sharing simple changes that you can make to invite "more" into your life – more contentment, more passion and even more money!
Today's Mindset Modification: Expect more.
Remember the feeling you had as a small child on Christmas Eve? You could hardly wait to see what surprises awaited you on Christmas morning and sleep was out of the question.
Somewhere along the line we lose that sense of hope and expectation through others hurting us and life's disappointments, but I encourage you to rekindle that spark of excitement and to start envisioning hope for your future.
The word expect comes from two Latin roots: spectare which means "to look" and ex which means "out". To expect is literally to "look out", to await something with hope; to look forward to and regard as likely to happen; to anticipate the occurrence or coming of.
As I have mentioned previously, our financial life is interconnected with every other aspect of our lives. Contentment can help us to be happier today, but being content doesn't mean that we cannot improve our situation. If we have no hope or expectation that we can change our circumstances, we will never reach out beyond ourselves for a better life. We will never stretch ourselves to be and do more.
When I first started The Peaceful Mom I thought only about helping my friends and family. Within a short amount of time I increased my vision to reach women that I didn't personally know and now the blog is read by women in 175 countries around the world. If I had not expected more of myself, I would never have been able to accomplish this. As the blog has grown, it has also provided money which increases our family's income and improves our lives.
When you look out into your future what do you see? What do you envision when you think about your life in the next year, two years, five years?
If you can't see where you are going, it's difficult to get there. Without a vision of your future, both financially and otherwise you will lack motivation and direction and you will be unlikely to accomplish your goals.
In order to open your life up to more–more joy, more peace, more money, you have to rid yourself of defeatist thinking. Defeatist thinking looks like this:
"That's already been done."

"I don't have time to add anything else to my schedule."

"I could never do that."

"That's too hard."
Defeatist thinking ensures that we will never grow or change because we assume that we can't. Expectant thinking empowers us to move ahead toward a bigger goal and to stretch ourselves beyond where we are today.
Expect that you can increase your income. Expect that you can make better choices. Expect that your life will be better than it is today.
Open yourself up to the possibilities of more and begin to create goals to move you toward the future you envision. Once you envision a better future and expect more from yourself, you never know what can happen in your life!
How can you think bigger and expect more? Leave a comment.
Other Posts in This Series:
Change Your Mind, Change Your Money part 1 
Change Your Mind, Change Your Money part 2
The Secret Way to Increase Your Happiness, Life Satisfaction and Income