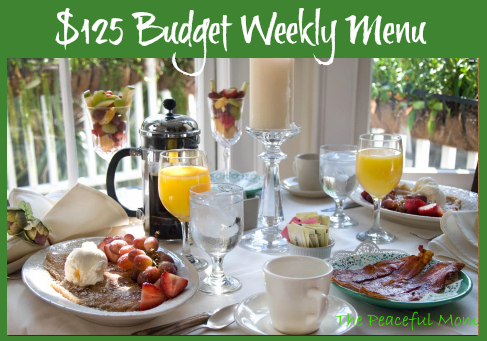 $125 Budget Weekly Menu – Making a weekly meal plan keeps me sane, helps me to save money and stay on budget. I feed my family of six including four teens for around $125 a week by shopping at a discount chain and buying sale items at other grocery stores.
This week I spent $134.10 which was slightly over budget because I purchased steak that was not on sale, but my total was low last week so my June monthly total is $209.23 or an average of $104.60 per week.
*Items marked with an asterisk were purchased in previous weeks in the $125 Budget and are in the pantry, fridge or freezer. 
Click purple links to go to recipes!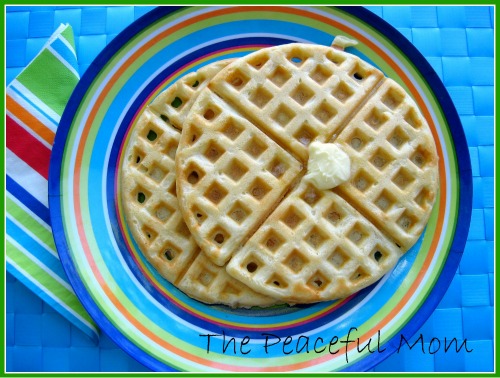 BREAKFAST
Homemade Freezer Waffles with DIY Waffle Syrup
Organic Yogurt with Crockpot Granola and fresh strawberries
Oatmeal with cinnamon and raisins
Cereal with milk x2
Cinnamon Raisin Toast with peanut butter and banana slices
Cheese Toast, applesauce*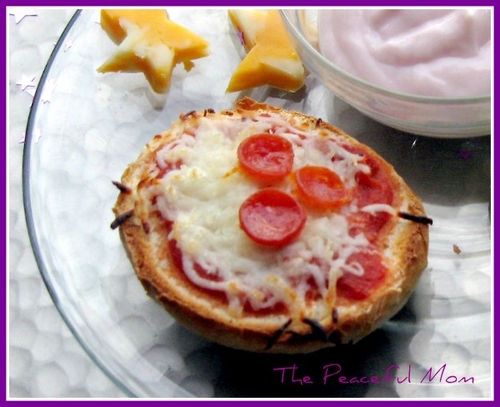 LUNCH
Homemade Pizza Bagels, salad
Turkey Sandwich, cucumber slices x2
Cheese Nachos, avocado slices, cherry tomatoes
PBJ, pretzels*
Salad with lemon garlic chicken
Leftovers from dinner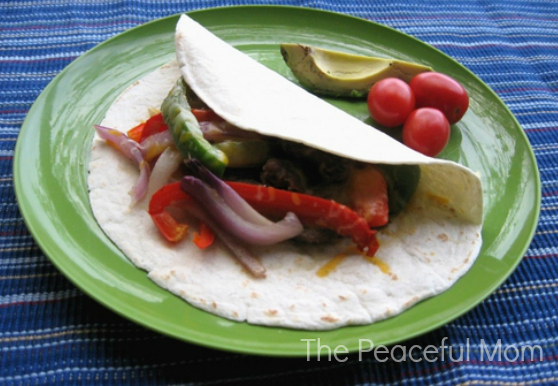 DINNER
Delicious Steak Fajitas, Tomato Cucumber Salad
Blue Cheese Burgers, kettle chips
Spicy Chicken Thighs (sprinkle chicken skin with Lawry's Seasoning Salt and bake at 350 degrees for 1 hour), steamed broccoli
Potato Kielbasa Skillet (we will skip the bacon), steamed green beans
BBQ Chicken and Black Bean Tostadas, cherry tomatoes
Fettuccini Alfredo with broccoli and sauteed chicken, romaine salad
Grilled Cheese, watermelon slices
Read what we do about snacks here.
What are you eating this week? Leave a comment or link. 🙂
Please Note: You may not be able to replicate this exact menu for $125 because sales vary by region and you will have different items on hand, but you can save money just by using a menu. 🙂)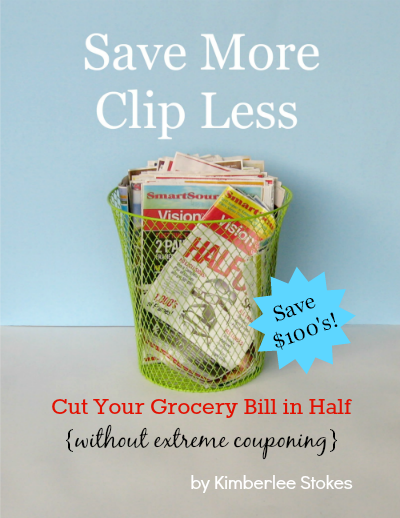 Read how I feed my family for less without extreme couponing in my Save More-Clip Less ebook!  
Click here to see what others are saying about this book
You can also check out my favorite meal planning service eMeals*. Plans start at just $10 a month for a 3 month subscription and include recipes and a grocery list!
Readers of The Peaceful Mom can get an exclusive 10% discount by using promo code PEACEFUL at checkout. They even have a slow cooker plan for those busy weeks!

Click here to see a sample menu.  
You May Also Enjoy: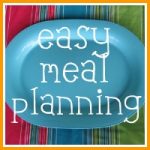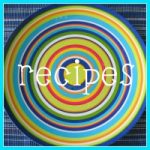 For more menu ideas, check out OrgJunkie Menu Plan Mondays.
*affiliate link– Read our disclosure policy here.