Living on Less: Budget Summer Decorating 
Just because we live on less doesn't mean that I don't enjoy some of the little extras in life like decorating our home. I simply choose to decorate for less.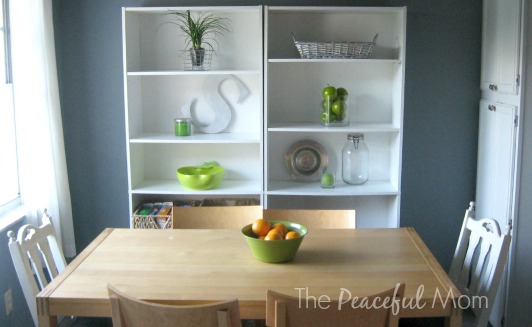 One of my favorite rooms in our new house is our kitchen. I love the light in the room, the wall color and especially my bookshelves which I use for storage and as a backdrop to add a little color and style to the room. Except for a brief redecoration with our Frugal Christmas Decor, the shelves have stayed basically the same since we moved in.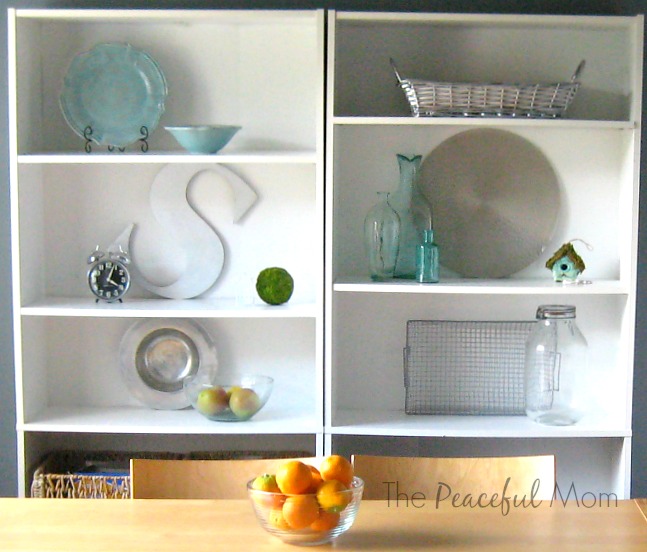 A few weeks ago I removed all of the apple green accents and started replacing them with blue and turquoise items I had around the house. The blue makes the room feel cooler now that the temperature is hotter outside.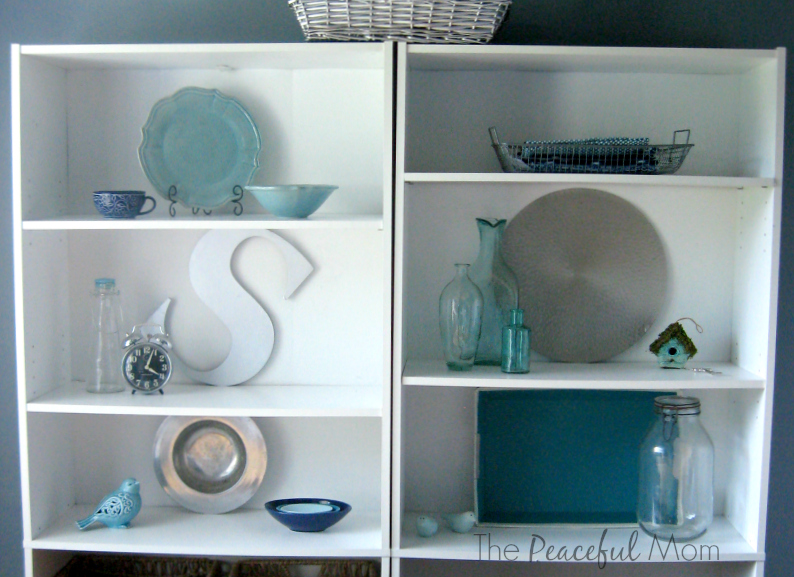 This past week I happily found some inexpensive items to add to my collection. I found the turquoise tray on the bottom right shelf along with the navy blue tea cup on the top left shelf for a total of $2.98. The large porcelain bird (bottom left) was $3.99 at Michael's. The porcelain bird salt and pepper shakers (bottom right) were $2.99 and the decorative bottle (left middle) was $4.99 at Target.
My redecorating total at that point was $14.95, but I decided to splurge on a set of four serving dishes (3 of them are on the bottom left shelf). That brought my total to $35 and I just happened to have $35 leftover in my grocery budget for the previous week.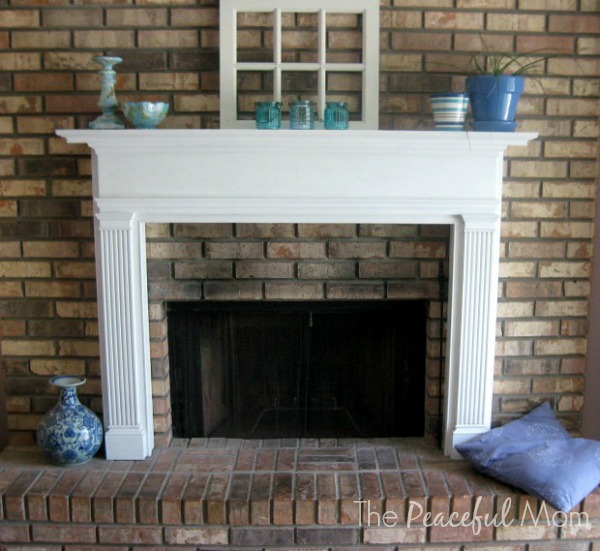 I updated our fireplace by using items from other areas in our home. We purchased the glass jars in the center of the mantel for my daughter's 16th birthday party and I liked them so much I decided to re-use them.
If you'd like to do a little budget redecorating for the summer, try these tips:
Repurpose What You Already Have
You can update the look of your home just by rearranging furniture and repurposing items you already own. Add new accent colors into a room by bringing in items from other rooms, cover throw pillows with cheap material and hang photos or paintings from other areas in your house.
Visit the Thrift Store
Your local thrift store is a fabulous place to find home decor items. Keep an open mind and think about how items can be used in a creative way or updated with a little bit of paint. Picture frames are a great find and can be repainted to frame art or a mirror, or left empty and placed on a shelf or a mantel.
Sometimes I get decorating ideas by simply visiting the thrift store and looking at what they have available.
Check out Yard Sales
One of the best parts of summer for the frugal-minded is the availability of yard sales where you can easily find home decor items for much less than retail prices. Keep an eye out for items in good condition that just need to be refreshed with a coat of paint such as dressers, side tables and chairs.
Look for Inspiration
I love to look at Pinterest for decorating ideas. (Click here to follow me and see what I pin.) You can also borrow magazines from friends or check out design books from the library. Many times a look that you like can be reproduced for much less than the designer version.
How do you decorate your home on a budget? Leave a comment. 🙂
You May Also Enjoy: