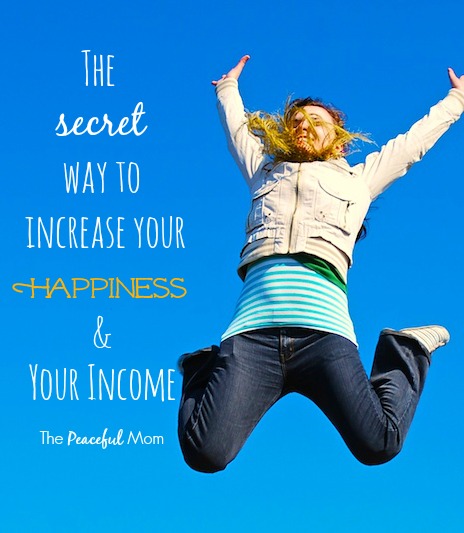 The Secret Way to Increase Your Happiness, Life Satisfaction and Income
Maybe your financial life isn't where you want it to be. In my Change Your Mind, Change Your Money series I'm sharing simple changes that you can make to invite "more" into your life – more contentment, more passion and even more money!
Today's Mindset Modification: Cultivate Generosity.
Generosity is the habit of giving time, assets or talents to someone without the expectation of receiving anything in return. Giving time and money away seems counter-intuitive if you are trying increase your income, but generosity isn't just about the dollar amount in your bank account. Giving to others creates benefits in your life beyond what you give.
Generous people are happier.
In recent years psychologists and popular culture have focused on discovering ways to increase happiness and study after study has confirmed that giving increases the life satisfaction and happiness of those who give.
A study completed by researchers from the Harvard Business School and the University of British Columbia revealed that charitable giving (spending money on others) caused a significant increase in the giver's happiness because giving improves "self-efficacy" – the belief that one is capable of handling a situation and bringing about a desired outcome. When people give to others they become problem solvers rather than victims of their circumstances and this change in mindset makes them happier and more satisfied.
Another project found that giving money away activated the donor's brain reward centers – the same area of the brain that is responsible for the euphoria associated with sex, money, food and drugs. In other words, giving money away gave the subjects a "high".
Generous people are more successful.
If you want to be successful help someone else be successful. Joshua Becker of Becoming Minimalist writes,
"The easiest path to finding success in your life is to help someone else find theirs. After all, our contribution to this world has to be measured by something more significant than the size of our savings account. Our lives are going to find their greatest significance in how we choose to live them—and how we enable others to live theirs."
Successful people are those who think of others on their way to the top. Selfish people think only of what they can get for themselves.
Generous people make more money.
You may think that wealthy people begin giving to others when they have more money, but in actuality one of the ways that people become wealthy is by being generous. Generosity is a spiritual act which opens up opportunities and relationships that you would never gain otherwise and these opportunities and relationships end up creating more wealth for you.
In his book The Millionaire Next Door author Thomas J. Stanley points out that wealthy people realize that relationships are one of their greatest assets so they spend time developing those relationships. As a result they are able to network and open opportunities for themselves and others which leads to more successful lives.
If you'd like to develop more generosity in your own life, try these tips.
Trust that there is more.
Many times we fail to give because we live in fear that we will not have enough for ourselves. Squelch that fear and realize that there is an entire world of resources available. Trust that if you give to others you will receive more opportunities, blessings and even more money.
If you'd like to read more about this change in mindset, read my post Poverty vs. Frugality.
Find your unique gifts and talents.
If you want to increase your income, focus on doing what you do best and giving some of your talent away to others rather than always focusing on making money.
My sister is a very talented metalsmith and makes dazzling original jewelry pieces. Others are talented in designing beautiful spaces or sewing useful items. Maybe you have an ability to host amazing parties and events, or you cook food that blows people's minds. Maybe you have a teaching gift or the ability to create music that lifts people's spirits.
Yes, we need to pay attention to where our money is going, but we should not make money the focus of our life. Seek to serve others with your unique gifts and talents rather than pursuing financial gain and you will be surprised how your investment will reap benefits in your own life.
Set up a system.
In order to make generosity a habit you will need to start with a system. You can set aside an amount from each paycheck (a specific dollar amount or a percentage) to give away. Schedule a time each week or month to volunteer or give your services and talents away to others or choose a neighbor or single mom who you can help on the weekends.
Once you begin to give on a regular basis you will begin to find more and more opportunities to be generous.
Give something that has meaning.
It's easy to pull a few cans out of the back of the pantry, dust them off and donate them so that we feel better about ourselves because we have "given" something. If the gift doesn't cost us anything though, we haven't truly been generous. If you don't want to eat that can of Spam perhaps no one else does either.
True giving requires something of ourselves and the best generosity results when we give what only we can give – a listening ear to a friend, time and attention to our spouse and kids, time and money to a charity we believe in. Make your giving personal and sacrificial if you want to truly see the benefits of generosity.
What are some ways that you give to others? How can you increase generosity in your life? Leave a comment.
Read more posts in this series:
Change Your Mind, Change Your Money part 1
Change Your Mind, Change Your Money part 2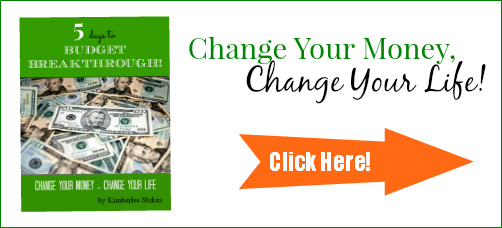 photo credit: Mateusz Stachowski