This post brought to you by New York Life. All opinions are 100% mine.
How do you inspire your child?
Just like this dad, you probably have dreams and aspirations for your children. You want them to have a good life and to reach their full potential, but how do you inspire them to think bigger and go further?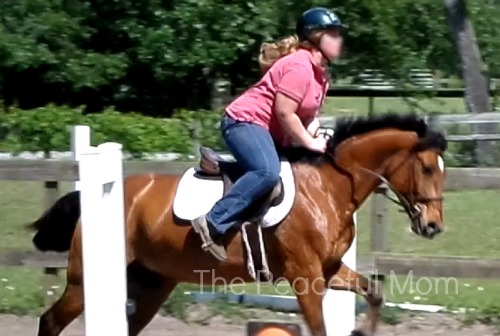 Engage
The dad in My All-Star Daughter had the great blessing of his passion and vision for his child matching up with what she wanted to do, but sometimes your child's life calling is different than what you expect as the parent. I am personally always looking for clues about my children's interests and deep desires, and one of the best ways to discover more about my children is by spending lots of time with them having fun and talking. Some of the best conversations happen during these relaxed times.
When my youngest daughter was growing up we played a lot with horse Legos and Barbie horses. When it was time to watch a video she ALWAYS chose the animated movie Spirit – Stallion of the Cimarron. Her siblings were so sick of it that they threatened to steal it and throw it in the trash!
It turns out that the horse craze was a glimpse into my daughter's future. By listening and talking with her I discovered a deep passion within her and a vision to own a horse farm where she helps children with disabilities through horseback riding. If I had not listened, I could have easily passed over this phase as just that, a phase.
As we prayed about ways that we could move her toward her vision, a friend generously offered to give her riding lessons and even though it is an hour drive to the barn, I make the sacrifice because I want my daughter to be able to fulfill her dream.
Encourage
As your child grows, you will begin to see strengths and talents that he possesses. Maybe your son is an excellent speaker or a gifted musician. Perhaps your daughter has artistic skills or an amazing ability to make people feel at ease. By encouraging these innate abilities in your child you will enable them to fulfill their life's purpose.
My middle daughter showed an interest in music early on and when she was ten a friend taught her to play a song on the piano. That was all she needed to ignite a passion for learning the instrument. Another friend gave us a keyboard and she started practicing every day and watching You Tube videos to learn songs. Now she makes her own You Tube videos, has taught herself to play guitar and has written her own music. I would be foolish to ignore this passion in her rather than encouraging and supporting her in it.
My oldest daughter has loved cooking since she was young and we have prepared many dishes together. As she has grown older I have invested in tools and instruction for her and she has decided that she wants to open her own bakery. Maybe she would have come to this conclusion on her own, but it was fun being a part of the process by talking with her about her options.
Explore
Maybe your child isn't sure what she likes or what she wants to do. One way to help her discover more about herself and what she was created to do is to try a variety of activities. Take a cake decorating, robotics or art class together. Enroll him in karate, swim lessons or a CPR course. Search out programs offered by local museums and zoos.
Exposing your child to different kinds of experiences will help her to discover what she likes and doesn't like. One caveat: don't over-schedule your child. You have plenty of time to try various activities and having quiet time to play and think independently is just as important.
Part of the joy of parenting is guiding our children into adulthood and watching them go farther and be better than we were. Let's be a part of inspiring a generation of awesomeness!
How do you inspire your child and help him to fulfill his dreams? Leave a comment.
Learn more about how New York Life can help you and your family Keep Good Going.