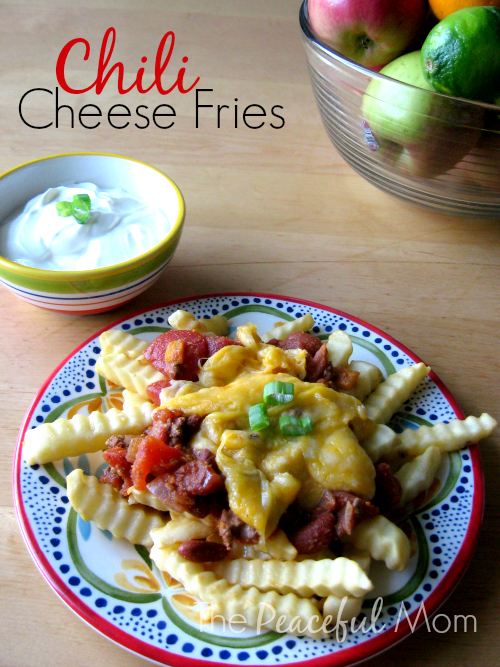 Chili Cheese Fries Recipe
I am all about keeping things simple when it comes to getting dinner on the table and this easy meal is one of our new faves. I cook a double batch of my Crockpot Chili or Slow Cooker Chipotle Chili to serve the day before and then we use the leftovers to make these super easy and tasty Chili Cheese Fries.
Of course you can make a cheese sauce but we prefer this much simpler version.
32 ounce package frozen french fries (Make sure to read the label to verify your fries are gluten free.)
3 – 4 cups cooked chili depending on taste
2 cups shredded Cheddar – Monterrey Jack Cheese
1 cup sour cream (optional)
green onion slices for garnish (optional)
INSTRUCTIONS
Heat chili on the stove or in the slow cooker.
Cook fries on a cookie sheet according to package directions.
Remove fries from oven and top with heated chili.
Sprinkle chili with shredded cheese.
Return chili and cheese covered fries to oven and broil for 1-2 minutes until cheese is melted and bubbling.
Serve immediately with sour cream and green onion slices.
I'm linking up to Gluten Free Wednesday! and Allergy Free Wednesdays!

You May Also Enjoy: