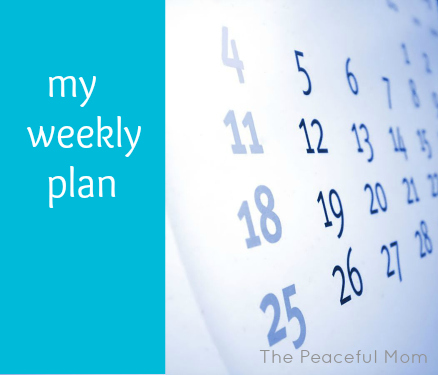 Get Organized! Manage your time, simplify your life and live your true priorities with a weekly plan.
Take a look at my plan and create your own with my FREE customizable planner! Read more details about how I plan here.
I hope you had an amazing weekend! I did and then I woke up yesterday to this: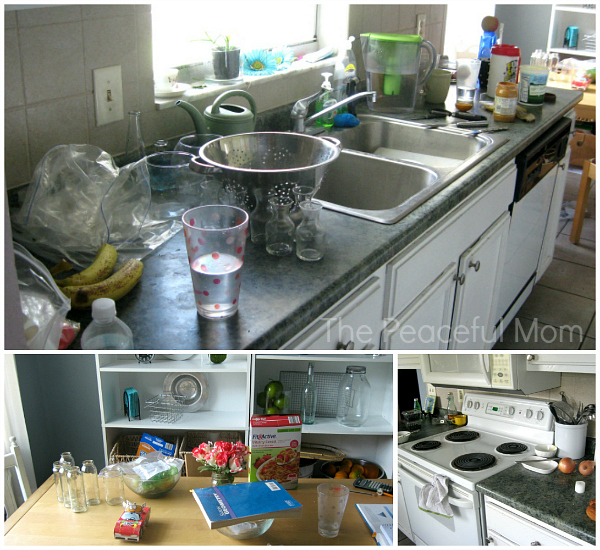 I would normally do a 10 Minute Declutter and stretch the pain out over a few days, but this disaster had to be faced head on. Never mind the fact that a couple of my teenagers left the remnants of their breakfast lying all around the kitchen and we still had dishes and containers to put away from my daughter's 16th birthday party.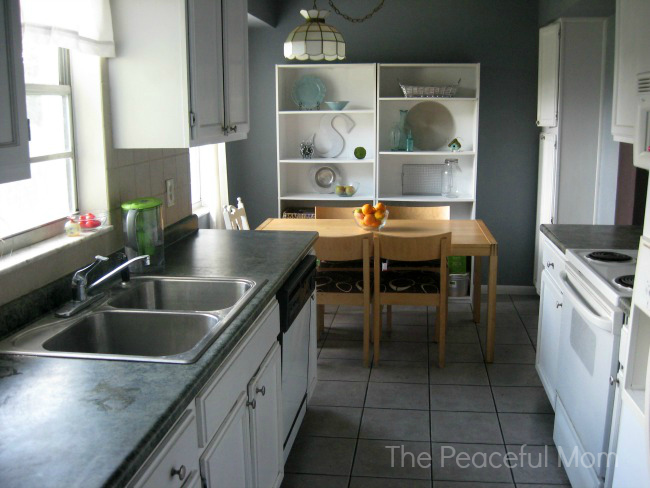 Ahh —  and order is restored!
Good thing I snapped a photo because that lasted about 3.6 seconds! Thankfully everyone is back on board with the "clean up after yourself" message and my 17 year old is on top of cleaning the dishes every night.
This Week's Plan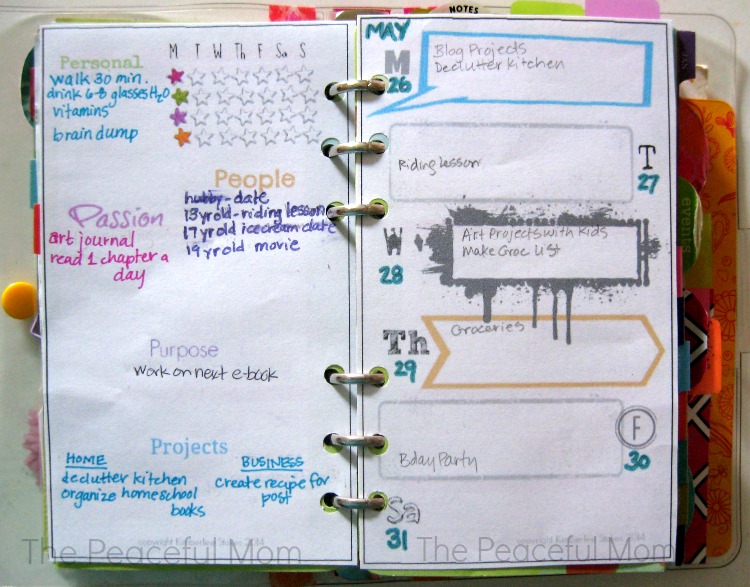 I am really enjoying my new planning system (read more here). Here's the breakdown of this week's goals:
PERSONAL – go to bed by 10 p.m.; drink 6-8 glasses of water, exercise and take my vitamins daily
PEOPLE –  date with hubby, riding lesson with 13 year old (thanks to a friend!), ice cream date with 17 year old, movie date with 19 year old
PASSION –  art journal time, read 1 chapter a day from my HUMONGOUS e-book collection (click here for the current FREE e-books)
PURPOSE –  pray for and encourage my husband, write daily my current book project
PROJECTS – Kitchen Clean and Declutter (done!), organize home school books 
Someone asked why I don't have items like cooking and laundry on my weekly list. That is because they are a part of my daily routine so I don't need a reminder to do them. As a part of my morning routine I start a load of laundry and prepare part of dinner so that I have less to do at dinner time. I also try to do a 10 – 20 minute declutter/clean up project most days so I don't add cleaning chores to my list either.
Of course, you should do what works for you. 🙂

As a gift to my readers, you can now print your own customizable Weekly Plan! Click here to subscribe to The Peaceful Mom Weekly eNotes and you will receive access the download link along with my e-book Stress Free Meals and some other fun bonuses.
Click the download link and type your info for the week into the planner. Once you are done, right click the form to print and check off each task as you complete it.
(You can see all of the FREE printable planners I have available here.)
What do you have planned this week? Leave a comment. 🙂
You May Also Like: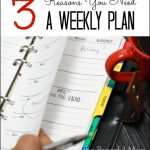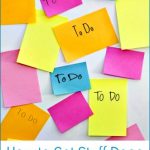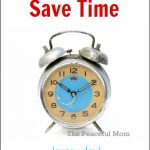 Make Money Online!
Click here for a complete list of The Peaceful Mom's recommended survey sites.