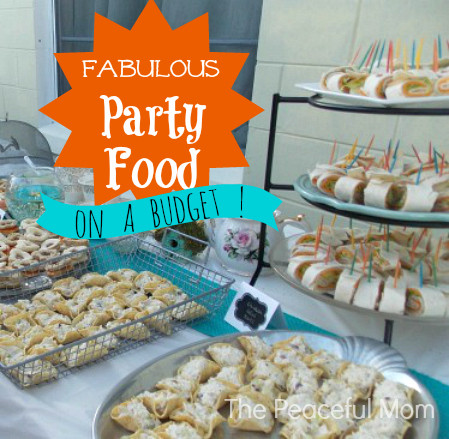 Host a Budget Party – Party Food for Less
In my last post Host a Budget Party Without Looking Cheap (read post here) I shared details of our recent budget-friendly teen birthday party. Today I'm sharing our party food ideas and tips for saving money on your next party gnoshes.
These appetizers and desserts were specifically named to reflect our Alice in Wonderland Mad Tea Party Theme, but of course you can use whatever name best suits your gathering.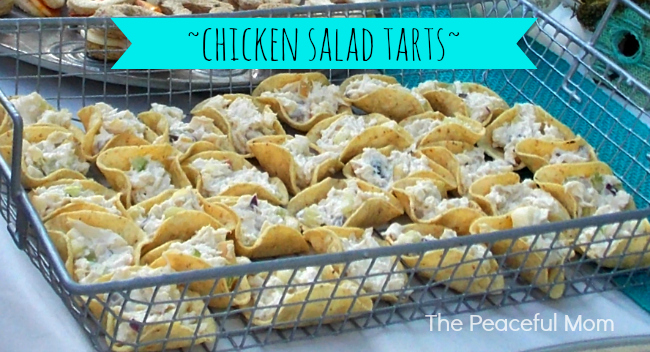 Chicken Salad Tarts
I used my Crunchy Chicken Salad Recipe (click here for the recipe), but diced everything finely and added a little more mayo. We made this a day ahead and then scooped the chicken salad into tortilla chip dippers right before the party. If you want to add a little color, you can top these with a slice of green onion.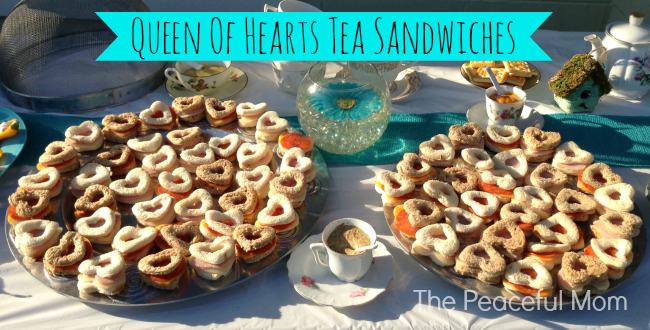 Queen of Hearts Tea Sandwiches
Sandwiches are an easy and inexpensive food to feed the masses but rather than serving boring squares making them unique by cutting them into shapes with cookie cutters and using creative combinations for fillings.
We chose two simple combinations: cheddar with pepperoni (with the red of the pepperoni peeking through the heart cutout) and ham with swiss. We served three kinds of mustard along with the sandwiches.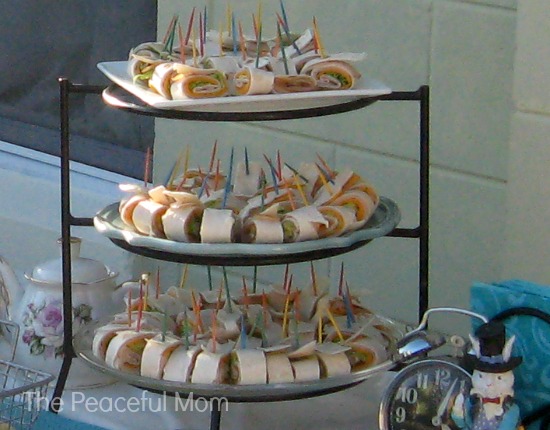 We also served tortilla rolls with ranch dressing. To make these simply place a layer of meat, a layer of cheese and a layer of lettuce on a burrito size flour tortilla. Roll the tortilla tightly and cut it into sections, securing the layers with a toothpick.
You can also spread flavored cream cheese on the tortilla before adding the other ingredients. We left ours plain so they could be dipped in ranch dressing.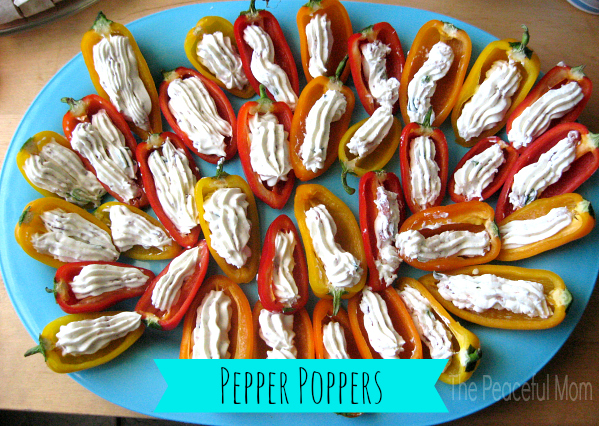 Pepper Poppers
In-season fruit and vegetables are always a budget-friendly choice. Add some dip and you have a simple and healthy appetizer.
We made this recipe one day ahead and refrigerated it to allow the flavors to meld.
Bacon and Onion Cream Cheese Dip
Ingredients
8 ounce container of whipped cream cheese
2.8 - 3 ounce package of real bacon bits
1 green onion (green part only), sliced finely
dash garlic salt
Instructions
Combine all ingredients in a small bowl.
Stir until well mixed.
Pipe onto crackers or into baby bell pepper halves.
Refrigerate for up to two days.
https://thepeacefulmom.com/2014/05/22/host-a-budget-party-party-food-for-less/
We piped the cream cheese filling into baby bell pepper halves, but you could also pipe a cream cheese dip onto crackers or cucumber slices.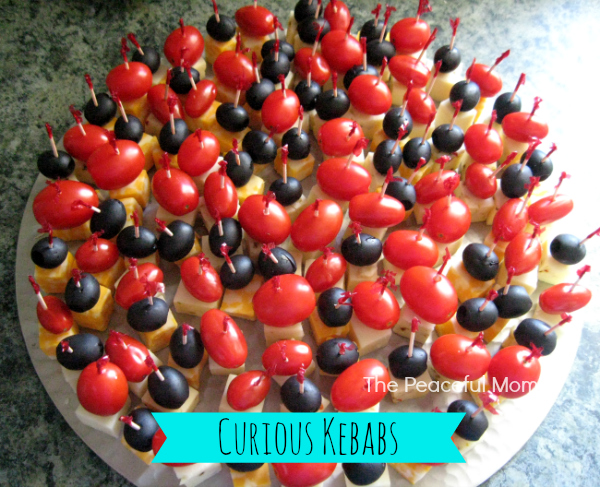 Curious Kebabs
Of course these aren't really kebabs because they aren't grilled, but I'm asking for a little leeway here. We chose to use cherry tomatoes and black olives on our cheese cubes to reflect the black and red of the playing cards we used throughout our Alice in Wonderland theme.
It is cheaper to purchase block cheese and cut your own cubes, but if you are pressed for time you can buy pre-cut cheese cubes.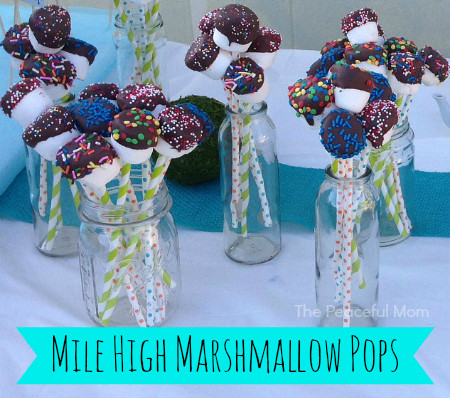 Mile High Marshmallow Pops
Marshmallow pops are a fun and inexpensive option for party food and they are super simple to make. Melt almond bark chocolate coating, dip the marshmallows in it and add sprinkles.
We used confetti cake sprinkles that we had from previous parties, but you can use sprinkles that reflect your theme. Marshmallows can be placed atop colorful paper straws as we did, popsicle or lollipop sticks, or wooden skewers and then arranged in jars, cups or glasses on the table.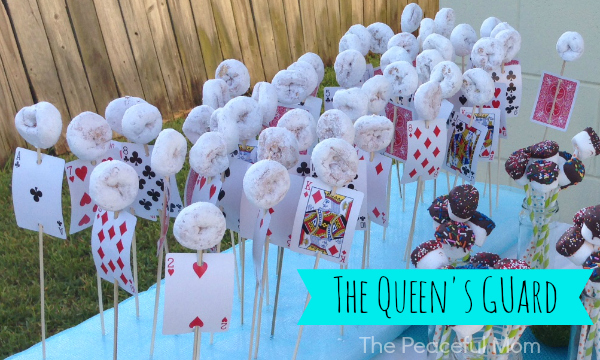 The Queen's Guard
To continue our Alice in Wonderland theme, we hole punched playing cards and slid them onto wooden skewers before placing mini donuts atop. I covered a piece of styrofoam with mesh fabric and stuck the skewers into it.
You could add any decorative paper or printable that reflects your theme and tie a colorful ribbon around the skewers.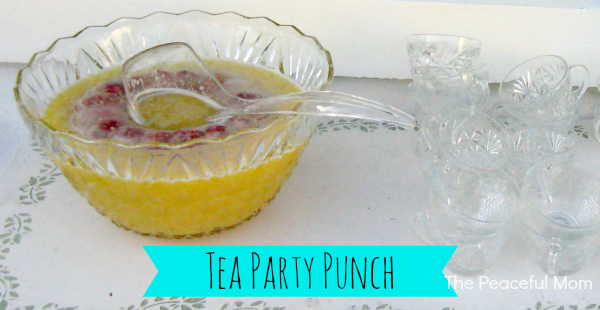 Tea Party Punch
I love to serve punch at parties and this recipe is super simple and refreshing.
Ingredients
46 ounce can pineapple juice, chilled
6 ounce can frozen lemonade, thawed
6 ounce can frozen orange juice, thawed
4 cups cold water
2 liter bottle ginger ale, chilled
Instructions
Pour all ingredients into a large container.
Stir to mix well.
Pour mixture into a punch bowl to fill it 2/3 full.
Add ice ring to punch bowl.
Serve immediately.
https://thepeacefulmom.com/2014/05/22/host-a-budget-party-party-food-for-less/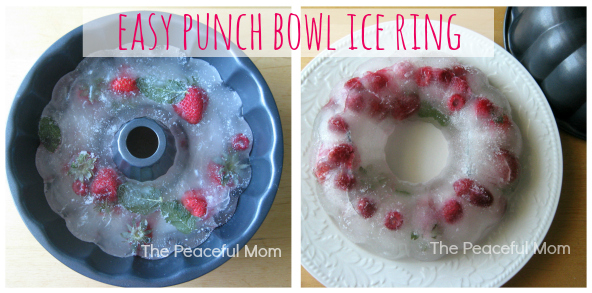 To create the ice ring, place fresh mint leaves, strawberries and raspberries around the bottom of a bundt cake pan. Fill the pan half way with water and freeze on a level surface. When you are ready to use the ring, flip the pan upside down on a plate and run warm water over the bottom of the pan for a few seconds. The ring should easily slip out of the pan.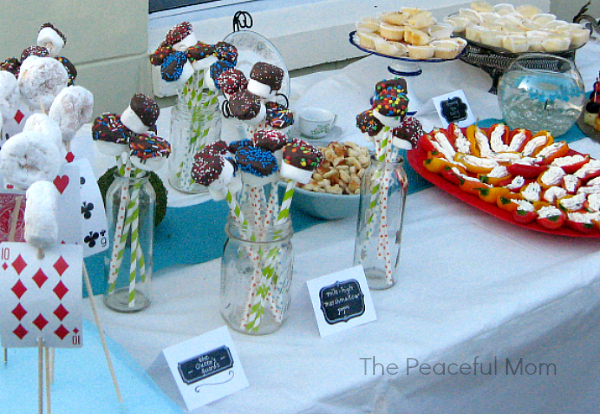 Buffet Label Cards 
We created these fun tent cards to let people know what they were eating. I purchased chalkboard stickers with a coupon and added them to a white index card folded in half. I wrote the names of our appetizers on the sticker with a silver paint pen.
How do you save money on party food? Leave a comment.
You May Also Enjoy: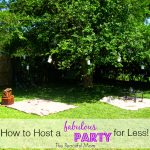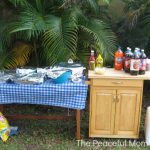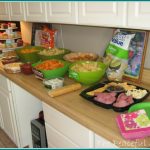 Make Money Online!
Click here for a complete list of The Peaceful Mom's recommended survey sites.