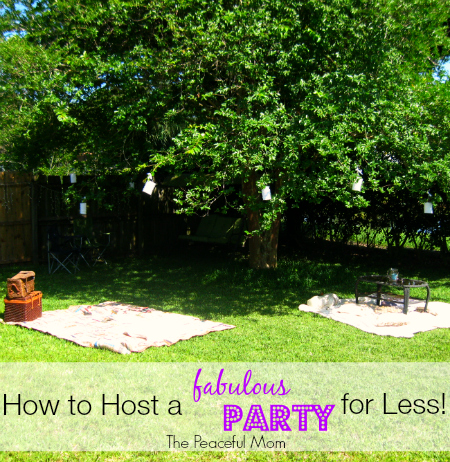 We recently hosted a budget-friendly theme party for my daughter's 16th birthday and today I wanted to share some of the fun with you so you can see how to host a party for less (without looking cheap).
We don't celebrate birthdays with parties every year, but we like to make a big deal for the 13th, 16th and 18th so we went "all out" for my daughter's 16th this year.
Choose a Location
One of the very first decisions you need to make when planning a party is where you will host it. We chose to host the party at our home in order to keep costs lower. We have a big backyard so we had plenty of room and the weather is great this time of year. If you don't want to host the party at your home you can choose a park or look for a church that may rent a room for less than you would pay for an official party venue.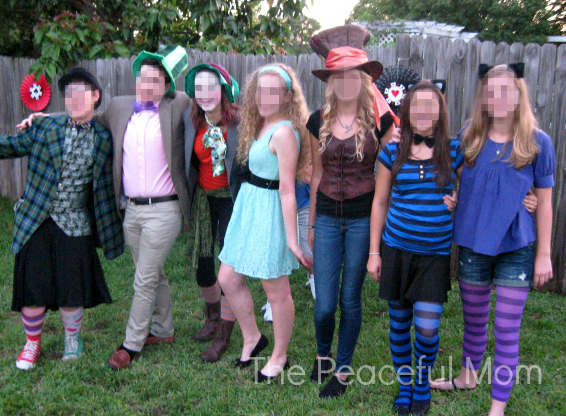 Choose a Theme
Choosing a theme idea for your party can help the guests to have more fun and can give you direction in how to plan the different elements of your party. Your theme will partially be determined by your location and whether you choose to hold the festivities outdoors or indoors, but after making those decisions, the sky's the limit. Luau, sports-themed party, glow-in-the-dark paint party, masquerade – your options are endless.
For a younger child's party you can easily use a character theme, but for a teen's party it becomes more difficult because you don't want the party to seem childish. We chose to host a Mad Tea Party complete with costumes inspired by the Tim Burton movie version of Alice in Wonderland. My daughter's friends tend to be more creative so adding the costume element worked for us. We also offered a gift card for the best dressed.
Gather Ideas
Have I mentioned lately how much I love Pinterest? We found hundreds of ideas for our party and pinned them to a secret board so that none of our friends knew any of the details ahead of time. You can find theme ideas, food ideas, decorating ideas, gift ideas and so much more! Once I began looking I found photos that sparked one idea after another – so many ideas that we could not incorporate them all, but we really had fun trying!
(If you'd like to see all the fun and interesting ideas that I find, click here to join 22,000 other Peaceful Mom readers who follow me on Pinterest!)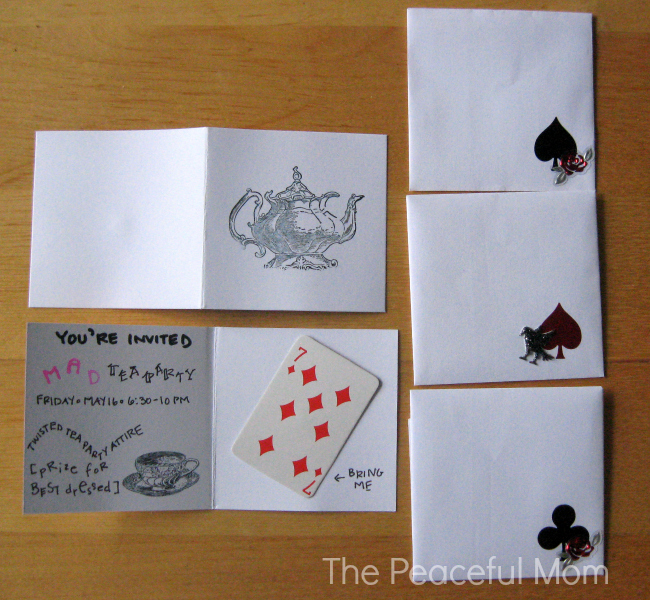 Create Invitations
Your invitation sets the tone for your guests and tells them what to expect. Of course you can buy pre-made cards, but creating your own can add excitement and intrigue to your party.
We found these small cards and envelopes, tea pot and tea cup stamps along with the stickers at a local craft supply store where I used a 30% off coupon. We added an element of mystery by asking the guests to bring the mini playing card (found at a party supply store) with them to the party, but not revealing their purpose.  
We chose to hand write our invites, but if you don't have great handwriting you can create an invitation online and print it.
Decorate With Detail
My goal in decorating for any party is to make a big impact for very little money. A few large items can help to set the mood, but the details are what really help guest to enter into the theme.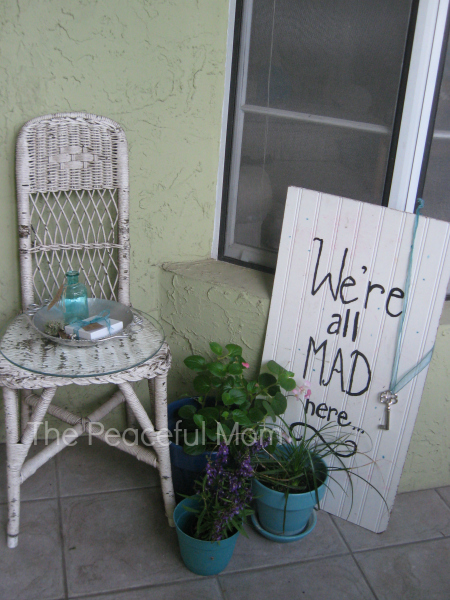 The entrance to your party is your primary opportunity to create the environment for your theme. We painted a sign with a Lewis Carroll quote to welcome guests …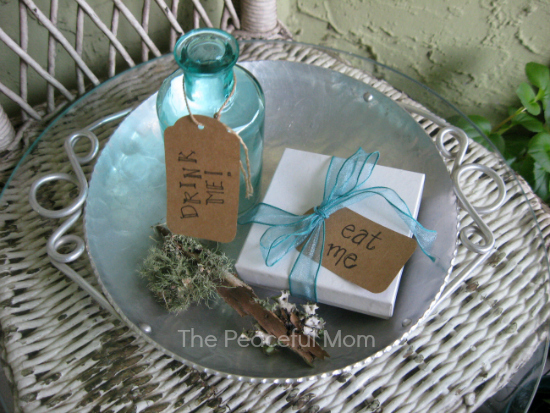 and used subtle elements of the Alice in Wonderland story to help guests engage with our theme environment.
Once guests entered they were greeted with large tissue paper flowers hanging from the ceiling, a sign post on the wall directing them to the tea party and vines with flowers (green yarn with felt flowers adhered to it) hanging from our archway.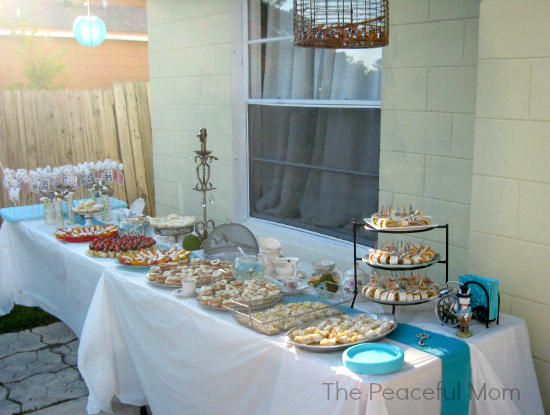 As guests entered our backyard they were greeted with our "tea table" with theme-oriented decor and food.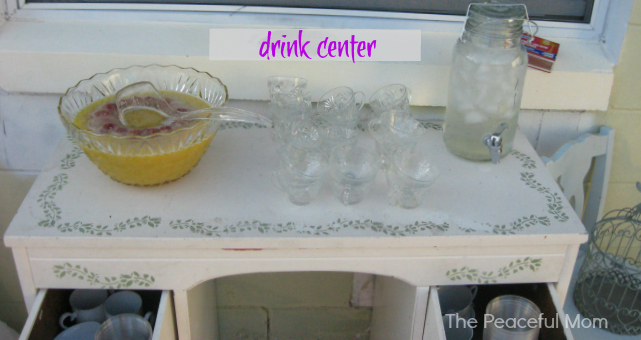 We set up a drink center on an old desk and used the drawers to hold extra tea and punch cups. (I'll share more about the food and give you the punch recipe in my next post.)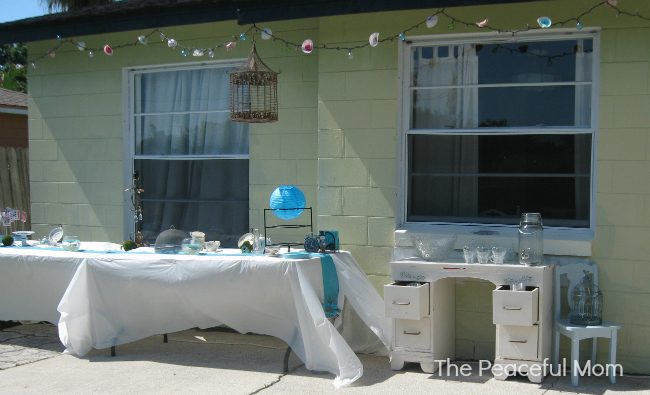 This is a wider shot of the same area during our pre-party set up.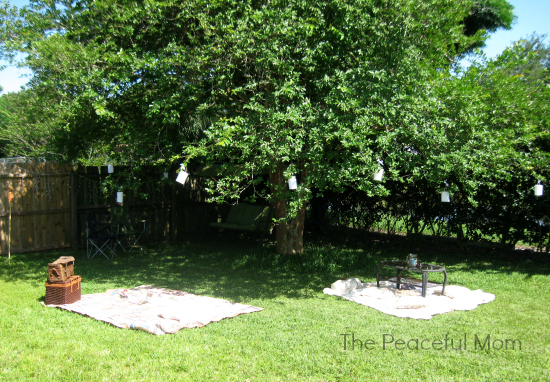 We set up one corner of the yard with a low table, blankets and cushions where guests could enjoy a garden party atmosphere.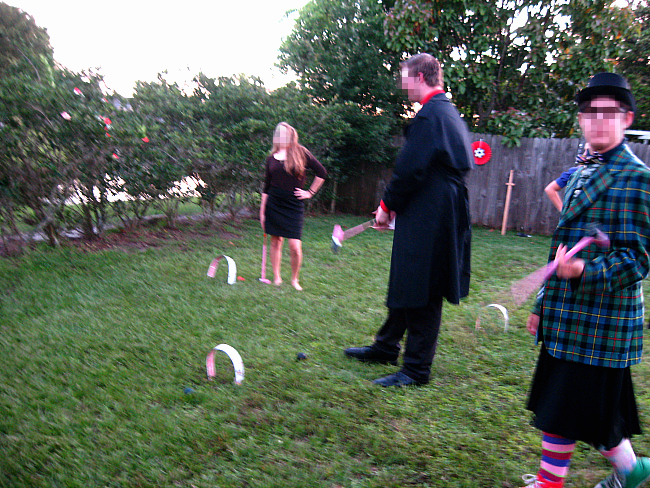 In another corner we set up a croquet game in Alice in Wonderland style. In the background you will notice our painted rose bush.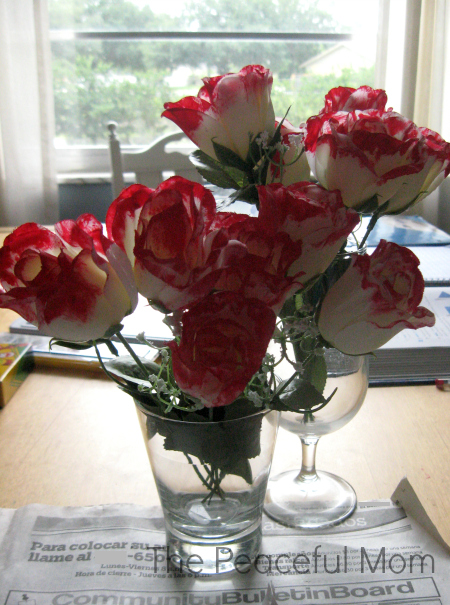 We painted silk roses by hand …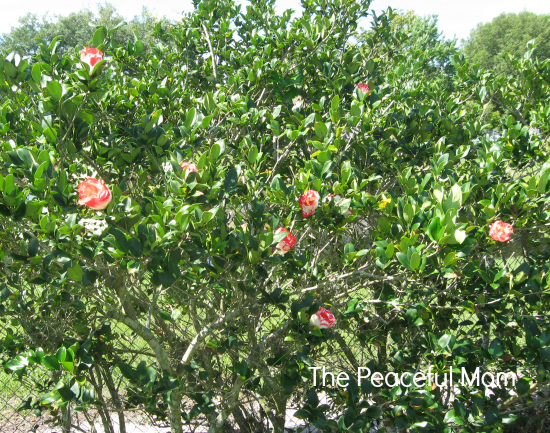 and placed them in one of the bushes at the back of our property.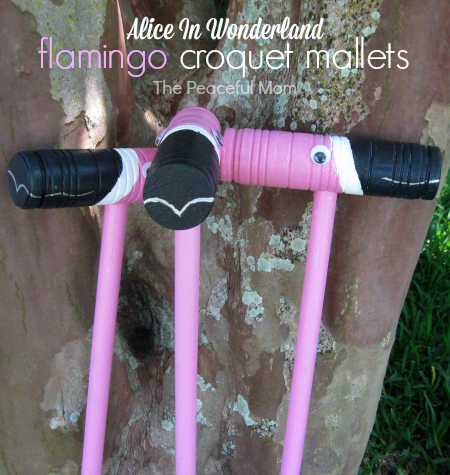 My daughter hand painted croquet mallets as flamingos and a friend created the wickets for us using large playing cards and wooden skewers.
The playing cards which the guests were given in their invitations were used to divide them into teams for competitions (each suit was a team) and as part of a game we played throughout the night in which is similar to Mafia. Three of the guests were secretly given joker cards. These three guests were a part of the "Queen's Guard" and with their identity unknown to the other guests they would move throughout the crowd and touch guests on the elbow. Once the guest was touched he had to give up his playing card and became a part of the Guard. Any player who had a card could ask one other guest to show their card. If the person who was asked revealed a joker card the person who asked won a prize for discovering the secret identity of one of the guards. If the person asking guessed incorrectly they had to give up their card and become a part of the Queen's Guard.
The object of the game was for the townspeople to discover the identity of all three guardsmen before they were able to enlist all of the other guests into the guard.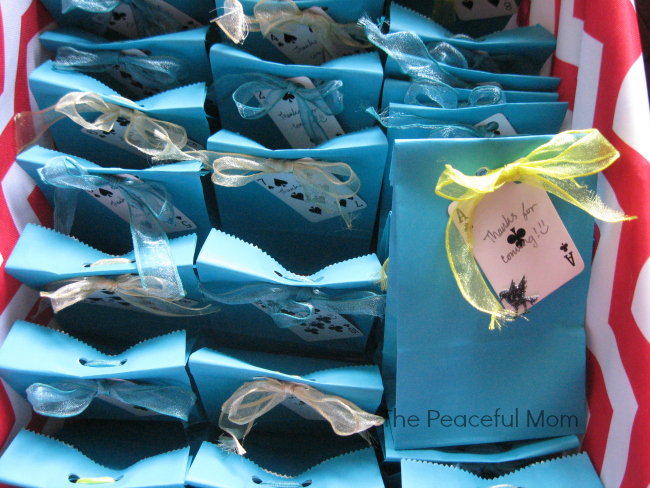 We also used the playing cards on the "Thank You" favor bags we handed guests at the end of the party.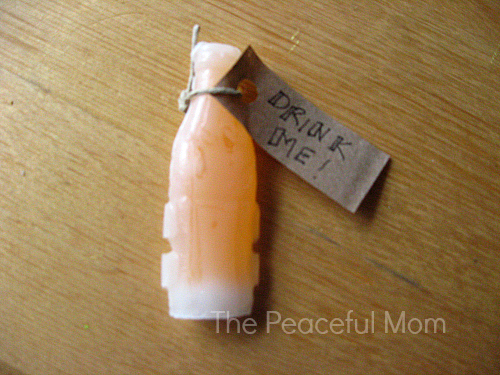 To continue the Alice in Wonderland theme we added colorful candy and a "Drink Me" bottle to the favor bags.
Money Saving Tips
All of the fun you see here was made more affordable by using these five tips:
Beg, Borrow and Steal 
While I don't actually recommend stealing anything, I do highly recommend borrowing items from friends. We were able to borrow many of our decorative items as well as our tables and chairs. One friend even gave us her old croquet set to paint and allowed us to use many decorative items she owned. Several friends allowed us to borrow tea pots and china cups and another friend loaned us a bench and some outdoor chairs. You never know what someone else has unless you ask, and borrowing is FREE!
Re-Purpose 
We were able to re-purpose several items we already owned for both decorations and my teens' costumes for the party. We used porcelain spoons from a tea set as serving spoons, re-purposed an old desk as our drink center and up-cycled a set of string lights by adding cupcake liners around some of the bulbs.
Visit the Thrift Store
You would be amazed at the amount of party supplies that you can find at thrift stores. Many items like punch bowls and serving trays end up there because people use them once and then discard them. Of course, you probably won't find the exact thing that you are looking for at a thrift store but if you can use a little creative thinking you can find many items that will work for you for very little money. We even found my daughter's costume at the thrift store.
Use Coupons
Most party and craft supply stores offer coupons on a regular basis. Take advantage of these coupons to buy your consumable party supplies like plates and napkins. Another great trick to save money is to buy solid color paper goods rather than those with a design, or if you really want a design, alternate the more expensive napkins and plates with solid color ones.
Be Creative
The key to saving money in any area is to use your creativity rather than spending money. As I mentioned previously, Pinterest is one of your best sources for those ideas whether you consider yourself creative or not.
Click here to see how we created impressive yet inexpensive food for the party!
Leave a comment and tell me your best tips for hosting a party on a budget. 🙂
Check out more Alice in Wonderland Party ideas HERE.
You May Also Enjoy: