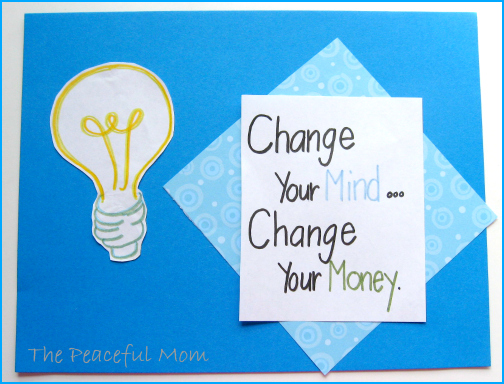 Change Your Mind, Change Your Money
So maybe your financial life isn't where you want it to be.
For the next few weeks I'll be giving you some simple changes that you can make to invite "more" into your life–more contentment, more passion and even more money!
Today's Mindset Modification: Know what you want.
I was personally a little slow in catching on to one of life's foundational truths:
Our actions result from our beliefs and desires. 
Whether we acknowledge it or not, our day-to-day behavior is rooted in our belief system, thought patterns and deep motivations. Change can only occur when it is connected to something we truly want.
Have you ever had a craving for chocolate and you just couldn't get it off your mind? You had to have chocolate and it was difficult to stop thinking about it until you actually tasted it. You were motivated to get that chocolate.
Or maybe for you, it's coffee. You just cannot function until you have had your first cup in the morning. You are highly motivated to get the coffee pot going because you have a deep desire for your body to be caffeinated.
Most money management techniques fail to work because they address the logical side of your brain rather than connecting to your emotions and desires. If you want to change the way you handle money, you have to get in touch with what you REALLY want and tie your spending and saving habits to those desires.
Knowing what you want isn't a matter of asking other people or doing what other's think you should do. You have to look at your life and what motivates you.
A big motivator for our family was my desire to stay home with my children. Many women can handle the stress of juggling work, school and home life. I am not one of them. I felt that I was failing in every arena and my heart ached to be home with my young children. I was so sad when others experienced my children's milestones rather than me.
Once I acknowledged how deeply I felt both the desire to be with my children and the depression I was experiencing from not being home with them, I was highly motivated to do whatever it took to make my dream come true. Thankfully my husband was on board with the idea too so we worked together to cut our expenses and increase our income in ways that fit our goal.
My motivation to stay home with my kids was healthy, but not all motivations and desires are helpful. When I worked full-time, I had a less-than-healthy shopping habit. I loved buying new clothes because I enjoyed the attention I received from looking fashionable. The trouble came when I spent money that should have been spent for other priorities like rent and utilities. My motivation to look good to others created a problem for me so I had to look at why I shopped and try to find a cheaper way to meet that need.
I also love to eat ice cream, but I discovered that I was actually using the sugar rush to help me feel less stressed. Now I limit my ice cream consumption and use healthier ways to de-stress like taking a walk in the park or enjoying a bubble bath.
So now it's your turn.
To start changing your spending habits you need to get in touch with why you are spending money now and tie your financial goals to some of your deep motivations. Take a look at whether your actions are lining up with what you say your priorities are. You can start by asking yourself these questions:
On what items do I spend my discretionary money?

What do I spend my money on now that makes me feel good? Why does it make me feel good?

Is my spending on discretionary items out of balance with the rest of my budget?

What would I do if I had unlimited time and money?

What would my "dream" life look like?

When I imagine being happy and unstressed, what do I picture?
If you'd like, leave a comment about one thing you would like to change about your spending habits. We're all in this together!
Read Change Your Mind, Change Your Money part 1 here.
Read Change Your Mind, Change Your Money part 3 here.