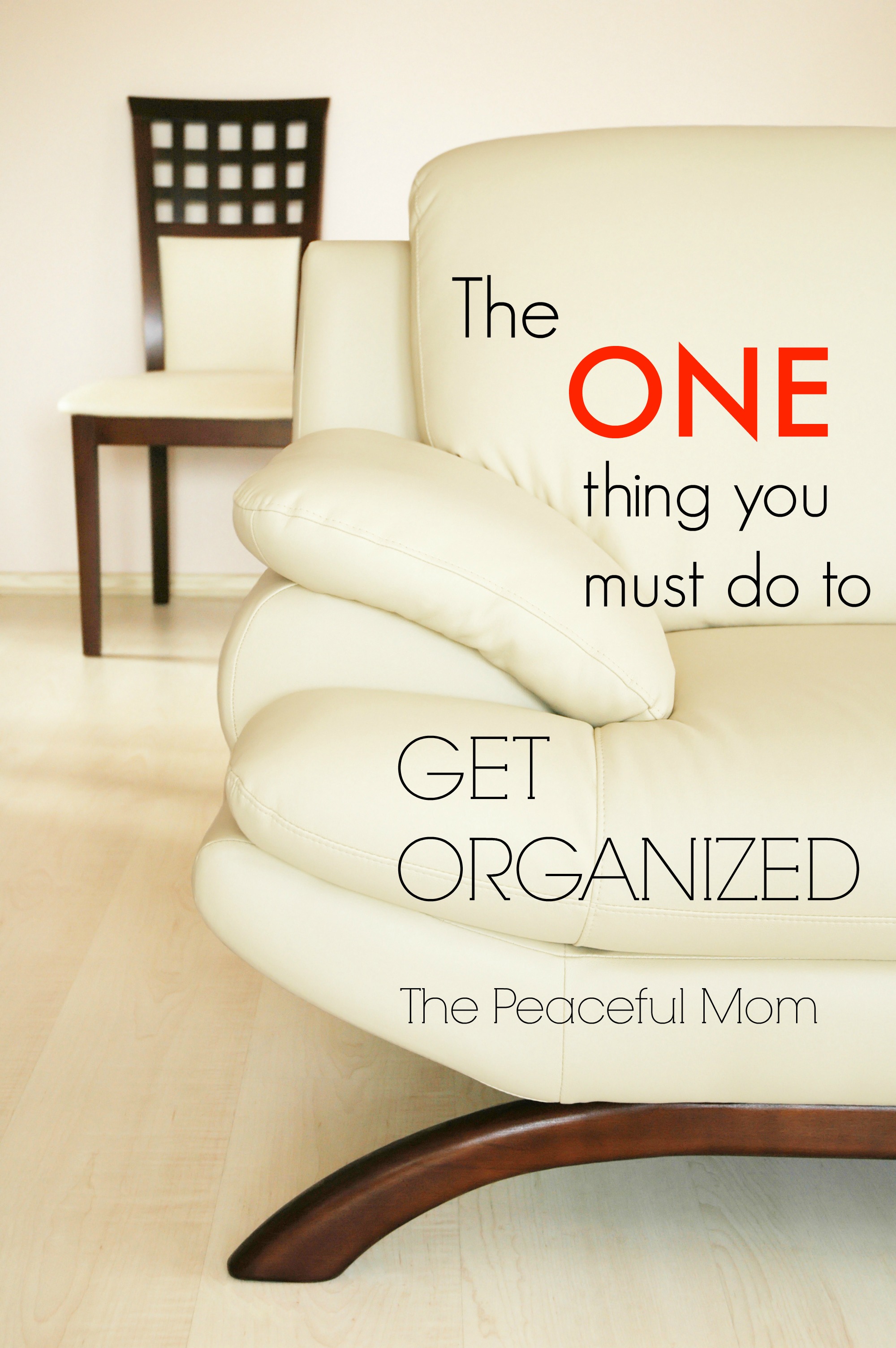 If you're like me (and I'm betting that you are), you would probably say that you could be a little more organized. And if you're like me you have probably tried various planners, systems and colorful containers to get there. (I actually have a plastic "graveyard" with all of my previously used planners!) The problem with all of these methods is that they don't address the real issue.
We have too much stuff!
We have too many activities scheduled, too many appliances on our counters and too many clothes in our closet. We are running around scattered and drained, just trying to keep up while our houses get messier and we get stressier (yes, I just created a word for you.). So what is the ONE thing that you have to do to get organized? SIMPLIFY!
The only way to be truly organized is to simplify your life. (Tweet This!)
And the only way to simplify is to streamline your life and your home by eliminating the unnecessary.
Mental Clutter
Media and information are moving faster than ever and we are constantly bombarded by noise and visual stimulation which adds stress to our lives and clutter to our brains. I solve this problem by doing a daily Brain Dump (read more here) first thing in the morning and creating a plan for my day using my weekly goal list (read more here). I also take time every day to go "unplugged" and get away from electronics and social media.
Schedule Clutter
More and more opportunities are available to us and the social pressure to stay busy is almost irresistible, but we have to make time in our schedules to rest and refuel. It is imperative that you eliminate responsibilities and appointments from your schedule and eliminate tasks from your to-do lists. For help read my post "How to Say 'No (and be nice about it).""
Physical Clutter
There is no doubt about it, Americans are materialists and consumers. We have so much stuff that many of us have not only filled our homes and garages, we have to purchase off-site storage as well. In order to simplify your life you need to clear items from your counters, cabinets and closets (and possibly your bedroom floor.) Give it away or throw it away – just get it out of your house.
Just to encourage you and show you that I am in this with you, take a look at some of my previous messes: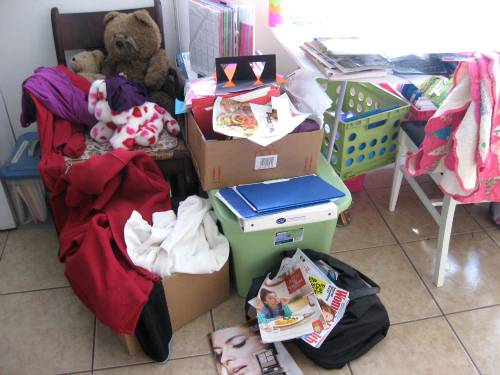 Pileup in the office.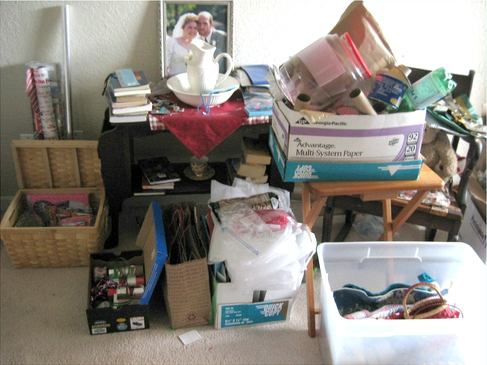 Pileup in the bedroom.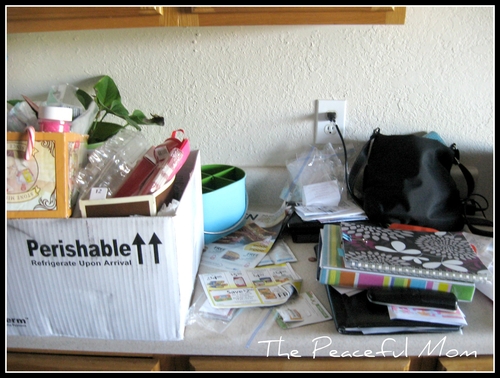 Pileup on the counter.
You get the idea.
The way that I cleaned up these messes is not only by re-organizing items, but primarily by getting rid of those things we no longer used.
Here are some shots of some of our previous give away hauls when they were ready to head to the donation center: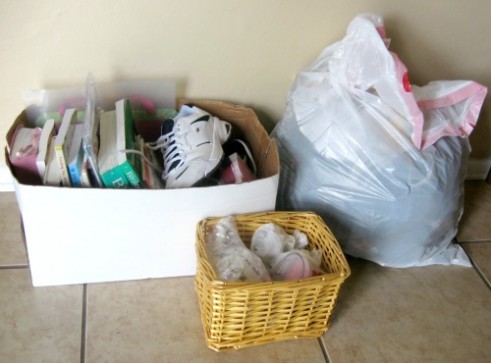 Books, shoes and other stuff.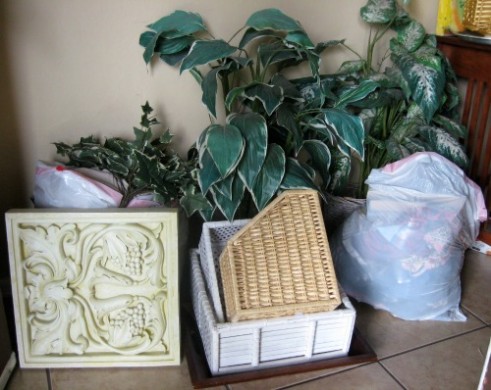 Household decor and clothes.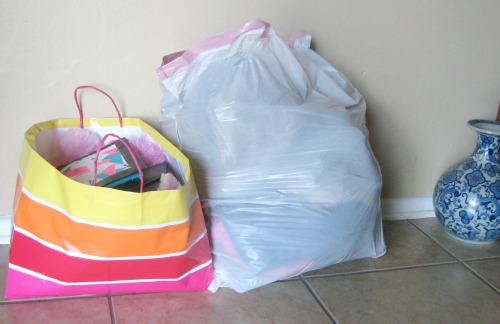 More clothes and toys.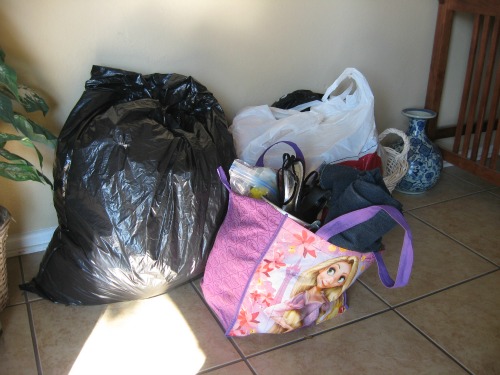 And the hits just keep on coming…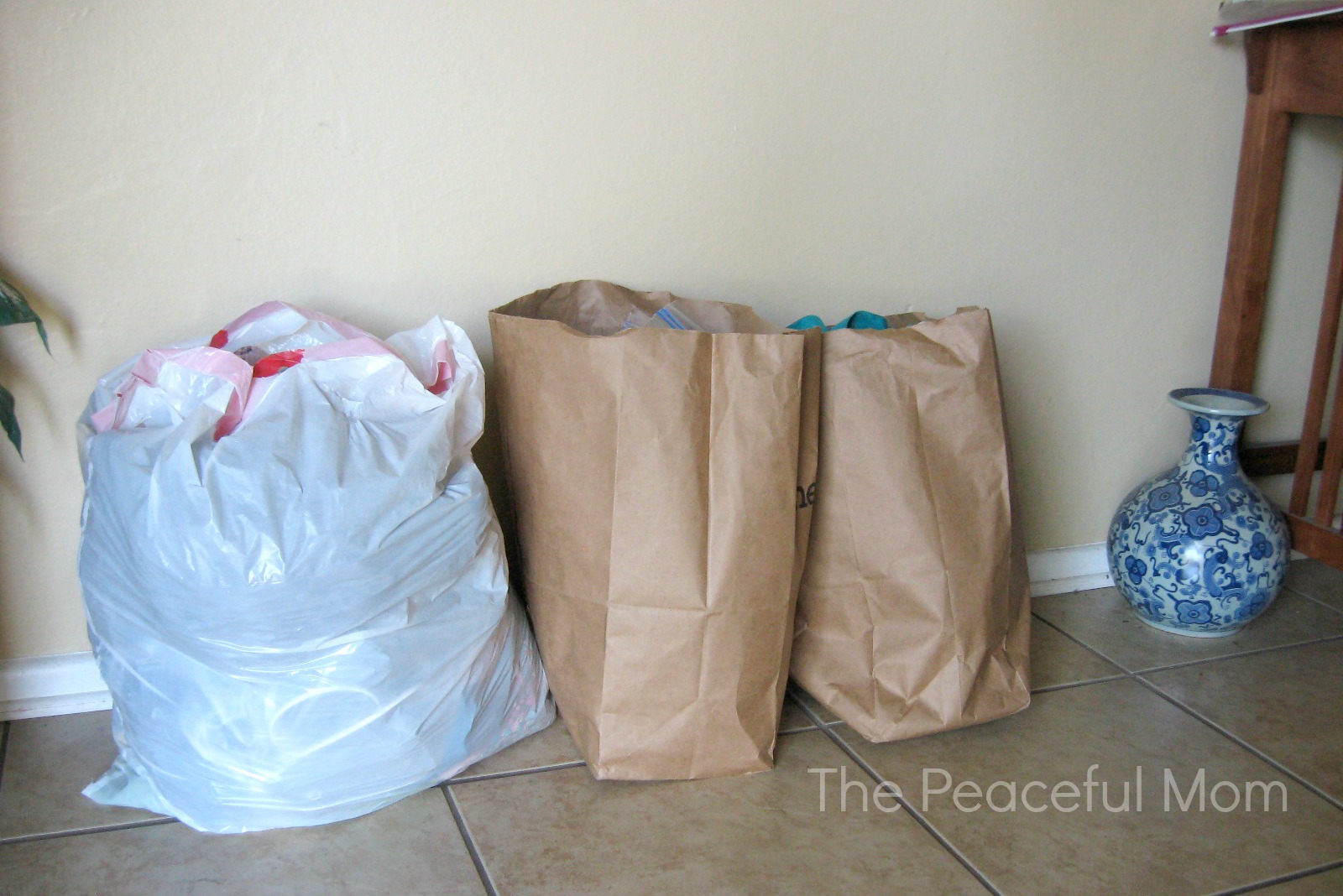 It's actually embarrassing that I have had that much extra stuff.
So if your house looks like mine does from time to time and you are ready to get truly organized, you need to stop moving stuff from one place to another and buying pretty containers to store it in. You need to get rid of it! The clutter is draining you emotionally, mentally and physically.
If you need a little help to get started, try my 3 step plan for decluttering success:
Start with ONE area.
It is super easy to become overwhelmed when we have let our homes be overrun with stuff. That feeling of being overwhelmed will be the one thing that keeps you from making progress though, so you have to break through it. The way that I break through is by focusing on one small area at a time like my nightstand, the entertainment center or one section of my closet. I don't worry about the rest of the house because I know that I will eventually get to it and the progress I make in the one area I have chosen motivates me to keep going.
Create a Donation Station.
Once you start getting rid of the excess stuff in your life, you will need a place to put it until you can take it away. You can designate the floor of one of your closets, a box in your entry way or a bin in your garage. The key is to take the items away within a week WITHOUT LOOKING AT THEM AGAIN. Looking through the box will tempt you to take things out of it and you need to get rid of them, not find ways to keep them. 🙂
Schedule a regular decluttering time.
I prefer to do a 10 Minutes a Day Decluttering (see all my 10 Minutes a Day projects here) because it forms a habit which makes it easier to accomplish, but you can schedule a time every Saturday morning or on the 15th of each month. The key is to make a commitment, write it on your calendar and stick with it.
If you need a little extra motivation and help to declutter your home, my friend Dana from A Slob Comes Clean has two hilarious books to help you do just that.
You May Also Enjoy: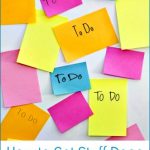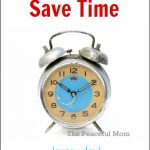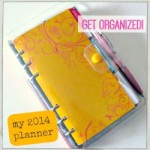 *Affiliate links are included in this post. Read our disclosure policy here for more information.