This is a Sponsored post written by me on behalf of New York Life. All opinions are 100% mine.
It's one of life's most important lessons and one of the hardest things to do: Don't focus on the challenges and difficulties; focus on the good in your life.
We all face some kind of difficulty, but the key is to remain joyful and grateful in spite of our circumstances.
Our family has faced some hardships of our own. In December of 2010 we sold or gave away most of our belongings in preparation to move overseas to do social work. That next January we began a three month training program during which our family of six lived in a three bedroom apartment with another couple and their infant. The living situation was challenging to say the least.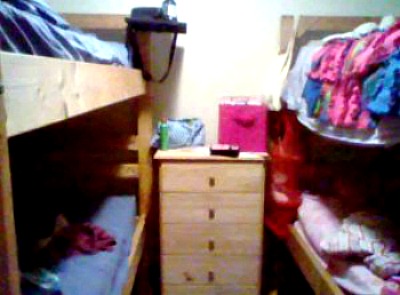 The Kids Room During Training
Unfortunately, somewhere in the middle of the program we discovered that the organization and the circumstances were not what we had expected.
Plan B? Start rebuilding life with a 10, 12, 13 and 15 year old and no furniture.
Although my children gave up a lot during that time (possessions, comfort, friendships) and there were some very rough moments, they did all of it with incredible grace, joy and contentment. We learned a valuable lesson: we are not defined by our stuff and family relationships are more important that anything. A couple of years down the road we can all see the good that the experience produced in our lives including unity in our marriage and better communication as a family.
I believe that my children were able to successfully navigate that challenging time in our lives partially because of the great example of my mother. She has had to overcome many obstacles yet, in spite of everything, she is the most caring, content and peaceful person that I know. She has a great sense of humor and is constantly doing things for us to show us how much she loves us. She has truly lived and taught us to live in a way that focuses on the good around us rather than the challenges, just like the little girl in The Happiest Daughter.
We all have people and moments in our lives to celebrate and New York Life wants to honor those people and happy moments by Celebrating Good. With Mother's Day being just around the corner they want to encourage you to celebrate your mom and those who have been a mother figure in your life. Learn more about how New York Life can help you and your family Keep Good Going.
Leave a comment with a story about your mom and a life lesson she taught you or tell me how you (or someone you know) remain happy in the midst of difficult circumstances. Let's celebrate the good!