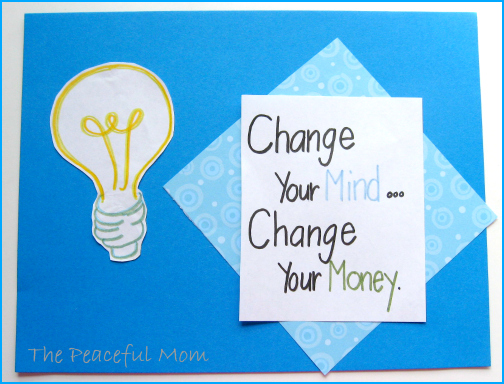 Change Your Mind, Change Your Money
Did you know that the way you view money and life can actually determine your level of success and satisfaction?
For the next few weeks I'll be giving you some simple changes that you can make to invite "more" into your life–more contentment, more passion and even more money!
Today's Mindset Modification: Open Up.
Society and the media are constantly painting a picture of scarcity for us. They tell us that there are a limited number of resources, a limited number of success stories and that we have to fight to survive and get our "slice of the pie".
If you believe in this "scarcity worldview" then you tend to think "closed" thoughts like these:
"There is never enough."
"I can't afford to give because it means that I will have less."
"I can't trust anyone else because they may take something from me."
"If someone competes with me, it means that I will have less."
"The present is bad, but the future will likely be worse."
"Taking risks is too dangerous."
"The world owes me something because I don't have enough."
The truth is that there is not just one "pie". There is an infinite "bakery" with an endless array of possibilities.
Creative ideas literally create more for all of us. Just look at the drink aisle at your local grocery store. There are multitudes of drinks available and more being created all the time. Those drinks are on the shelves because consumers buy them, which makes money for the business owners who create them. Then the business owners use some of the profits to hire more people and buy more machinery to make more drinks. Humans crave innovation and that craving leads us to think up new ideas all the time.
Today, think about the beliefs you have that are keeping you from success and a healthy relationship with money. Try some of these new "open ideas" or money mantras:
"The world is full of resources. There will always be more where this came from."
"I have enough."
"When I generously share with others I actually invite more to come into my own life."
"I can trust others."
"Competition makes me better and makes the 'pie' bigger for all of us."
"The present is great, but the future will be even better.
"I am constantly growing and spiraling upward."
"I can give more than is expected and not diminish myself or deplete my resources."
"Taking calculated risks brings more opportunity to me."
"I am thankful for all that I have."
In order to begin to invite more into your life, you have to trust that there is enough creativity, enough money and enough resources to go around. Believe that "more" is available to you and that you have the tools to access it. Ask God for creative ideas and ways to serve others that can produce income to meet your needs and the needs of others.
Do you have beliefs that are holding you back? Leave a comment. 🙂
Click here to read Change Your Mind Change Your Money part 2.