I re-learned an important lesson this week.
A couple of weeks ago I talked to you about How to Stop the Busyness and Take Control of Your Life – and then I failed to take my own advice. After having spent five days away at a conference, my to do list was quite long:
buy groceries

do laundry

clean the house

answer emails

write posts for the blog

work on a book I am writing

teach class at our homeschool co-op

help my son buy a car

plan my daughter's 16th birthday party

take my teens to work

prepare meals

spend time with my husband and children
You see where my relationships fell in that list (last), and "taking care of myself" was nowhere to be found.
I did rest for a few hours the weekend before last, but then I spent most of last week running around like a crazy person and by Friday, when I was supposed to go on a date with my husband, I was exhausted. I had to tell my very disappointed husband that I couldn't go out with him because I was just too tired. Instead of enjoying a fun night out I went to bed to try to catch up on missing sleep.
Lesson learned (again!):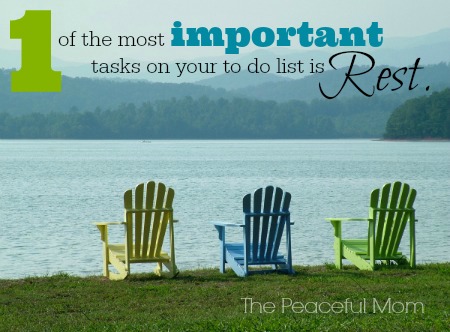 I have to take care of myself or I am unable to take care of those around me.
So I will try to do better this week and hopefully, I can be ready for our weekly date night this time. 🙂
My plan for this week:
PERSONAL – go to bed by 10 p.m., drink 6-8 glasses of water, exercise and take my vitamins daily
PEOPLE –  date with hubby, date with 13 year old
PASSION –  art journal time, spend time at the park
PURPOSE –  pray for and encourage my husband, give my kids extra hugs, write daily (on the blog and my current writing project)
PROJECTS – rest whenever possible (the projects can wait until next week)

As a gift to my readers, you can now print your own customizable Weekly Plan! Click here to subscribe to The Peaceful Mom Weekly eNotes and you will receive access the download link along with my e-book Stress Free Meals and some other fun bonuses.
Click the download link and type your info for the week into the planner. Once you are done, right click the form to print and check off each task as you complete it.
(You can see all of the FREE printable planners I have available here.)
What do you have planned this week? Leave a comment. 🙂
You May Also Like: