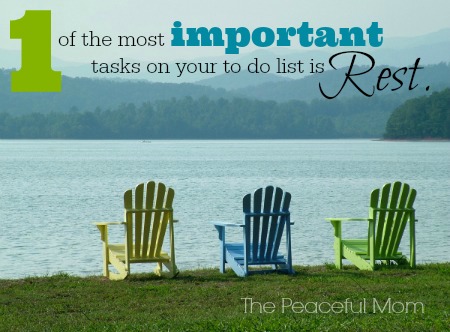 To Do Lists – We all have them whether they are actually written down or simply floating around in our heads. As moms, those lists fill up quickly:
buy groceries

wash uniforms

prepare snacks for practice

make dentist appointment

pick up the dry cleaning

fix dinner
It is all too easy to become distracted with the seemingly urgent tasks that bombard us every day and to push the truly important parts of life to the side – and one of the most important items to add to that list is time off for YOU.
As I mentioned previously on the blog, I had the privilege this week of attending a conference to improve my public speaking. I received lots of great ideas and practical help (but very little sleep!). One of the concepts that I firmly believe, and which the conference speakers emphasized, is the need to prioritize in order to be successful in any endeavor.
No matter what you say your goals and values are, if you don't schedule them, they don't happen.
So I am taking my own advice and scheduling some much needed rest time for the next couple of days to regroup after all of the busyness. 
Stay tuned for lots of great information and inspiration coming your way next week and thanks for being a follower of The Peaceful Mom!