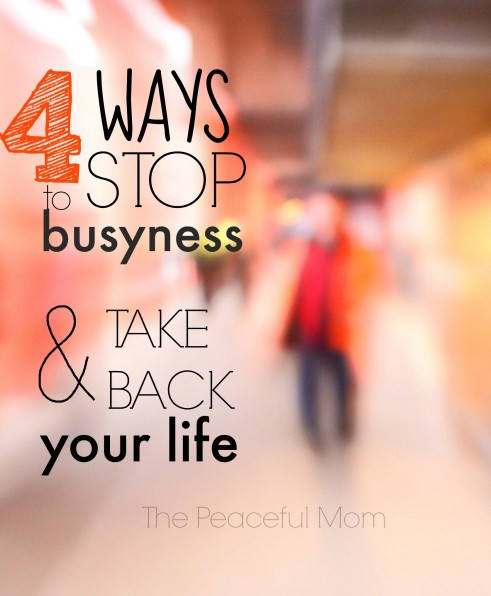 "How are you?"
"Busy."
"Yeah, me too."
Sound familiar? It's the same conversation repeated by thousands of women every day — women who are exhausted, burned out and spinning from all that they are trying to get done. Are you one of those women?
Busy doesn't have to be your destiny! You can tame your schedule and regain some peace in your life with these four steps:
Decide Your TRUE Priorities
Despite what you may believe, you cannot do it all. You have limited time, money and energy — and if you want to live a joy-filled and purposeful life, you have to make conscious choices with those resources.
Many times we fill our days with certain activities because we feel pressured by the expectations of  family, friends or co-workers. Or we just continue to do what we do because it's what we have always done. Rather than taking time for ourselves and doing those things that are truly important, we run from one activity to the next and never give ourselves time to think or rest or relate on a deep level.
For many years I participated in the same activities that my friends did, not because I enjoyed them or because they were necessarily good for my family, but because "that's what everyone does." In the last few years my husband and I have made some challenging, but very worthwhile decisions to restructure our life around our true values: family relationships, simplicity, creativity, generosity and true spirituality.
Set Boundaries
As a part of that restructuring our family decided to take several dramatic actions:
*we live on a smaller income – Living on less enables us to have more family time because my husband doesn't have to work two jobs and I can work from home.
*we have downsized to a smaller home – We have sold or given away many of our belongings which has given us more time and space to focus on what is important to us. It has also improved our relationships with each other and brought peace to our family.
*we strictly limit outside activities –  We believe that family time and a stress-free lifestyle are more important than enrolling our children in multiple activities every year. One season I registered two of my children for the same swim team so they would have the same practice days and meet schedule. Swim team was our only outside activity for those couple of months. Another year, two of my teenagers were involved in the music ministry for our church youth group which meant they had to arrive early for the meeting to practice. My other two children went with them at the earlier time and read a book so that I only made one trip there instead of two.
My three teenagers are currently working but we were able to get them jobs at the same company and two of them share schedules to simplify transportation. Of course, you don't always have control over all of the details of your life, but many issues can be resolved by deciding your priorities and then setting firm boundaries to protect those priorities.
Learn to Say NO
An integral part of setting boundaries to protect your time, money and energy is learning to say "No" to people who want to use your resources to meet their own priorities. Yes, helping others is admirable, but many times we are coerced into doing things that drain and frustrate us because we feel guilty rather than serving out of an overflow of peace and joy in our lives.
Take time to examine your current commitments and determine if they are helping you to achieve your true priorities or not. You need to make sure that you are meeting your needs and those of your family before you spend time and energy serving other people. It may seem selfish, but being burned out and exhausted from helping others leaves nothing for your spouse and children  – and you are the only partner and mom they have.
If you have trouble saying "no" to people, read my post How to Say No (and be nice about it!) here.
Manage Your Time Better
One of my favorite ways to tame my schedule is to use time management techniques to "create" more time in my life. A few of my favorites are:
Make a weekly menu – I make a detailed meal plan every week – no matter what's going on. The menu is placed on the front of the fridge so that everyone knows what to eat and others can start dinner if necessary. See over 100 Easy Meal Planning Tips, Tricks and Recipes here and print my Customizable Meal Planner!
Prepare food in bulk – I cook food for the freezer so that half of my meal prep is done. You can read about my Easy Freezer Cooking Method here. You can also cook on the weekend for a couple of hours and make meals for the next week like breakfast burritos, freezer waffles, Slow Cooker Chipotle Chili, in addition to preparing salad and cutting fresh veggies. For more easy meal ideas, check out my 8 meals in One Hour Chicken Plan and 12 Slow Cooker Freezer Meals in 1 Hour.
Make a weekly plan – Every Saturday morning or Sunday afternoon I create a plan for the upcoming week. I look at everyone's schedule, choose my priorities for the week and schedule everything in my calendar including time for myself. I use a unique way of prioritizing my week which helps me to focus on my true values. You can see my How to Create a Weekly Plan here, and click here to receive my FREE Weekly eNotes and print my exclusive Customizable Weekly Planner!
Prepare the night before – Each night I take a few minutes to check my calendar and think about the next day. I lay out clothes, make a note of any dinner preparations I can do the next morning and pack anything I need to take with me. You can have your children prepare lunches, put their book bags by the door and place your purse and keys in one location so you are ready to go the next morning with as little chaos as possible.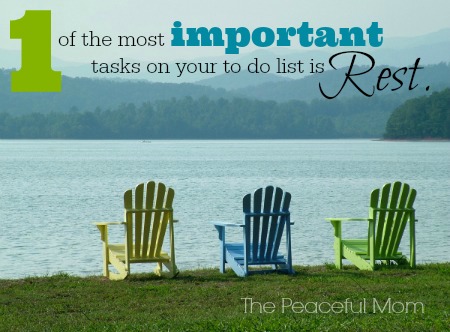 Make time for yourself – Don't forget to add taking care of yourself to the list of things to do each week. You need rest to be able to function at full capacity and be everything you need to be.
Taming your schedule and taking control of your life takes some work, but it's so worth it! You will be much happier, more peaceful and way more productive.

Want to get organized so you can do the stuff you want to do?
Join our 30 Days to Organized Community HERE.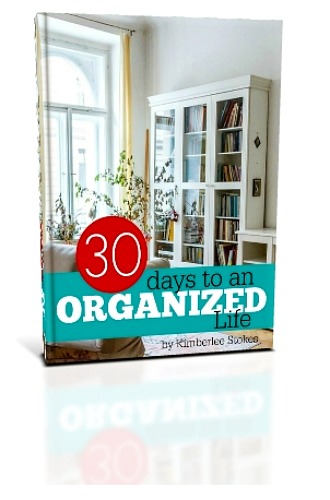 Or buy the book!
If you'd like to finally get your life organized check out 30 Days to An Organized Life. I give you step-by-step 10 minute projects to simplify your life and become organized once and for all!
Click HERE to see what's inside!
What ways can you take control of your schedule this week? Leave a comment. 🙂
You May Also Enjoy: